Petitioners argue the government has been given too much power to conduct surveillance with the anti-terror law
Surveillance, one of the investigation tools of the government to prevent terrorism, grabbed the focus of the Supreme Court's oral arguments on the feared anti-terror law on Tuesday, February 2.
During her interpellation, Justice Rosmari Carandang asked the petitioners whether the government would be able to do its job if the law were struck down.
"Can you honestly believe that the prevention of the commission of a terroristic act can be properly done without surveillance?" asked Carandang, who is the member-in-charge handling the case of 37 petitions.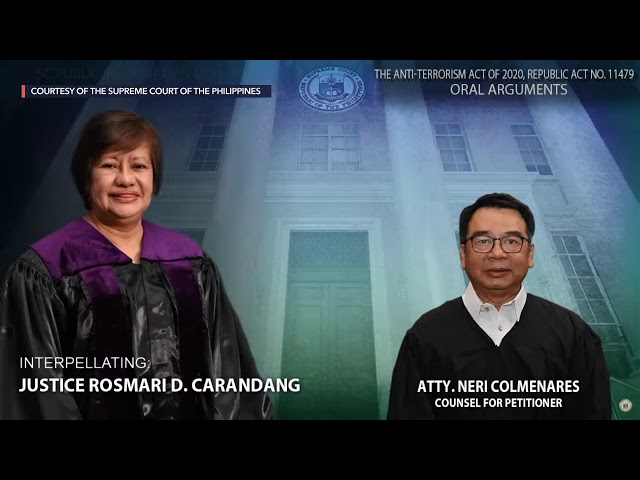 Former Bayan Muna representative Neri Colmenares replied on behalf of the petitioners, saying that the government may still conduct surveillance, but not "through a law like the ATA (anti-terror act) which is unnecessarily sweeping as to infringe on protected rights."
In the new law, the Court of Appeals (CA) authorization to surveil suspected terrorists can last up to 60 days, compared to 30 days in the old law.
Under Section 16, designated terrorists – meaning people and groups who have not yet been declared as terrorists by any court but were declared by the anti-terror council as such– can also be surveilled.
Why is it too much?
Colmenares argued that because of Section 4 of the law, "the courts have no standards to follow."
Under Section 4, the law penalizes "acts intended to cause extensive interference with critical infrastructure."
The problem lies with criminalizing intent, according to the petitioners.
"In this case it penalizes intentions. How will the Court (CA) know that an offense has been committed?" Colmenares asked.
Colmenares pointed out that in issuing search warrants, courts need to be convinced by law enforcers that an offense has been committed or pieces of evidence of the crimes could be found in the place to be searched. These standards are ignored with intent penalized, he said.
"Even if they claim that, yes, it is very important, it cannot be said that because it is important, it is of serious concern, [that] the fundamental rights of others can be violated because of the state interest at hand," Colmenares said.
A recap of the oral arguments can be read here. – Rappler.com