To escape the flood from Typhoon Ulysses, a family in Provident Village, Marikina decides to climb onto their roof. It is not as simple as they imagine.
In the heavy rain and howling winds of Typhoon Ulysses (Vamco), a family and their neighbors waited 13 hours on the roof of their house to be rescued.
Lindsay Bautista and her family are residents of Provident Village in Marikina, which was among many areas deeply flooded when Ulysses swept through Luzon from Wednesday, November 11, to Thursday, November 12.
They moved into the subdivision two years ago because it was affordable and quite near the school where Bautista studies.
No siren
It was at dawn on Thursday when Bautista and her family noticed the flood right outside their compound. This caught them by surprise.
"Ginising kami ni Mama 4 [ng umaga], ta's 'yung pagtingin ko sa labas, 'yung baha noon hanggang parang gitna ng tuhod at baywang, so pabaywang na," Bautista said.
(Mom woke us up at 4 [in the morning], then when we looked outside, the flood already reached between the knee and the waist, so nearly the waist.)
Bautista said they did not get any warning from the local government to evacuate.
"Wala namang nagrorondang sinasabing 'Lumikas na kayo' (No one was going around saying 'Evacuate')," Bautista said.
She also said they didn't hear the flood warning sirens of Marikina.
"'Di ba 'pag malakas 'yung ulan…may parang siren? Walang siren noon," Bautista said, describing the sound they were expecting to hear, but did not.
(Isn't it that when the rain is strong…something like a siren goes off? There was no siren then.)
At around 4:30 am, they started bringing their belongings up to the second floor of their house since the flood was rising and it was still raining.
13 hours on the roof
It was around 6 am when the flood started going into their house, which she explained is on a higher level than the street. At this point, the flood was already waist-deep outside.
The floods rose quickly.
"Ang bilis. In 3 hours, lubog na 'yung first floor namin, eh 'di umakyat na kami. Maya-maya, hagdan na. Pataas nang pataas. Ang bilis niyang tumaas," Bautista said.
(It was fast. In 3 hours our first floor was already submerged, so we went up. Later, it reached the stairs. It kept rising. It rose quickly.)
It was then that their family started tying blankets together into a makeshift rope. This was to help them and their neighbors to get to a ladder which led to their roof.
The ladder was too short, so they had to wait for the flood to rise before they could swim to reach it.
"Ginawa namin, hinintay muna namin na tumaas 'yung tubig hanggang second floor para makalangoy kami doon sa may ladder…. So noong tumaas na 'yung tubig, lumangoy ako sa baha tapos tinali ko 'yung kumot doon sa may ladder, ta's kinonnect-connect namin sa bawat bahay para 'yun 'yung dadaanan ng mga kapitbahay," Bautista said.
(What we did was we waited for the water to rise until it reached the second floor so we could swim to the ladder…. So when the water rose, I swam in the flood and tied the blankets to the ladder, and we connected it to the other houses so that the neighbors could move through it.)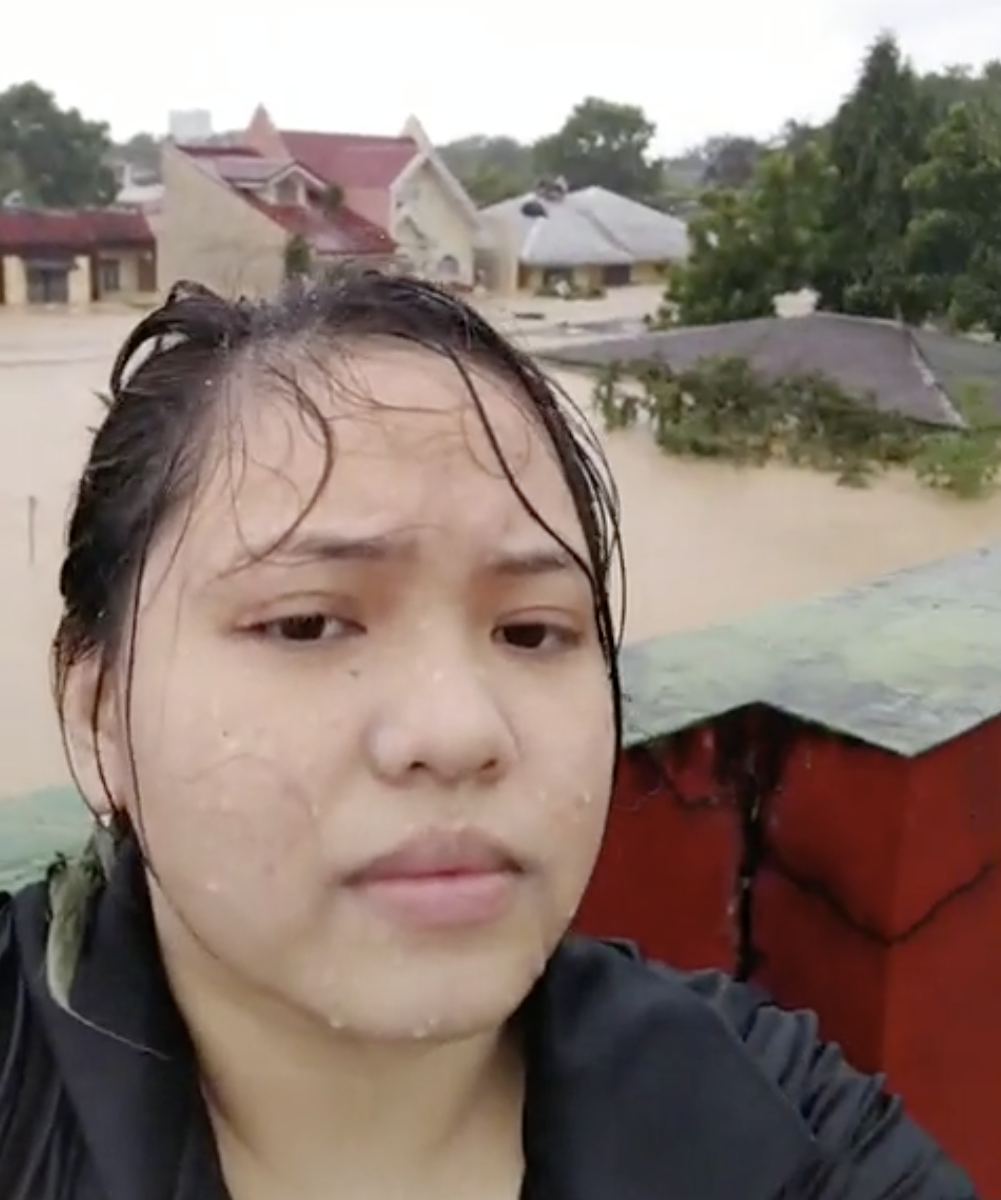 At one point, the makeshift rope of blankets started to tear – but thankfully, it held up.
Then, another obstacle: The space between their roof and that of the next house was too narrow, they could not go through it. To climb onto their roof, they had to smash a part of it so they could go through.
There was also nothing to hold on to to get to the roof. "So talagang hihilain mo paakyat 'yung tao (So you really had to haul the person up)," Bautista added. The heavy rain did not help.
By 9 am, the Bautistas and their neighbors were finally gathered on the rooftop.
They were 13 in all – Bautista, her parents, her two siblings, and her neighbors, including a senior citizen and a baby.
All they were able to save were some towels, their cellphones, Bautista's laptop, her sister's laptop, and the family's two dogs.
Around them, they could see other people also on their roofs waiting for help to arrive.
Since they didn't have much load, they started contacting their friends and family to help them contact rescue teams, until their phones lost power.
Her friends shared pictures of what was happening and called rescue teams to help the family.
Bautista even went on Facebook Live to document what was happening.
"Akala ko makakatulong iyon pero wala, 13 hours pa rin kami naghintay, so wala kaming tubig, wala kaming kain, wala kaming kahit ano, wala kaming silungan," Bautista said.
(I thought those would help but no, we still waited 13 hours, so we didn't have water, we didn't have food, we didn't have anything, we didn't have shelter.)
"Sobrang tagal na kami doon sa taas. Imagine-in mo, wala kang kahit ano for 13 hours (We were up there for so long. Imagine having nothing for 13 hours)," Bautista added.
Safe at last
At around 10 pm, some 13 hours after Bautista, her family, and her neighbors climbed onto their roof, rescue boats finally arrived to bring them somewhere safe.
"We waited for 13 hours. Nakakalungkot na ang tagal, pero ang mahalaga, ligtas tayong lahat. Maraming salamat po sa lahat ng dasal at tulong!" Bautista said after their ordeal.
(It's sad that it took long, but what is important is we are all safe. Thank you very much for all the prayers and help!)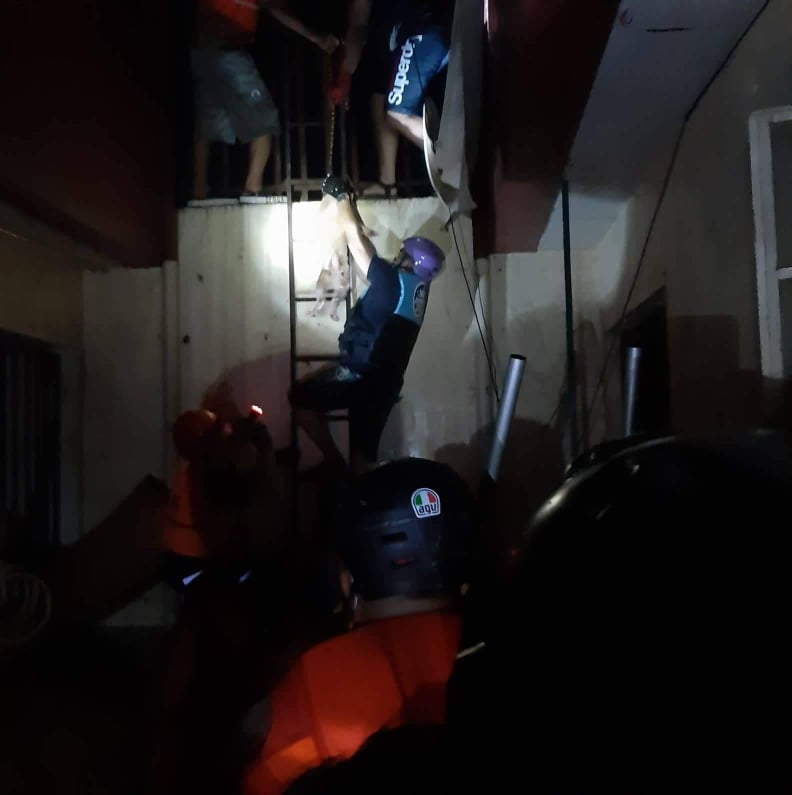 The rescuers brought the group to the entrance of the village, where they said they were let off on their own.
"Noong narescue kami…dinala kami sa may bungad ng Provident [Village], which is 'yung St Mary [Avenue], tapos noong binaba kami, wala na. No food, no water, no everything," Bautista said.
(When we were rescued…we were brought to the entrance of Provident [Village], which is St Mary [Avenue], and when we were let off, then nothing. No food, no water, no everything.)
No one could seem to point them to an evacuation center either, Bautista said.
"Walang nagdala sa amin…. Parang gusto nilang sabihin, 'O kaniya-kaniya na lang' (No one brought us… It's like they wanted to say 'It's every man for himself,'" she added.
Bautista said the family contacted one of her mother's siblings for help, who then brought them to Antipolo where they stayed the night.
The Bautista family has not yet returned to their home in Provident Village.
As of Friday afternoon, the official death toll from Ulysses is 14, according to the National Disaster Risk Reduction and Management Council.
However, military chief General Gilbert Gapay said search and rescue teams have recovered 39 dead bodies following the typhoon.
These teams also rescued at least 138,272 people who were stranded during the storm, Gapay added. Ulysses forced more than 350,000 people to flee their homes, the Philippine National Police said. – Rappler.com
Those who wish to assist Bautista and her family may contact her through her phone number at 0920-111-8203.
Jacob Reyes is a volunteer at Rappler. He is studying AB Communication at the Ateneo de Manila University.