This is AI generated summarization, which may have errors. For context, always refer to the full article.
While Tagaytay City aimed for the vaccination of 58,324 residents, its numbers are already at 58,636, or 100.53% of its target population
Tagaytay City completed its vaccination goals, with 58,636 residents – 100.53% of its target population – fully vaccinated by October 1.
The national government set the vaccination target to 70% of the country's population, so the target for Tagaytay City is 58,324 residents.
According to the Department of Health in Calabarzon, it is also the first to meet its targets in the region.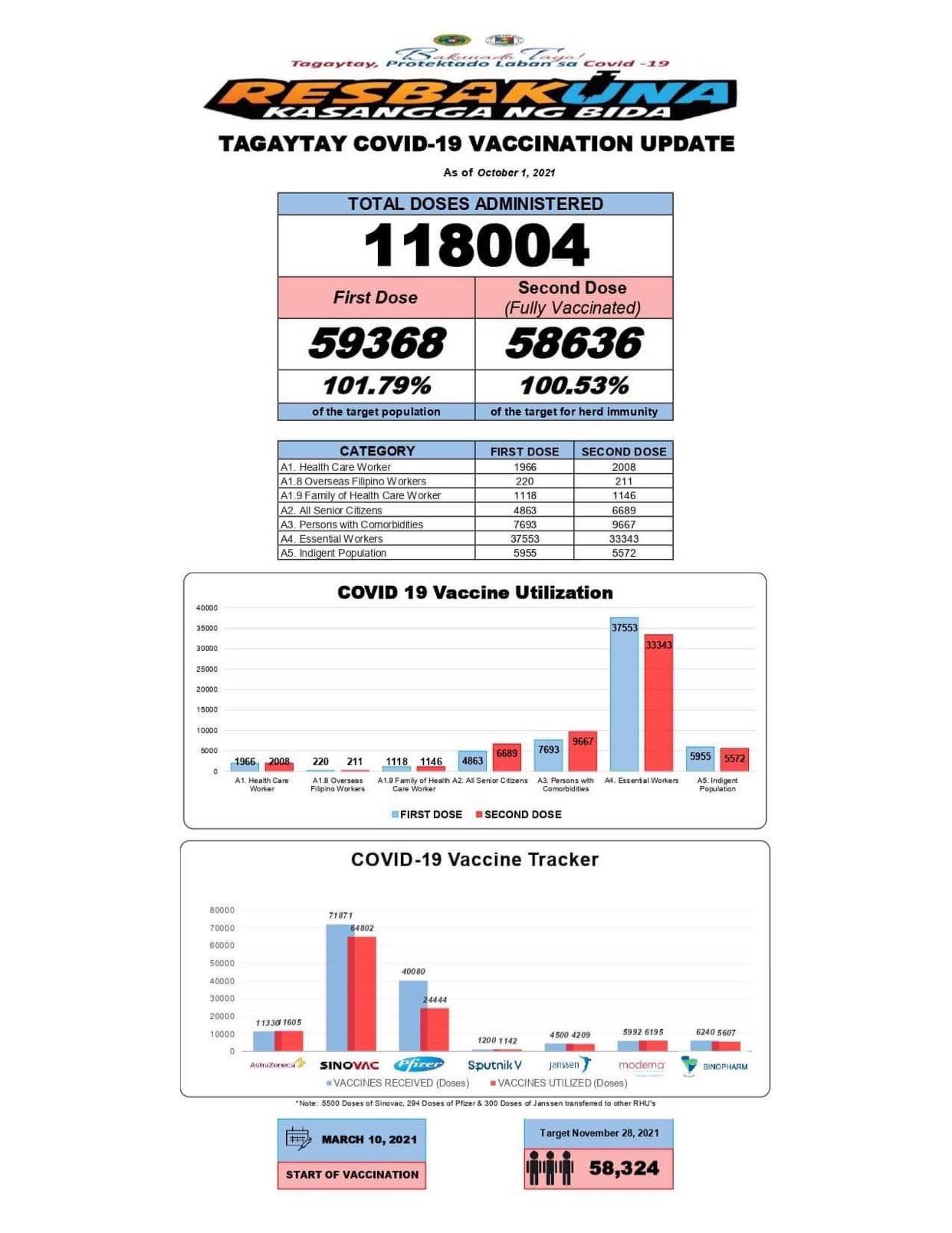 Data from the city health office shows the city has received 141,213 vaccine doses, with 118,004 used as of October 1. Top brands in Tagaytay are Sinopharm with 64,802 administered doses, Pfizer-BioNTech with 24,444, and AstraZeneca with 11,605.
Among the cities and municipalities in the Calabarzon region where Tagaytay City is part of, neighboring town Mendez follows with 86.53% of its target population fully vaccinated as of October 3.
Tanauan City in Batangas comes in third with the city at 64.26% of its goals as of the same date.
The rest of the region trails behind with vaccination rates at 50% and below.
Dr. Liza Capupus, city health officer of Tagaytay, attributed the city's success to the preparation of the local government ahead of their vaccination rollout on March 10. She said that, with the support of Mayor Agnes Tolentino, they were able to prepare their medical staff, equipment, and facilities in advance.
Dr. Capupus added the local government was proactive in ensuring they would not run out of vaccine supplies.
The national government declared in May 2021 that it was aiming to achieve herd immunity in Metro Manila by November 27 so people could celebrate Christmas.
While Tagaytay is not part of Metro Manila, Dr. Capupus said the order motivated their local government to also complete its vaccination before the date. From an initial target of 600 vaccinations a day, they pushed their daily goal to 1,500-2,000 vaccinations.
Despite the achievement, Dr. Capupus said the fight against COVID-19 remains a concerted effort of both the local government and the community. She advised residents to comply with health measures and immediately report to the local government if they experience COVID-19 symptoms. – Rappler.com
Jerome Sagcal is a Luzon-based journalist and an awardee of the Aries Rufo Journalism Fellowship.