This is AI generated summarization, which may have errors. For context, always refer to the full article.
While others expressed their gratitude to Taguig, there were those who cannot help but compare the school supplies they used to receive from Makati City
MANILA, Philippines – Taguig City started distributing school supplies to public school students, including those studying in Enlisted Men's Barrios (EMBO) barangays.
On Tuesday, August 22, Taguig Mayor Lani Cayetano led the distribution of school supplies to students of Pitogo High School and Upper Bicutan Elementary School. Pitogo High School is one of the schools located in EMBO.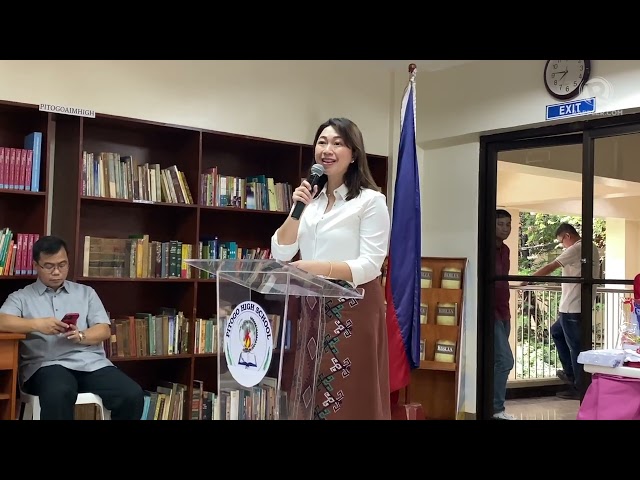 "More than the material things that will be turned over, our presence today is a testament to our collective readiness to truly support our learners, to wholeheartedly support their dreams and life aspirations, and to give our utmost effort to demonstrate that we are prepared to collaborate. We are ready to unite when the topic is their future," Cayetano said.
Pitogo High School Administrative Officer Mary Rose Roque said the distribution of school kits from Taguig marks the transition to a new phase.
"The act of receiving these supplies signifies the transition of one phase to another, a transition that is marked by anticipation, enthusiasm, and a sense of readiness, to explore the uncharted territories of knowledge. Therefore equipping our very own students the means to express themselves and flourish," Roque said.
Last week, during the Brigada Eskwela, tension emerged between the two cities after Taguig took over the 14 public schools in EMBO. Some students and parents said that the dispute between the two cities caused the delay in the distribution of school supplies and uniforms.
A "banner war" also erupted between the two cities. "This property is owned by Makati" and "I love Taguig" banners were spotted in public schools around EMBO barangays.
A few days after, the Department of Education's central office stepped in to directly supervise the affected schools.
Taguig said that students would be provided with a full set of school supplies, including bags, daily and PE uniforms, socks, black shoes, and rubber shoes. Taguig said they are still in the process of getting the measurement of students.
While still waiting for the uniforms, Taguig asked the principals to allow the students to wear their old uniforms from Makati as classes begin on August 29.
"We won't make things difficult for the students. Whatever uniform they can use and feel comfortable with as they come to school, while we wait for the delivery of our new school uniforms, there won't be any issue for me. It's not the children's fault that they haven't received the school uniforms yet," Cayetano said.
Cayetano said the school uniform they will distribute will be the same design as the uniform of students from Taguig public schools.
Mixed reactions
Amid the transition chaos, some students said that the distribution of school kits from Taguig gave them a sense of assurance.
"Nung una talaga, 'di ba nung in-occupy ng Taguig LGU yung mga EMBO barangays, 'yung mga magulang and sympre kami, nag-wo-worry kami kung bibili ba ng school supply kasi opening ng classes," Hiroto Otokoishi, grade 12 student and student council president of Pitogo High School said.
(At first, when the Taguig LGU took over the EMBO barangays, our parents and of course us students, we were worried about whether we should buy school supplies because classes were about to start.)
Like Otokoishi, a grade 11 student from Pitogo Ellyzza Sorio, also expressed worries prior to the distribution of school supplies.
"At first super nababahala kami kasi baka hindi kayang i-sustain ng LGU ng Taguig yung mga panganagailangan namin dahil galing kaming Makati and as we all know, sa Makati nabibigay naman lahat," Sorio said.
(At first, we were really concerned because we were worried that the Taguig LGU might not be able to sustain our needs since we came from Makati, and as we all know, everything is provided in Makati.)
"Super na-surpise kami na kaya pala ni Mayor Lani Cayetano na i-provide rin yung kailangan namin and actually natuwa rin ako kasi complete na rin yung kailangan namin sa supply na binigay ng Taguig LGU," Sorio added.
(We were surprised that Mayor Lani Cayetano was able to provide what we needed, and I was actually happy because the supplies given by the Taguig LGU were complete.)
Otokoishi and Sorio said that they felt at ease now that they received their school supplies.
While others expressed their gratitude to Taguig, others cannot help but compare the school supplies they used to receive from Makati City. Some parents said the school kit was not enough.
"Hindi po ako natuwa sa nakuha namin–hindi po siya quality [at] hindi po siya quality…kaya nalulungkot kami na ganito lang natanggap namin," said Malou Ebrada, whose grandchild is in kindergarten.
(I wasn't pleased with what we received – it wasn't of good quality… that's why we are saddened that this is all we received.)
Meanwhile, Sheryl, whose child is attending school for the first time, conveyed her dismay that they didn't receive the school supplies from Makati.
"Ok naman po…pero [nanghihinayan] ako kasi hindi man lang naabutan ng anak ko yung sa [binibigay ng] Makati pero ok naman po maganda naman po yung binigay," Sheryl said.
(It's okay… but I feel a bit disappointed because my child wasn't able to receive what was given in Makati. But it's alright, the items given are nice.)
During the distribution of school supplies, Cayetano also formally announced the extension of scholarships to residents of EMBO.
Aside from scholarships, Cayetano also promised to support student activities such as junior and senior high school prom, graduation ball, and senior prom, including retreat for Grade 6 and Grade 12 students. – Rappler.com