This is AI generated summarization, which may have errors. For context, always refer to the full article.
Here's what you need to know about the World Youth Day 2023 in Lisbon, Portugal
MANILA, Philippines – After being postponed due to the COVID-19 pandemic, World Youth Day is back this 2023.
The Lisbon edition of this international event, described as a "gathering of young people from all over the world with the Pope," will be held from August 1 to 6.
This event is celebrated every three years and hosted by different countries. However, it was postponed in 2022 because of the global health crisis.
Here are the things you should know about World Youth Day.
Venue
The international event will be held in Portugal's capital, Lisbon.
Portugal is located in the southwestern part of Europe. Situated on the Iberian Peninsula, it shares borders with Spain to the north and east, while the southern and western sides are bounded by the Atlantic Ocean.
Roman Catholicism stands as the dominant religion in this country. It is also home to the Shrine of Fatima which is one of the most famous pilgrimage sites associated with the Blessed Virgin Mary.
Since 1986, there have been 16 World Youth Days hosted by different countries, mostly in Europe.
So far, the Philippines is the only country in Asia that has hosted World Youth Day, which was held in 1995.
Theme
The theme of this year's World Youth Day is based on Luke 1:39, which reads: "Mary arose and went with haste."
Asked why he chose Mary as the theme for World Youth Day, Pope Francis said: "Because as soon as Mary knew she was going to be the mother of God, she didn't stay there taking a selfie or showing off. The first thing she did was to set out on a journey, in haste, to serve, to help. You too have to learn from her to set out on a journey to help others."
Here is a list of the previous themes of World Youth Day.
Theme song
The theme song for the 2023 World Youth Day is "Há Pressa no Ar," meaning "There's a Rush in the Air". This song draws inspiration from the event's theme.
It was written by João Paulo Vaz, a priest, while Pedro Ferreira, a teacher and a musician, composed the melody. Both of them were from the Diocese of Coimbra, in the central region of Portugal. The arrangements were made by musician Carlos Garcia.
Two renditions of the theme song were produced: one in Portuguese and another international version that incorporates five languages (Portuguese, English, Spanish, French, and Italian).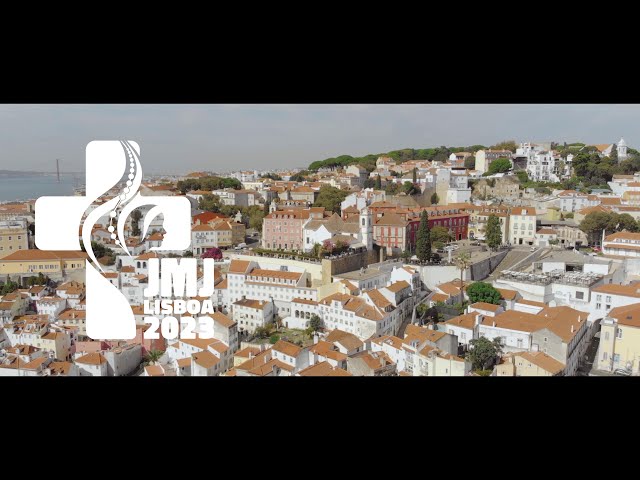 Participants
The Portuguese government expects at least 1.5 million participants in this event.
Based on a report released in May by the organizers, Spain leads the list of countries with the highest number of fully completed registrations for pilgrims totaling 39,777. Following behind are Italy with 32,369 registrations, Portugal with 19,350, France with 9,283, Poland with 9,053, and the United States of America with 5,807 registrations.
Meanwhile, at least 1,500 Filipinos are attending the international event, the Catholic Bishops' Conference of the Philippines (CBCP) said.
According to the Vatican, over 700 bishops and 20 cardinals, along with 20,000 volunteers and pilgrims from over 200 countries, are expected to attend the event.
Pope Francis will also take part in World Youth Day, nearly two months after undergoing hernia surgery.
History
World Youth Day is a brainchild of Pope John Paul II. It was first held in Rome in 1986.
World Youth Day commenced following the participation of numerous young individuals from various parts of the world who responded to the Pope's invitation to join the International Jubilee of Youth in 1984 and the United Nation's International Year of the Youth in 1985, both events taking place in Rome. – Rappler.com