Tax expert Mon Abrea says that based on audited financial statements, TigerPhil underdeclared over 30% of its sales
The Senate blue ribbon committee flagged TigerPhil Marketing Corporation, a supplier of Pharmally Pharmaceutical Corporation, for underdeclaring about 30% of its sales, raising the possibility that it failed to pay the correct amount of taxes owed to the government. 
During the committee's 12th hearing into alleged corruption in the administration's pandemic response on Tuesday, October 19, Senator Richard Gordon grilled officials of TigerPhil over its transactions and where it sourced items like face masks which it later sold to Pharmally. 
TigerPhil's representatives had been summoned to attend Tuesday's hearing, after Pharmally company director Linconn Ong pointed to the firm as its source for its first delivery of face masks to the government on March 25, 2020.
That transaction had been flagged in a September 13 hearing, following Senators' disbelief that Pharmally delivered 500,000 masks to the Procurement Service of the Department of Budget and Management (PS-DBM) just three hours after it received a request for quotation from the agency.
Gordon presented data that showed TigerPhil purchased face masks from Greentrends Trading Int'l at P18 per piece for a total fo P9 million, which it later sold to Pharmally for P23.9 for a total amount of P11.95 million. Pharmally would later sell this to the PS-DBM at P27.72 per piece for a total of P13.86 million. He asked the Senate panel's resource person, tax expert Mon Abrea, if each of these transactions should have seen taxes paid to the government.
Abrea confirmed this, saying 12% Value Added Tax (VAT), income tax, and expanded withholding tax should have been paid for each sale. Abrea, however, pointed out that based on TigerPhil's audited financial statement submitted to the panel, it appeared only P3.5 million in sales was declared to the Bureau of Internal Revenue in 2020, the same year it supplied masks to Pharmally.
"Ibig sabihin hindi dineklara yung sinupply nila kay Pharmally and ito po ay grounds for tax evasion kasi higit 30% ang inunderdeclare ng TigerPhil marking base doon sa audited financial statements," Abrea told the senators, referring to the P11.9 million it earned from Pharmally.
(This means that they did not declare what they supplied to Pharmally and this could be grounds for tax evasion because TigerPhil underdeclared more than 30% of its sales based on its audited financial statements.)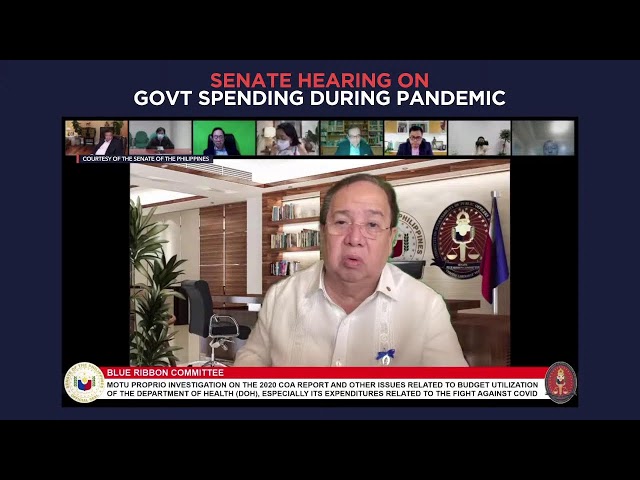 Amended tax returns
Confronted with these findings, TigerPhil President Albert Sy said that the company later amended its tax returns on September 24. This included paying P553,868 in amended VAT returns and P1,138,680 in amended tax returns.
Asked to comment, Abrea said that tax returns could be amended if the BIR had not started its audit. Otherwise, if the audit already started, it could serve as grounds for tax evasion.
Senators wanted to toss the issue to the BIR but the agency could not weigh in on the matter immediately because President Rodrigo Duterte had ordered officials of the executive to department to snub the blue ribbon probe.
Gordon later questioned Qingjin Ke, one of TigerPhil's officials, on whether he was aware the company had tax deficiencies. Ke, answering through a translator, said, "Yes, but we have also made that amendment.
Gordon, however, questioned the timing of the firm's move to amend its tax returns, saying the Senate's hearings were well underway by then. The panel launched its probe in August.
Ke apologized on behalf of TigerPhil, citing supposed difficulties in paying taxes during the pandemic. "We apologize for this. We have made this mistake but it was really not our intention to miss paying taxes and we have made the amended and shouldered the penalty," Ke said through a translator. 
"Too late," Gordon said. The senator later ordered a letter be sent to the Bureau of Immigration and BIR to "at the very least" investigate the firm.
During the hearing on Tuesday, senators sought to push forward with lines of questioning that delved into whether or not suppliers of pandemic items paid proper taxes to the government. (READ: 'Weird': PS-DBM handled customs clearance, VAT for China supplier)
Aside from TigerPhil, senators tried to extract findings on the issue based on Pharmally's transactions but have so far been unable to uncover details after the firm's officials refused to share documents that could shed light on its transactions. Iluminada Sebial, the auditor who signed the audit report attached to Pharmally's financial statements, admitted that she never saw source documents like invoices.
The blue ribbon committee will resume hearings on Thursday, October 21, at 11 am. – Rappler.com