Aklan will complete vaccinating its target population first before exempting fully vaccinated visitors from the COVID-19 test requirements
Families of tourists started arriving in Boracay Wednesday afternoon, October 27, to enjoy the famous white beach of the Philippines' popular travel destination.
Weeks after the Inter-Agency Task Force on Emerging Infectious Diseases (IATF) granted Aklan Governor Florencio Miraflores' request to allow minors and senior citizens access to the island, adults started arriving with children and their parents in tow.
The local government also got into the groove, pushing to midnight the start of curfew on the island. Barangays in mainland Malay town retains a 9 pm-to-4 am curfew.
Miraflores issued an advisory on Tuesday, October 26, exempting Aklan-bound visitors from Panay island with certificates of full vaccination from having to get the long-standing RT-PCR test requirement. Earlier, the governor said returning Aklan residents who are fully vaccinated no longer have to present negative RT-PCR test results.
But Wednesday's visitors from Manila still had to present negative RT-PCR test results taken at most 72 hours before the time of arrival.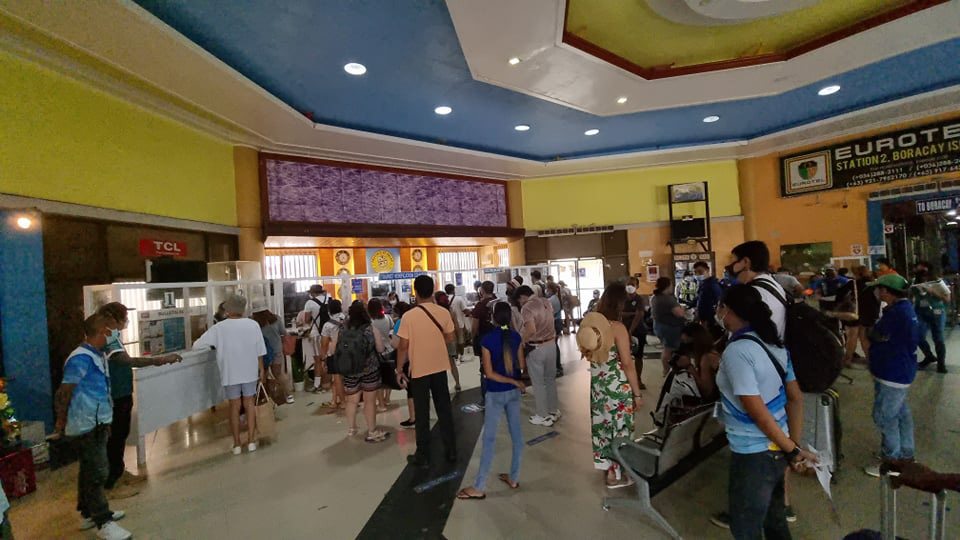 Tourism Secretary Bernadette Puyat said Miraflores first wants to complete vaccinating the full target population of residents and workers in the island before expanding exemptions to fully vaccinated visitors from areas outside of Panay. 
As of Sunday, October 24, 91% of tourism workers and 62.78% of the eligible population in Boracay had been vaccinated.
Celebrations
Ariel Francia, from Pasig City, said he brought his daughter, a toddler, to teach her how to swim.
"I was here in July this year and decided to come back because Boracay is not yet crowded," he told Rappler.
Rodel Cruz, also from Pasig, said he was with his wife and three children to enjoy Boracay.
"My wife is celebrating her 50th birthday and we decided to enjoy it here," he said.
Cavite resident Alyssa Cruz said she was already a frequent visitor to Boracay and currently enjoys the relatively quiet beach with her friends.
Security preparations
Acting Malay Mayor Floribar Bautista estimates that daily arrivals in Boracay are at 700 to 800 tourists from all over the country. Before this week, most visitors came from nearby provinces on the Panay mainland.
"I understand that our Boracay police are divided in their security monitoring – that is, securing residents visiting the cemetery, and also the security welfare of tourists. I expect more tourists to visit Boracay in the coming days," he said.
Police Lieutenant Colonel Don Dicksie de Dios, chief of the Malay police, said in a phone interview on Thursday, October 28, that they had prepared all the security requirements to ensure the safety of both tourists and the residents.
"We have conducted simulation exercises recently to ensure the safety of tourists, and we are ready," he told Rappler.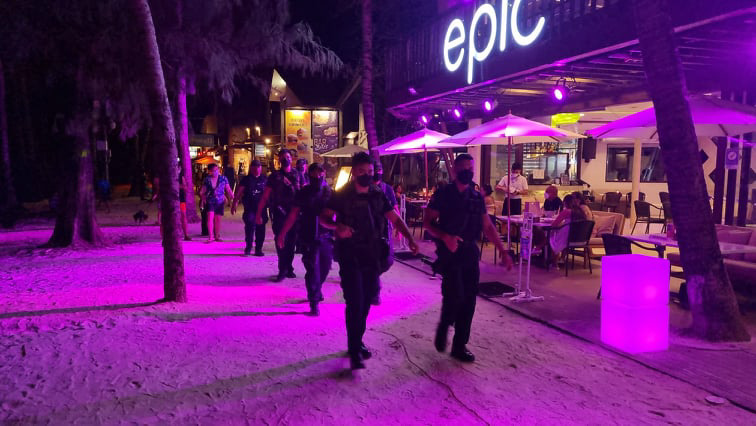 Alcoholic drinks are only allowed when served at registered bars and restaurants. Entertainers are also limited to establishments, the police said.
Last week, the police gave 42 citation tickets to Boracay residents for not wearing facemasks in public and violating the curfew.
According to the Malay Health Office, Boracay has zero COVID-19 cases, as of October 26. – Rappler.com