Businessmen suspect a cartel is behind the exorbitant fuel prices in the city and in the Zamboanga Peninsula region
The Zamboanga City Chamber of Commerce Foundation Incorporated on Tuesday, October 12, called again for an investigation into the city's fuel prices that have breached P60 per liter.
Gasoline prices in Zamboanga City ranged from P61.65 to P67.80 per liter on Monday morning after fuel companies announced another round of increases in pump prices.
Diesel prices in Zamboanga ranged from P53.59 to P59.05 a liter.
Pedro Rufo Soliven, president of the Zamboanga Chamber, said the city's business community have long suspected a collusion, and a cartel behind what they called as exorbitant fuel prices in the city and the Zamboanga Peninsula region.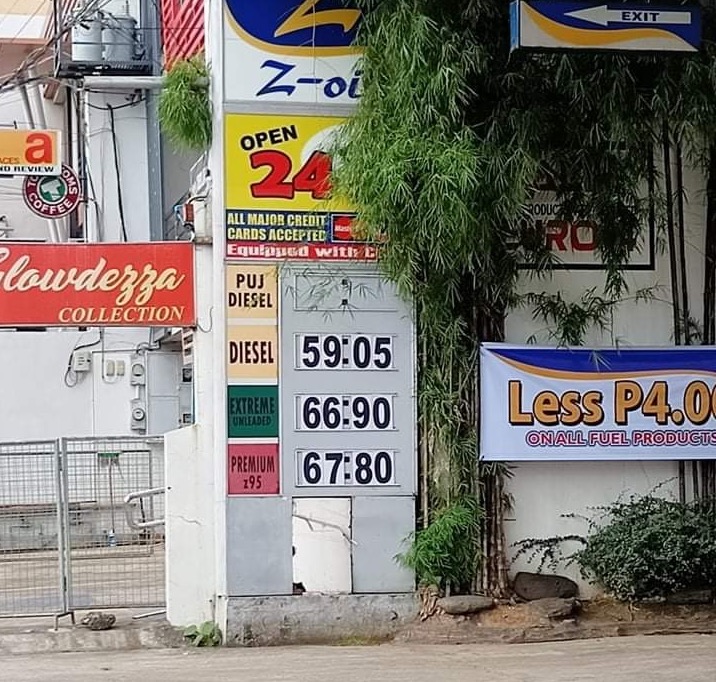 "This has to be investigated," said Soliven as he questioned why Zamboanga's fuel prices were among the highest in Mindanao.
Two gas station workers told Rappler their pump prices were being increased by P1 to P2 per liter every week recently.
Local gas station owner Oliver Ong told Rappler, "We get advice from the oil companies. We have no control over the pricing."
Ong said they also have no idea why fuel prices in Zamboanga City were higher compared to other cities in Mindanao.
"Actually, we (local gas station owners) are not allowed to set our own prices," he said.
Soliven said his fellow businessmen have been complaining for months about the "unconscionably high fuel pump prices," and they even brought the matter to the attention of Energy Secretary Alfonso Cusi, and the Regional Development Council as early as June.
He said the Department of Energy (DOE) has yet to act on their complaint.
Soliven said his group noted the disparity in fuel prices in Mindanao as early as May.
Regional Development Council-Zamboanga Peninsula (RDC IX) chairperson and Zamboanga del Sur Governor Victor Yu has also asked the energy department, and Philippine Competition Commission (PCC) head Arsenio Balisacan to look into the "unusually high" fuel prices in Zamboanga City. -Rappler.com
Frencie Carreon is a Mindanao based journalist and an awardee of the Aries Rufo Journalism Fellowship