'Doing the show was my way of kind of showing my parents, even though I wasn't raised in the Philippines, that I love my culture and I love my parents,' says 'Trese' executive producer Jay Oliva
This story is published in partnershipwith SoJannelleTV, a magazine show about Filipinos in North America
When Netflix first approached Jay Oliva to executive produce the adaptation of the popular Filipino komik Trese, he wondered internally if he was getting the opportunity because he was Filipino. It was an unusual position for Oliva to be in, but one that he eventually reasoned was the result of his unique experiences as a Filipino-American artist and producer.
"I think I got it because again, yes I am Filipino but I think it's also because I understand the culture," Oliva said in an interview for the So Jannelle TV program hosted and produced by Filipino-American media pioneer Jannelle So-Perkins.
Though Oliva has done interviews about his work, including press junkets about Trese, this time he discussed his life and journey as a Filipino-American.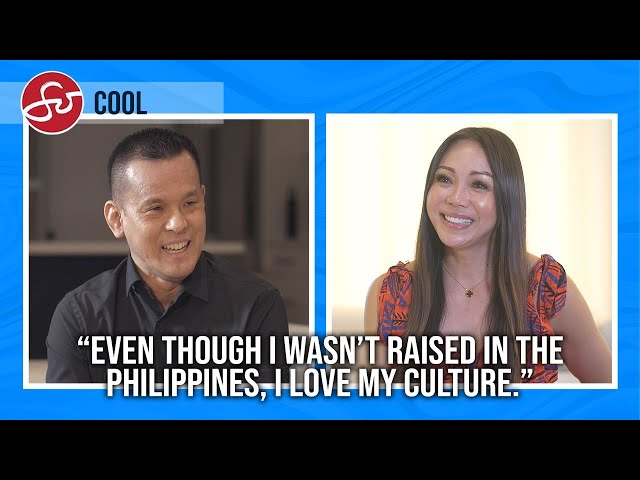 Oliva said he figured that representation was important, but that he also had the credentials to bring this project to life, considering his experience of adapting other graphic novels to the big and small screen. He was the right man at the right time for the project.
"If that's the reason that that got my foot in the door, then I'm going to take advantage of it because I've never had this opportunity before in the past," he added.
Considering that Trese is the first Filipino graphic novel adapted to Netflix as part of the streaming service's expansion into anime and campaign to push for more subscribers in the Philippines, the opportunity turned to pressure.
"I need to really do well on this or else I won't be able to show my face in the Philippines," joked Oliva.
Trese, an anime-style animated show, centers around Alexandra Trese, a Manila-based detective who deals with supernatural crimes. It was adapted from the graphic novel series that was created by Budjette Tan and Kajo Baldisimo in 2005, and has become a significant crossover hit since debuting on Netflix on June 11.
The Filipino representation isn't just behind the scenes. The voice actors include Filipino and Filipino-American heavy hitters like Liza Soberano, Shay Mitchell, and Lou Diamond Phillips.
For Oliva, a big part of the undertaking was visiting the scenes from the show. He recalled that his previous trips to Manila were usually just to visit family and go out to eat, but he's since toured Balete Drive, walked through the streets of Quiapo, and visited other places with a haunted reputation.
Oliva had worked at the major studios before, including Warner Brothers and Disney, but this production is the first from his own studio, Lex and Otis. While there are many Filipinos working in the animation realm, Oliva is the only one who owns his own studio, a fact that he doesn't take lightly.
"I realized that I was in a position to change the industry from the inside," he said. "The big studios are never going to change. And then I also realized, wait, I think I'm the only Filipino who owns a studio in and let alone Hollywood, right? That's when I realized, 'oh wow, that's some big shoes to fill.'"
Like many other Filipino-Americans, Oliva had a difficult time trying to convince his parents that the arts were a worthy career to go in to.
"Like most Asian families, my parents are like, 'Don't go into art. There's no money in art. Be a doctor,'" remembered Oliva who also added that he actually got his artistic inclinations from his father, an architect. But unlike his father, the younger Oliva was entirely self taught, tracing sketches in a book and even on the TV screen.
By the age of 19, he was working as a storyboard artist, beginning with the Fox series Spider-Man. At the time he was studying biology at Loyola Marymount University in Los Angeles and making $3 an hour selling computers at Computer City.
Weighing his options, Oliva eventually dropped out to focus on his animation career. And it proved to be the right decision at the time because two years later, he was offered a chance to direct. But, in an ironic twist, Loyola Marymount, the school he dropped out of, later reached out to offer him a job as a professor at their School of Film and Television.
In his nearly three decades as an artist, producer and director, Oliva has worked on features like Batman: The Dark Knight Returns, The Invincible Iron Man: The Movie, Doctor Strange: The Sorcerer Supreme, and Next Avengers: Heroes of Tomorrow, plus the DC Comics live-action feature Man of Steel.
And through all of his experiences, Oliva said he feels like his career has been building up to this moment with Trese.
"Doing the show was my way of kind of showing my parents, even though I wasn't raised in the Philippines, that I love my culture and I love my parents, and the fact that they immigrated here to provide a life for me like this, that I appreciate it," he said. – Jannelle So Productions | Rappler.com

Check out So Jannelle TV daily for stories that make you pause, reflect, and appreciate who we are and what we are as a people.

Fridays, 5 PM on KSCITV-LA18
Saturdays, 7:30 PM PT on ANC
Sundays, 4:30 PM PT / 7:30 PM ET on TFC or the IWantTFC App
Or any time on YouTube.com/SoJannelleTV