Tuguegarao Mayor Jefferson Soriano explains he spent his birthday with his family and it was only the second time he saw them in 8 months
Tuguegarao Mayor Jefferson Soriano apologized to his constituents on Monday, November 16, for his absence when Typhoon Ulysses (Vamco) battered his city while he was on a birthday trip with his family.
Soriano left Tuguegarao on November 8, a Sunday, and reportedly went to Batangas to spend his birthday with his family, whom he had not seen in months. The mayor decided to return to Tuguegarao on November 12, but by that time, there was no longer a path for return.
It was in the morning of November 8 when state weather bureau PAGASA first informed the public about the low pressure area that would later become Typhoon Ulysses. Hours later, Ulysses developed within the Philippine Area of Responsibility.
"I decided to spend my birthday – I'm really very sorry for that – with my family. This is the second time I visited my family in 8 months. I am really very sorry for that. I underestimated the situation," Soriano said in an interview with CNN Philippines on Monday morning.
Soriano drew the ire of the public after his daughter, Bea Soriano Dee expressed her glee on social media when her father came to visit her before the typhoon battered their hometown. 
The photo attached in her post showed the father and daughter smiling together in separate reclining chairs, with a backdrop of a clear sky over what appeared to be the Taal Volcano. 
The photo has since been deleted.
Mayor's defense
The mayor then defended his absence, explaining he spent his birthday with his family and it was only the second time he saw them in 8 months.
Soriano said there was no storm signal issued when he was away. 
Soriano added, however, that he had secured a travel permit from their governor, Manuel Mamba, before his trip.
The tail-end of a cold front brought moderate to intense rain to Cagayan on November 9, while Ulysses was still over the Philippine Sea.
Before dawn on November 11, PAGASA expanded its rainfall warning to cover the entire mainland Cagayan Valley region. It said moderate to heavy rain, with at times intense rain, was expected to occur.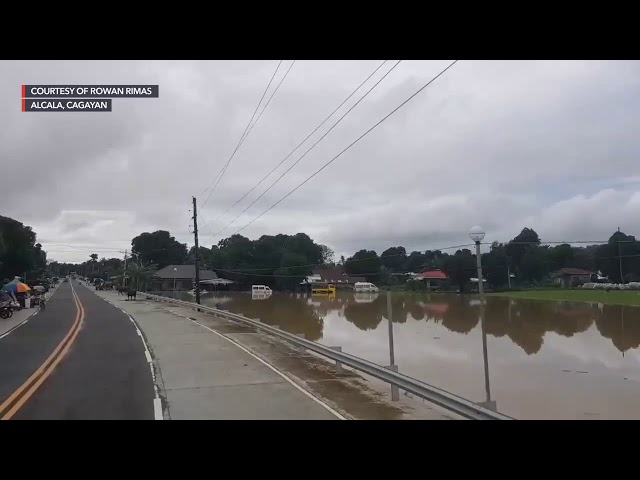 Soriano has been ordered to explain his absence by the Department of the Interior and Local Government. If his explanation does not satisfy its secretary, Eduardo Año, Soriano may face administrative complaints that could lead to his suspension from office.
Soriano is a controversial mayor who had faced 4 corruption cases and an electoral fraud case, but was able to hold on to office and even get reelected. – Rappler.com