#OustDu𓆉 , which sports its own custom turtle emoji when viewed on mobile, trends as Filipinos take to social media to creatively voice out their feelings and call out the President for bashing the country's frontliners
In a late-night address on Sunday, August 2, President Rodrigo Duterte took a jab at the medical community, following their appeal to review the government's pandemic response.
He dared medical societies to stage a "revolution" against him, as this would allow him to exercise his presidential powers to settle it.
"Next time, huwag ninyo akong parinig-rinigin ng revolution. Naku, Diyos ko. Iyan ang mas delikado sa COVID. Eh kung mag-revolution kayo, you will give me the free ticket to stage a counterrevolution. How I wish you would do it," said Duterte.
He deemed the frontliners' distress call as an accusation of incompetence which he did not take well, along with the fact that medical associations held press conferences and gave out recommendations to improve government efforts.
The statements made by the President angered Filipinos who immediately took to social media to creatively call him out.
#OustDu𓆉, which sported its own custom turtle emoji when viewed on mobile, quickly became the top Twitter trending topic in the Philippines with 31,800 tweets as of writing.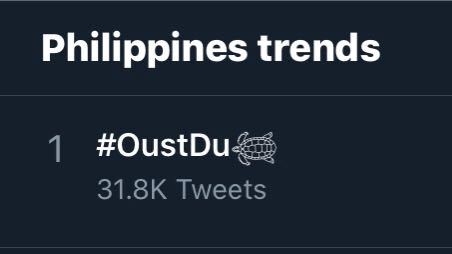 This also comes after new Armed Forces of the Philippines chief Lieutenant General Gilbert Gapay said he wants to include social media in the scope of the controversial anti-terror law.
Filipinos on Twitter did not only get creative with the hashtag but were quick to whip up memes to express their dismay with recent events. Check out some posts below:
Louder for people in the back.
Bakit nga ba?
K-drama fans:
"And there's robbers to the east, clowns to the west…"
You're insecure, don't know what for.
Felt cute, might not delete.
Sudden late night announcement of MECQ be like:
Who ordered incompetence?
Pennywise is not amused.
Some Twitter users also asked, why the need to use a turtle emoji to express dissent when you can say it upfront.
And here's a poem posted by @bongflourishhh:
Here are more tweets using the hashtag:
– Rappler.com