The official death toll from Typhoon Ulysses is 14, as the NDRRMC verifies and consolidates reports of more casualties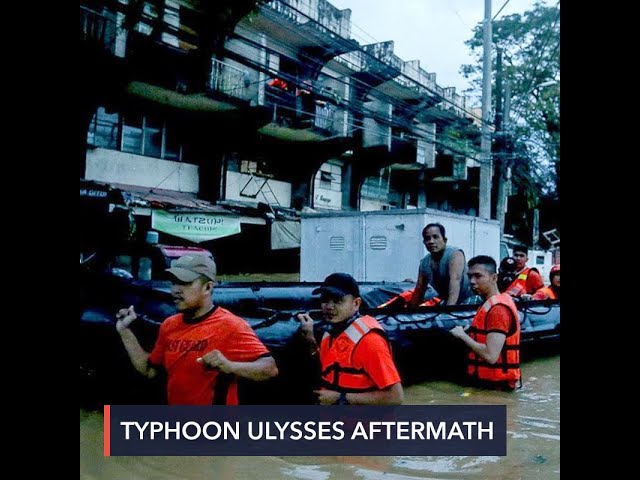 Government search operations recovered at least 39 dead bodies after the onslaught of Typhoon Ulysses (Vamco), said Armed Forces of the Philippines (AFP) chief General Gilbert Gapay on Friday morning, November 13.
This is the total number of cadavers retrieved by search teams from the AFP, Philippine National Police (PNP), and the Bureau of Fire Protection (BFP) in the regions affected by the typhoon, Gapay said in a televised briefing by the National Disaster Risk Reduction and Management Council (NDRRMC).
This figure is higher than the 13 fatalities the PNP reported on Thursday, November 12. It is a big leap from the single death reported by the NDRRMC on Thursday evening.
The official Typhoon Ulysses death toll from the NDRRMC is 14.
During the briefing, Interior Secretary Eduardo Año explained that reports of retrieved bodies still need to be verified as to whether the deaths were indeed caused by the typhoon. For instance, some could have been killings passed off as typhoon casualties, he added.
Based on reports the AFP and the PNP delivered during the briefing, the bodies were recovered in the following regions or provinces:
Metro Manila: at least 2
Calabarzon: at least 12
Cagayan Valley: at least 7
Cordillera Administrative Region: at least 1
Central Luzon: at least 4
Bicol: at least 3
Caraga: at least 2
The casualty reports from the AFP and PNP had not been consolidated by the NDRRMC when they were announced during the briefing. The NDRRMC reported only 14 deaths earlier in the briefing.
Presidential Spokesperson Harry Roque said typhoon-related deaths verified by local government units (LGU) were only 14.
The AFP, PNP, and BFP counted a total of 40 people who were injured from the typhoon, and 22 people who were missing in different regions, Gapay said.
Search and rescue teams from different government agencies rescued a total of 138,272 people, according to Gapay. Of this figure, at least 137 were from Metro Manila: Quezon City, Marikina City, and Pasig City.
NDRRMC executive director Ricardo Jalad said 231,312 people were preemptively evacuated, and the typhoon affected at least 170,561 people.
Floods were reported in 105 cities and municipalities across regions 1 to 5. The council counted landslides and soil erosion incidents in 8 cities and municipalities in the Cagayan Valley and Calabarzon. There were 2 maritime incidents recorded in Quezon province.
The Department of the Interior and Local Government counted 17 landslides, while 206 roads have been rendered impassable, Año said.
Ulysses affected a total of 1,262 barangays, of which 1,006 saw flooding, he added. – Rappler.com