There are no significant developments in the quest for justice for victims of former president Rodrigo Duterte's violent war on drugs, while his allies in Congress have all come to his defense against the ICC
MANILA, Philippines – The United Nations (UN) human rights chief on Tuesday, March 7, reminded the Philippine government of its obligation to deliver justice for victims of abuses, including those killed under former president Rodrigo Duterte's violent war on drugs.
"The [Philippine] government has announced steps to vet senior police officers for corruption, and I hope there will be rapid progress in prosecuting human rights violators," UN High Commissioner for Human Rights Volker Türk said before the 52nd session of the UN Human Rights Council.
There were at least 6,252 individuals killed in police operations alone by May 2022, a month before Duterte's term ended, according to government data. This number does not include those killed vigilante-style, which human rights groups estimate to be between 27,000 and 30,000.
Türk said his office was working with "security actors to strengthen accountability and promote human rights in drug enforcement" but pointed out that killings continue to occur in anti-illegal drug police operations.
"Police forces need to serve and protect everyone in society," Türk said.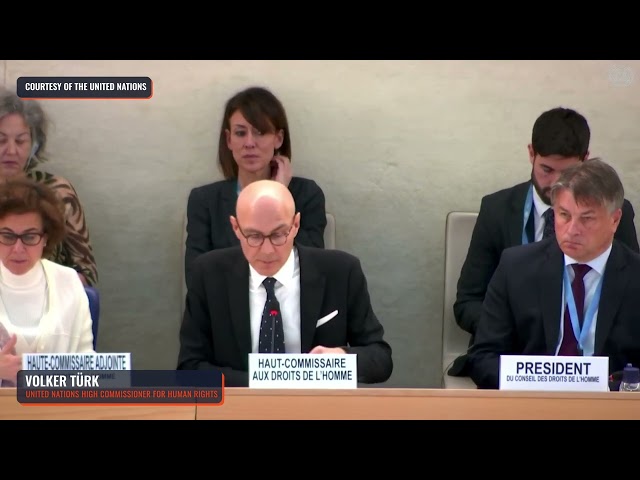 He also called for an "end to other politically motivated charges and a safer environment for civil society," even as he welcomed the recent acquittal of human rights defenders.
Türk's statement calling for strengthened accountability came as the International Criminal Court (ICC)'s pre-trial chamber recently authorized the resumption of the probe into drug war killings since it was not satisfied that the Philippines was undertaking relevant investigations.
Families continue to face challenges in running after those who killed their loved ones, while there have been only a small number of convictions out of the thousands killed, including against policemen involved in the killing of 17-year-old Kian delos Santos in 2017. A cop was also convicted in 2022 of torture and planting evidence in the case of Carl Angelo Arnaiz and Reynaldo "Kulot" de Guzman.
President Ferdinand Marcos Jr. and his allies continue to echo the messaging of the Duterte administration. It has repeatedly questioned the ICC's jurisdiction even if the Rome Statute – the court's founding document – explicitly states that withdrawal "shall not affect any cooperation with the court in connection with criminal investigations and proceedings."
Duterte's allies currently in Congress have also proposed resolutions urging lawmakers to declare "unequivocal defense" of the former president.
The Philippine government, in a document dated March 2, called on the ICC appeal chamber to reject requests lodged before the court for victims to participate in proceedings.
Human rights lawyer Kristina Conti said the move was "characteristic" of the current administration, adding that it was now carrying its "manipulative methods" to the international stage.
"We who believe in the core values of humanity – respect, openness, empathy, kindness – simply cannot allow the victims of Duterte's 'war on drugs' to lose their voice the same way their family and friends have brutally lost their lives," Conti, the secretary-general of the National Union of Peoples' Lawyers-National Capital Region, said. – Rappler.com