During the rally, a pair of police cars park near the UP Cebu gates to conduct checkpoints on passing motorists
Students and faculty of the University of the Philippines Cebu gathered Thursday, January 21, inside the campus to protest against the unilateral termination of the UP-DND accord. While this was happening, two police vehicles arrived to conduct checkpoints just beyond the university entrances.
UP Cebu opened its gates and allowed students and faculty to show their dissent on the abrogation of the agreement which barred police and military presence in the campus.
This was the first public gathering allowed inside the UP Cebu grounds since the implementation of a quarantine which restricted public movement.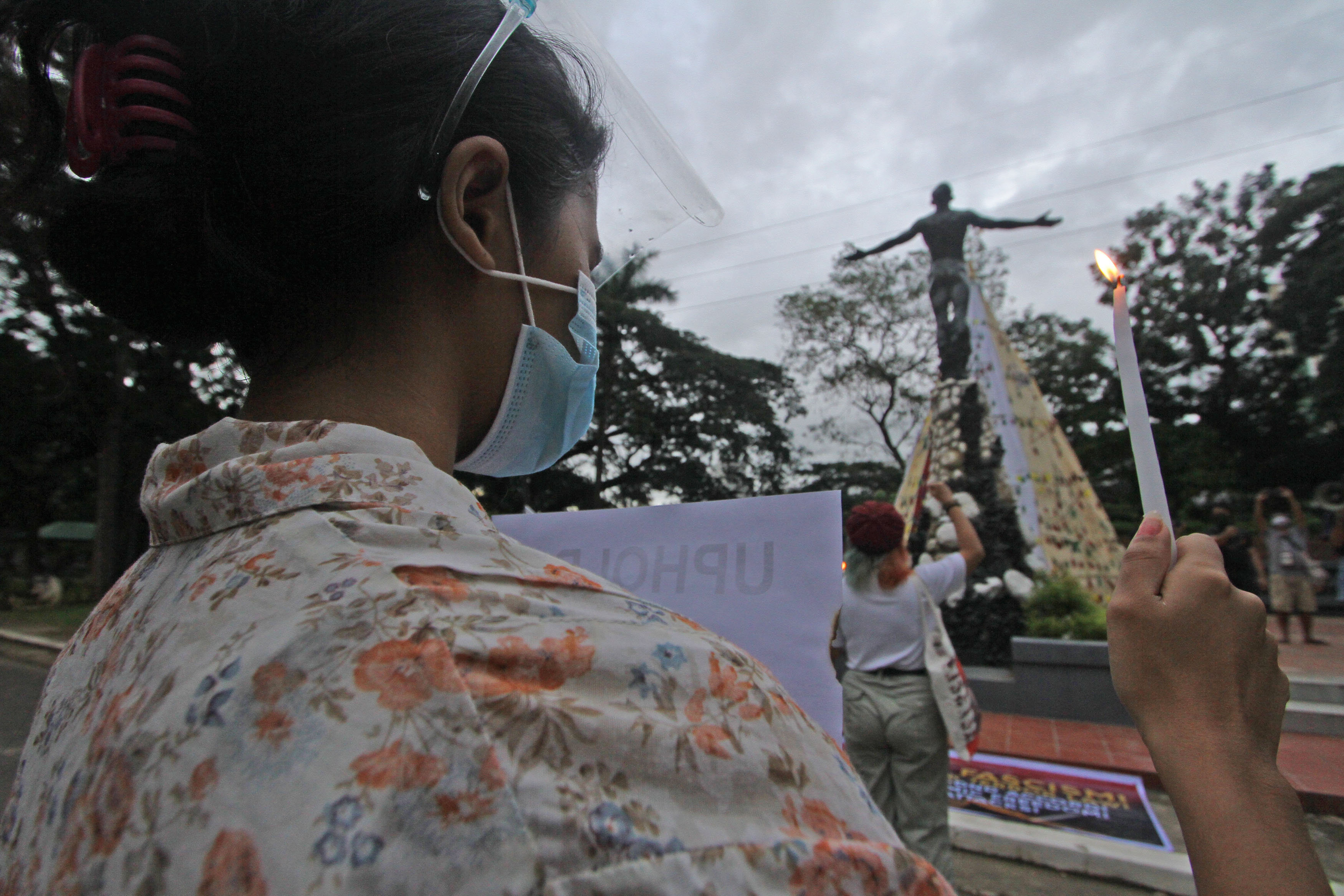 The protest was limited only to 35 participants who wore face masks and face shields, and stood on distanced markers, in order to observe minimum health standards and social distancing protocols.
Not long after the mass action began, however, two police vehicles arrived in the area to conduct checkpoints on passing motorists.
One police vehicle parked along the university entrance gate. The other across the campus. They did not enter the university.
UP Chancellor Liza Corro, who was present to observe the protest, told Rappler that the police did not coordinate with the administration.
She defended the protesters, saying they were entitled to express their dissent.
"We are entitled still to this mass gathering and we have a grievance. We can also question. But that is the problem actually, they've always looked at our criticisms, our comments as already something negative," she said.
"And it is through this being critical that we are able to help out the society, for us to be able to assess," she added.
UP Cebu University Student Council representative Dee Supelanas told Rappler that the sudden presence of police was nothing new.
"Dili shocking kay kita mismo, kahibaw ta nga everytime naa'y mobilizations, everytime mopakita ta og pakigbisog against anti-people policies ug polisiya nga nagcurtail sa atong democratic right, anaa gyud ang mga kapulisan," he said.
(This isn't shocking because we know that every time there are mobilizations, every time we show our dissent anti-people policies and policies that curtail our democratic right, the police are always there.)
On June 5, 2020, two students of the university and six others were arrested for protesting against the then anti-terror bill. They were later collectively called the Cebu 8.
Videos of the arrest showed police, both uniformed and non-uniformed, scaling the gates of the university where students and activists sought refuge after the sudden dispersal.
This happened even though the UP-DND accord was still in full effect. — Rappler.com