WHAT YOU NEED TO KNOW
The Senate and the House of Representatives are opening their sessions for the 19th Congress at 10 am (Manila time) on Monday, July 25, a few hours before President Ferdinand Marcos Jr. is to deliver his first State of the Nation Address.
District and party-list representatives are expected to formally elect Marcos' cousin and Leyte 1st District Representative Martin Romualdez as House speaker, while senators are set to choose Marcos-allied senator Juan Miguel Zubiri as Senate president.
Bookmark and refresh this page for updates, videos, and analyses on the opening sessions of the 19th Congress on July 25.
Watch the Senate opening in the video below: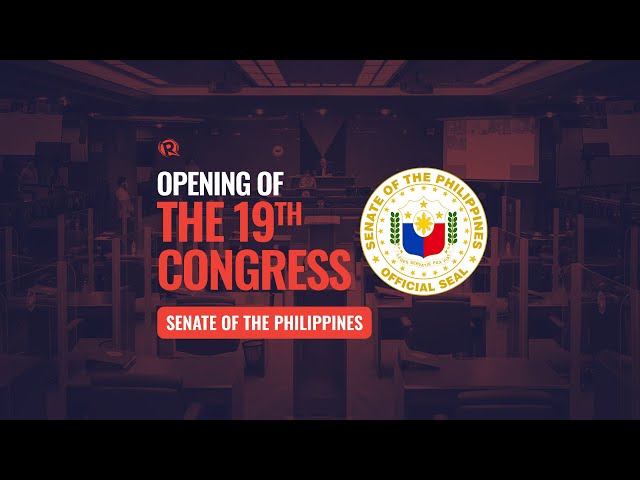 Watch the House opening in the video below: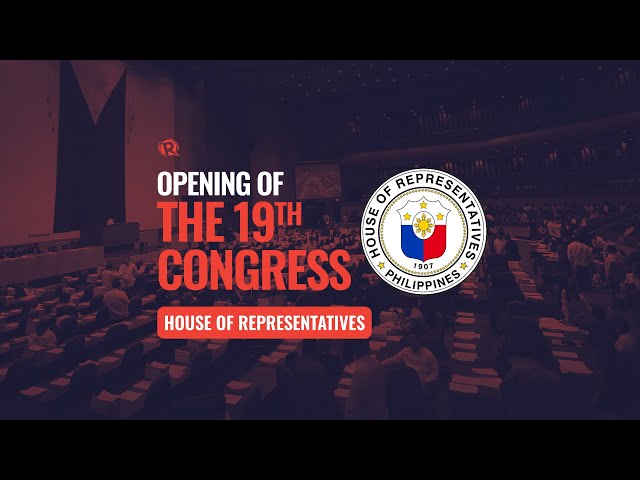 Further down the page, click "load more."
LATEST UPDATES
Highlights from the Senate session
Zubiri takes his oath as Senate president before Senator Loren Legarda, the most senior member of the chamber. pic.twitter.com/2Bgl0GAEQ3

— Mara Cepeda (@maracepeda) July 25, 2022
Zubiri delivers his first speech as Senate president: To my colleagues, thank you for the trust. I shall repay that honor with hard work as your trabahador ng Senado. pic.twitter.com/Ukma3wG8QK

— Mara Cepeda (@maracepeda) July 25, 2022
Apart from the COVID-19 pandemic, Zubiri names the pressing problems of the country today: "Food, fuel, fiscal, and the fading faith of the people in our institutions"

— Mara Cepeda (@maracepeda) July 25, 2022
Zubiri: This Senate under my leadership, however, will be one to solve problems more than it would find faults. While probes are magnets for publicity… it is the policy, laws patiently written line by line, away from the limelight, that drives progress.

— Mara Cepeda (@maracepeda) July 25, 2022
Zubiri: "We must uphold the Senate's proud tradition of being independent."

The Marcos ally has formed a supermajority coalition in the upper chamber traditionally known to be more independent than the House. But Zubiri says he won't use it to railroad Marcos' pet bills.

— Mara Cepeda (@maracepeda) July 25, 2022
Zubiri on pet bills Marcos to announce later: Let us view them in the proper context – that this is not a presidential wish list he crafted on his own, but rather, a President articulating what the people want. So let us respond to what the people want urgently.

— Mara Cepeda (@maracepeda) July 25, 2022
Zubiri on metrics that should gauge senators' performance: This will be the first downpayment of what we owe people.. Laws that will bring social good, not just social media hits; jobs created, hunger reduced

— Mara Cepeda (@maracepeda) July 25, 2022
Senator Sonny Angara nominates Legarda as Senate president pro-tempore, the second highest post in the chamber. Legarda is the most senior member of the Senate, with 18 years under her belt.

— Mara Cepeda (@maracepeda) July 25, 2022
Senator Nancy Binay also nominates Legarda for Senate president pro-tempore.

— Mara Cepeda (@maracepeda) July 25, 2022
Poe also nominates Legarda for Senate president pro-tempore. "It is an understatement to say that Senator Legarda is an authority in legislation," says Poe, who describes Legarda as a mentor figure to her.

— Mara Cepeda (@maracepeda) July 25, 2022
Poe recalls that Legarda was the running mate of her late father, Fernando Poe Jr., when the latter ran but lost for president.

— Mara Cepeda (@maracepeda) July 25, 2022
Dela Rosa joins the other senators in nominating Legarda for Senate president pro-tempore.

— Mara Cepeda (@maracepeda) July 25, 2022
Legarda takes her oath as Senate president pro-tempore before Zubiri. Senators Binay, Poe, Dela Rosa, and Angara witness the oath-taking pic.twitter.com/xkeTgMltUl

— Mara Cepeda (@maracepeda) July 25, 2022
Legarda delivers her acceptance speech: It is with great honor that I accept the Senate president pro-tempore position. I am truly humbled by the support given by my colleagues in this august chamber that I consider my home all these years.

— Mara Cepeda (@maracepeda) July 25, 2022
Legarda: Indeed, it has been a fulfilling journey, but my sojourn has not come to an end. Hindi pa po tapos ang ating trabaho.

— Mara Cepeda (@maracepeda) July 25, 2022
Angara nominates Villanueva as chairman of the Senate committee on rules, a post only held by the Senate majority leader.

— Mara Cepeda (@maracepeda) July 25, 2022
Dela Rosa also nominates Villanueva as chairman of the Senate committee on rules.

— Mara Cepeda (@maracepeda) July 25, 2022
Zubiri himself seconds Villanueva's nomination: "Senator Joel has proven himself a capable leader throughout his public service career," says Zubiri.

— Mara Cepeda (@maracepeda) July 25, 2022
Zubiri: With his experience, knowledge, and passion, we know that Senator Joel "Tesdaman" Villanueva will serve this chamber well

— Mara Cepeda (@maracepeda) July 25, 2022
Villanueva is elected as chairman of the Senate committee on rules. Under the Senate rules, this also means Villanueva is now the Senate majority leader.

— Mara Cepeda (@maracepeda) July 25, 2022
Senator Robin Padilla manifests that he is not casting his vote for Villanueva as Senate majority leader.

— Mara Cepeda (@maracepeda) July 25, 2022
Villanueva delivers his acceptance speech: Nakaka-inspire ang mga sandaling ito… I know Mr President that more than a rank, title, or position, I am now receiving a great responsibility. This responsibility is about taking care of this beloved institution, the People's Senate.

— Mara Cepeda (@maracepeda) July 25, 2022
LOOK: The 19th Congress senators pose for their "class picture." The ranking members of the chamber –Senate President Migz Zubiri, Senate President Pro-Tempore Loren Legarda, Majority Leader Joel Villanueva, Minority Leader Koko Pimentel– are all seated in front 📷 Angie de Silva pic.twitter.com/NGUN5GyvO6

— Mara Cepeda (@maracepeda) July 25, 2022