WHAT YOU NEED TO KNOW
The Senate and the House of Representatives are opening their sessions for the 19th Congress at 10 am (Manila time) on Monday, July 25, a few hours before President Ferdinand Marcos Jr. is to deliver his first State of the Nation Address.
District and party-list representatives are expected to formally elect Marcos' cousin and Leyte 1st District Representative Martin Romualdez as House speaker, while senators are set to choose Marcos-allied senator Juan Miguel Zubiri as Senate president.
Bookmark and refresh this page for updates, videos, and analyses on the opening sessions of the 19th Congress on July 25.
Watch the Senate opening in the video below: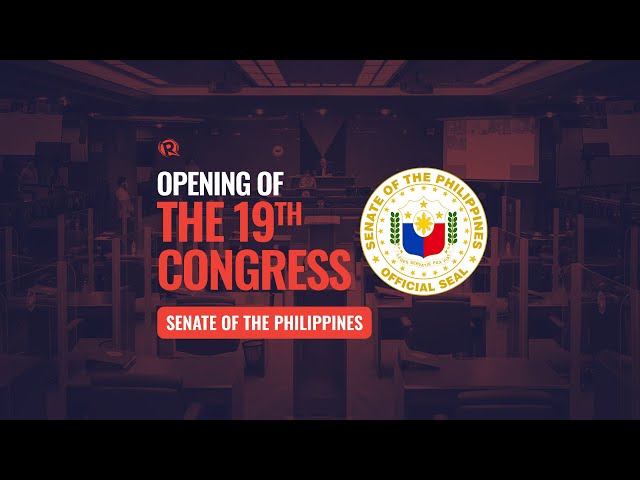 Watch the House opening in the video below: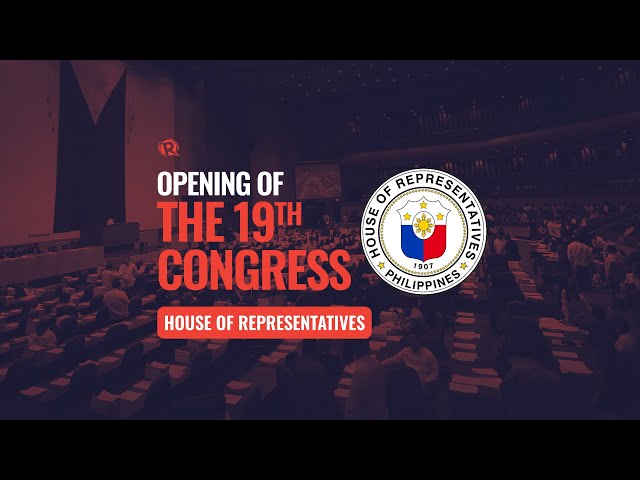 Further down the page, click "load more."
LATEST UPDATES
WATCH: Senator Win Gatchalian arrives at Senate
WATCH: Senator Win Gatchalian, who will retain his chairmanship of the committees on ways and means, basic education, arts, and culture, also arrives here at the Senate. pic.twitter.com/tesfmjYkju

— Mara Cepeda (@maracepeda) July 25, 2022
Zubiri to formally assume Senate's top post
Incoming Senate president Migz Zubiri arrives in the building with his wife Audrey. He is expected to formally assume the upper chamber's top post this morning. pic.twitter.com/Ox994uzb6c

— Dwight De Leon (@newsdwight) July 25, 2022
WATCH: Incoming Senate president Migz Zubiri arrives here at the Senate with his wife Audrey Tan-Zubiri. pic.twitter.com/vSktdwvNjk

— Mara Cepeda (@maracepeda) July 25, 2022
Majority, minority, or independent? Cayetano siblings to decide today
Senator Pia Cayetano and her brother, Senator Alan Peter Cayetano, will have to finally decide on Monday, July 25, which bloc they will be joining in the 19th Congress.
Days before the opening of session, the Cayetanos were still mulling if they would be forming a third "independent" bloc in the chamber instead of joining the minority bloc, which would be far outnumbered by the "supermajority" senators as only Risa Hontiveros and Aquilino "Koko" Pimentel III have expressed their intention to join the minority.
"But I can tell you honestly, as of this moment, we have no decision yet . But we're keeping our options open to be independent as well. So it's either majority, minority or be independent, meaning neither," Alan Peter Cayetano told reporters in a mix of English and Filipino on July 20.
Pia Cayetano also said in the same press conference that she was still deciding which bloc would be more effective in serving the public.
"I'd like to believe that I have earned this position where I am now, a senior senator, and I can be effective wherever I can be," said Pia Cayetano.
The Cayetanos said they will likely be joining the same bloc once they finalize their decision.
Senators expected to elect Migz Zubiri as Senate president, supermajority to be formed
Senators of the 19th Congress are expected to formally vote for their colleague Juan Miguel "Migz" Zubiri as their Senate president during the opening of the first regular session on Monday morning, July 25. 
Zubiri already has the Senate presidency in the bag after his closest contender, the billionaire senator Cynthia Villar, threw in the towel and declared on June 1 that she would be supporting the lawmaker from Bukidnon instead. Zubiri then spent the next couple of weeks meeting with the senators as they finalized alliances and committee assignments. 
An aspiring candidate for Senate president must get at least 13 votes among the 24 members of the chamber to secure victory. 
An ally of President Ferdinand Marcos Jr., Zubiri is eyeing to form a "supermajority" bloc in the Senate, which is traditionally known to be more independent than its counterpart chamber in the House of Representatives. Faced with criticisms, Zubiri insisted the supermajority bloc would not be used to railroad Marcos' pet bills.