WHAT YOU NEED TO KNOW
President Ferdinand Marcos Jr. is set to deliver his State of the Nation Address (SONA) at 4 pm on Monday, July 25, at the Batasang Pambansa in Quezon City, the first in his six-year term in office.
The younger Marcos is poised to bare his top plans for a country still reeling from the long-lasting impacts of a pandemic that began two years ago.
Bookmark and refresh this page for updates, videos, fact checks, and analyses as Marcos delivers his first SONA.
Watch Rappler's coverage in the YouTube video below: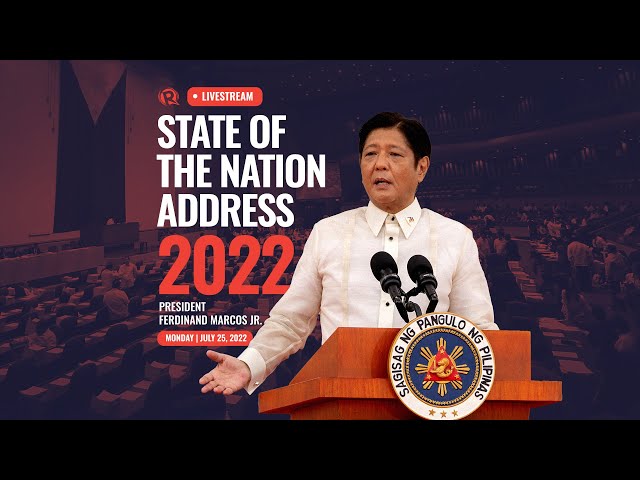 Further down the page, click "load more."
LATEST UPDATES
Reactions on Marcos' first SONA
Sen Chiz Escudero: It was a well-crafted speech with a detailed legislative agenda, but was conspicuously silent on peace and order. I laud his initiatives on land reform, energy, specialty hospitals, no more lockdowns, rightsizing, and Department of Water

— Mara Cepeda (@maracepeda) July 25, 2022
Sen. Raffy Tulfo says the points mentioned by Marcos in his SONA about OFWs and agriculture encouraged him to lobby legislations that will focus in these sectors. pic.twitter.com/zM50zsL1To

— Jairo Bolledo (@jairojourno) July 25, 2022
SUMMARY: The Marcos administration's priority bills
Speaking before a 19th Congress dominated by his allies, President Ferdinand Marcos Jr. laid out his administration's priority bills.
Read more here.
HIGHLIGHTS: Rappler post-SONA panel
.@piaranada says that Marcos' pronouncement on an EO putting a one-year moratorium on loan and interest payments for agrarian reform beneficiaries is reminiscent of predecessor Duterte's policy. However, Marcos makes policy anew with the economic crisis in mind. @rapplerdotcom

— Michelle Abad (@michelleabad_) July 25, 2022
Rappler editor-at-large .@maritesdvitug's observations from Marcos' first SONA:
– While boosters were highlighted, shortage of nurses crisis not mentioned
– Marcos stressed science-based research, but no DOST secretary yet
– No mention of human rights, transparency @rapplerdotcom

— Michelle Abad (@michelleabad_) July 25, 2022
Claudio says before the SONA, it was not clear if Marcos would be a continuity president from Duterte in terms of policy, but it's "clear" now that Marcos aligns himself in continuing Duterte's economic reform legacy. @rapplerdotcom

— Michelle Abad (@michelleabad_) July 25, 2022
Claudio: What keeps me up is the idea of a successful Marcos presidency… [Marcos] wants to be successful. As Filipinos we should want this. But if that happens baka mabura na talaga yung nakaraan. I fear and hope for a successful Marcos presidency. @rapplerdotcom

— Michelle Abad (@michelleabad_) July 25, 2022
.@lianbuan says not only did Marcos make no mention of human rights, but he also created another concern for the human rights sector when he mentioned mandatory ROTC. @rapplerdotcom

— Loreben Tuquero (@reetuquero) July 25, 2022
.@bnzmagsambol points out that Marcos didn't say how many classrooms need to be built so that face-to-face classes can be safely carried out @rapplerdotcom

— Loreben Tuquero (@reetuquero) July 25, 2022
.@bnzmagsambol says they first have to address the basics when it comes to education. For example, how do we address internet connectivity in areas that don't even have electricity? @rapplerdotcom

— Loreben Tuquero (@reetuquero) July 25, 2022
Marcos to pursue Duterte's remaining tax reform packages
Marcos to pursue Duterte's remaining tax reform packages on real property valuation reform and move to simplify the taxation of passive income, financial services, and transactions @rapplerdotcom

— Ralf Rivas (@RalfRivas) July 25, 2022
Marcos calls for passage of National Land Use Act
Marcos calls for the passage of a National Land Use Act.

It's a law ex-presidents Aquino & Duterte asked Congress to pass, mentioning it in their SONAs more than once.

Every time, hinaharang ni Senator Cynthia Villar, subdivisions developer.https://t.co/OuBcgsbsiq #SONA2022

— Miss Go (@miriamgracego) July 25, 2022
Marcos: The state of the nation is sound
"I do not intend to diminish the risks and the challenges that we face in this turbulent time in global history, and yet, I see sunlight filtering through these dark clouds."
"We have assembled the best Filipino minds to help navigate us through this global crisis that we are now facing."
"We will endure. Let our Filipino spirit ever remain undimmed."
"I know this in my mind, I know it in my heart, I know it in my very soul: the state of the nation is sound."
Marcos lists priority legislative measures
National Government Rightsizing Program
Budget modernization bill
Valuation reform bill
Passive Income and Financial Intermediary Taxation Act
E-Government Act
Internet Transaction Act
Government Financial Institutions Unified Initiatives to Distressed Enterprises for Economic Recovery
Medical Reserve Corps
National Disease Prevention Management Authority
Virology Institute of the Philippines
Department of Water Resources
Unified system of separation, retirement, and pension
E-Governance Act
National Land Use Act
National Defense Act
Mandatory Reserve Officers' Training Corps and National Service Training Program
Enactment of enabling law for natural gas industry
Amendments to Electric Power Industry Reform Act
Amendments to build-operate-transfer law
Marcos: PH to 'stand firm' in independent foreign policy
"The Philippines shall continue to be a friend to all and an enemy to none."
"We will stand firm in our independent foreign policy, with the national interest as our primordial guide."
'Marcos delivers an earnest speech, almost devoid of drama'
#PresidentMarcos, spoke calmly, limiting the drama to his promsises — to agrarian reform beneficiaries facing struggling to pay mortgage for the land they now possess under the Comprehensive Agrarian Reform Program (CARP), he pledged condonation of their delinquencies.

— inday espina varona (@indayevarona) July 25, 2022
He promised subsidies for farmers faced w soaring prices on inputs like fertilizer, saying govt would buy in bulk to lessen costs. Some economists may call the pledges "populist" but activist farmers' groups have been demanding these for years and paying w their lives. @SONA2022

— inday espina varona (@indayevarona) July 25, 2022