Despite the COVID-19 pandemic, China has apparently increased its presence in West Philippine Sea this year, says Washington-based AMTI-CSIS
The China Coast Guard (CCG) appears to have patrolled Panatag and Ayungin shoals in the West Philippine Sea more frequently this year, based on its ships' Automatic Identification System (AIS) data analyzed by the Asia Maritime Transparency Initiative of the Washington-based Center for Strategic and International Studies (AMTI-CSIS).
At least one, often two, CCG vessels broadcasted their presence at Panatag Shoal on 287 days between December 1, 2019 and November 30, 2020, said AMTI-CSIS in a report published on December 4, 2020.
This was a "substantial increase" from the 162 days CCG vessels were detected at Panatag Shoal in the previous year, the report stated.
Panatag Shoal, also known as Scarborough Shoal or Bajo de Masinloc, lies approximately 120 nautical miles west of Zambales, within the Philippines 200-nautical mile exclusive economic zone (EEZ). The 2016 arbitral ruling by an international tribunal said Panatag Shoal is a common fishing ground. Pending a resolution of sovereignty disputes over the area, no country is entitled to exclusive possession of Panatag Shoal. The Philippines considers the shoal part of its territory.
Meanwhile, there was a "modest increase" in the frequency of CCG vessel broadcasts detected at Ayungin Shoal from December 1, 2019 to November 30, 2020, the same report said. At least one CCG ship broadcast AIS signals from the shoal on 232 days within the period.
Ayungin Shoal, also known as Second Thomas Shoal, lies 105 nautical miles west of Palawan, also within the Philippines' EEZ. It is part of the Kalayaan Island Group (KIG), the part of the Spratly Island Group occupied by the Philippines.
A Philippine Marine outpost is perched on a portion of Ayungin Shoal – the BRP Sierra Madre, a Philippine Navy ship deliberately ran aground in 1999.
China signaling its claims
AMTI-CSIS based its study on vessels' AIS data collected by the ship tracking intelligence platform MarineTraffic.
Besides the Philippine-held features, the CCG also appears to have more frequently patrolled the Luconia Shoals off Malaysia and Vanguard Bank off Vietnam over the past year, AMTI-CSIS said in the same study.
"The COVID-19 pandemic has had no discernible effect on the presence of the China Coast Guard in the South China Sea," said AMTI-CSIS. Instead, the CCG not only exhibited the same behavior it did in 2019, but it also "appears to have increased the frequency of patrols during the pandemic."
The South China Sea is an international demarcation that includes the Philippines' EEZ and its other claimed areas, known to Filipinos as the West Philippine Sea.
"That CCG vessels so frequently broadcast AIS from these reefs, which are not physically occupied by China, suggests that they want to be seen signaling China's claims," AMTI-CSIS added.
Moreover, the number of vessels and the number of days their presence was detected are "likely an undercount," said AMTI-CSIS, because many CCG ships do not broadcast AIS signals consistently, if at all.
The think tank said no CCG vessels were detected at Panatag Shoal on May 14, 2020, based on AIS signals. However, high-resolution satellite imaging revealed two Zhaoyu-class CCG patrol vessels "on station" in the area on that date.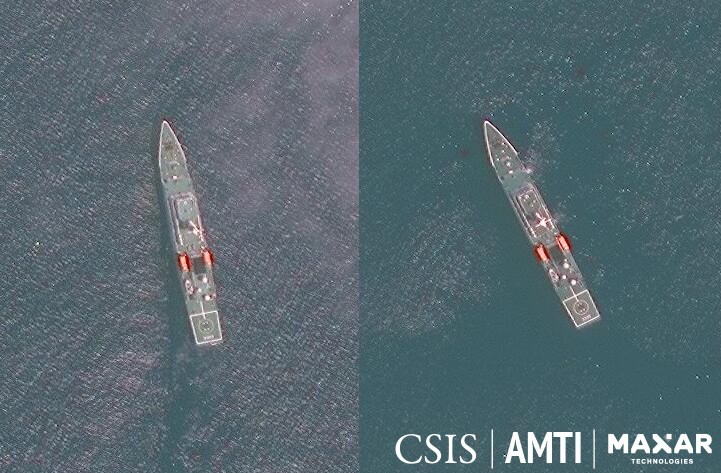 China 'successfully normalizing its presence'
In 2019, Philippine defense and military officials reported several instances of Chinese coast guard and naval ships passing Philippine waters unannounced, and with their AIS turned off. The Armed Forces of the Philippines called the move "trespassing" and a "deception."
The reported instances included CCG ship 3305 blocking the route of 3 civilian vessels on a resupply mission to the BRP Sierra Madre at Ayungin Shoal on May 14, 2019.
On September 30, 2019, a CCG ship and another vessel that introduced itself as a "Chinese naval warship" blocked a Greek-owned, Filipino-crewed oil tanker from passing near Panatag Shoal.
Since a tense standoff between Philippine and Chinese government vessels in mid-2012, the CCG has restricted Filipino fishermen's access to marine life-rich Panatag Shoal, cutting the size of their catch and their earnings by as much as 80%, according to a fishers' organization based in Zambales.
On April 23 this year, a Chinese warship aimed its weapon system's radar at the Philippine Navy's BRP Conrado Yap on patrol in the KIG. The Philippine Navy called it a "clear violation of Philippine sovereignty."
Besides coast guard and naval vessels, China also wields control of the resource-rich, strategic waters through fishing boats functioning as maritime militias. One such vessel rammed the Philippine fishing boat Gem-Ver in June 2019.
Outnumbered and outclassed by China's fleet, the Philippine Navy and Philippine Coast Guard have been cautious in sending out their own vessels to patrol the West Philippine Sea. President Rodrigo Duterte has ruled out joint patrols or drills with the country's more capable security partners, saying he does not want to spark a war with China.
Experts on the issue have repeatedly pointed out that joint maritime patrols are not hostile acts, and other countries have maintained such patrols in the South China Sea without eliciting a hostile response from China.
"Southeast Asian claimants largely refrain from deploying law enforcement or naval vessels to contest these routine [Chinese] patrols. This suggests that China is successfully normalizing its presence," AMTI-CSIS said in its report. – Rappler.com