'Ito sasabihin ko na po, bugbog na po kami. I opened my heart, bugbog na po kami,' says PhilHealth chief Dante Gierran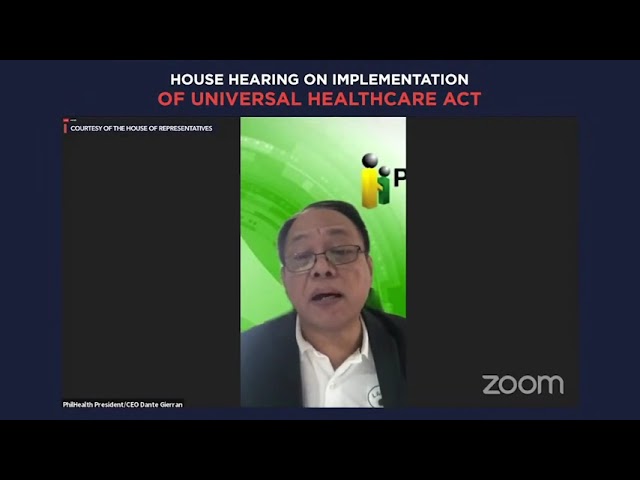 Just when you thought you've had enough of emotional outbursts from officials of the Duterte government, you're wrong.
Last week, it was Health Secretary Francisco Duque III. Now, it's Philippine Health Insurance Corporation (PhilHealth) chief Dante Gierran who became emotional during a House hearing on unpaid claims to hospitals on Thursday, August 26.
"Ito, sasabihin ko na po, bugbog na po kami (I'm just going to say this, we're beaten) I opened my heart, bugbog na po kami (we're already beaten)," Gierran said as lawmakers grilled him about controversies hounding PhilHealth.
"It's unfair, Mr. Chair, to say that it's all our fault. The TSPC, it's just a policy suspending payment of claims of hospitals that are under investigation," he added in a mix of English and Filipino.
The PhilHealth chief was referring to the agency's new policy on claims payment – PhilHealth Circular No. 2021-0013 or the temporary suspension of payment of claims (TSPC) – that was released on August 20. Lawmakers had already sought a review of the said policy.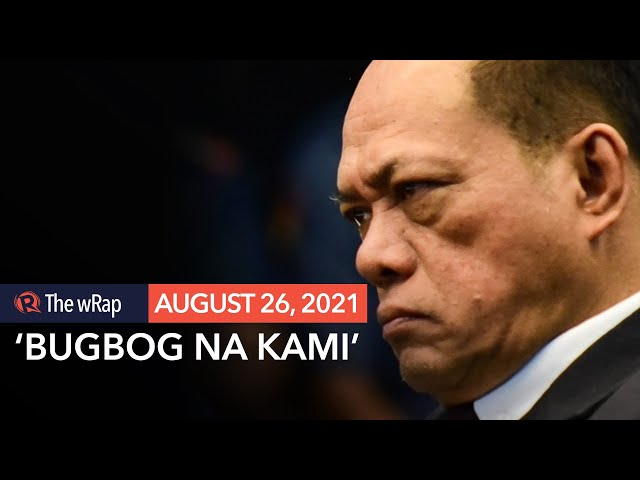 "There was a miscommunication in releasing a document of stop payment to hospitals. I was just saying the sentiments of the private hospitals because they think they were prejudged. Because of that miscommunication, the situation is worsening," Batangas 5th District Representative Marvey Mariño said.
Following PhilHealth's announcement of the new circular, hospital groups said that they were "disengaging" from PhilHealth. This means that PhilHealth members cannot avail of benefits when they go to their member hospitals "for the meantime."
Gierran, who had admitted he knew nothing about PhilHealth operations, said that his family and friends had been affected by the public condemnation he and PhilHealth are getting.
"When I came, hindi po ako sanay dito, Mr. Chair. Sa NBI, maganda po ang trabaho namin doon. Hindi ako binugbog ng mga komentaryo doon. Dito kawawa talaga. 'Yung pamliya ko, mga kaibigan ko," a visibly emotional Gierran said.
(When I came, I didn't know anything, Mr. Chair. Back at NBI, we were working peacefully. I was not beaten with criticism. Here, it's worse. My family and friends are also affected.)
In September 2020, he was asked by President Rodrigo Duterte to lead PhilHealth at the height of corruption controversies that hounded the state health insurer.
Gierran, a former director of the National Bureau of Investigation, also hardly knows anything about public health. What he knows, according to him, is financial management, the law, insurance, and investigation.
No excuse
During the hearing, AAMBIS-OWA Representative Sharon Garin said that there's no excuse for the mismanagement of the state health insurer.
"It's not enough to say 'It's my fault.' We fight hard to increase taxes just for you pero walang nangyayari (but nothing's happening)," she said.
Garin went on to say that hospitals are in financial distress because PhilHealth owe them billions in debt.
"Why are hospitals threatening to close? Because you have not paid them," she said.
Gierran during the hearing said that the state health insurer owes hospitals some P21.1 billion.
In 2020, as the Philippines battled the coronavirus pandemic, lawmakers held marathon investigative hearings into alleged rampant corruption in PhilHealth.
Thorrsson Montes Keith, who resigned as PhilHealth anti-fraud legal officer in late July 2020, alleged that members of PhilHealth's executive committee "misspent or pocketed" P15 billion.
It took PhilHealth seven months to approve a circular on COVID-19 benefit packages for patients needing hospitalization. – Rappler.com