This is AI generated summarization, which may have errors. For context, always refer to the full article.
Dyan Gumanao is a coordinator for the Alliance of Concerned Teachers-Cebu while Armand Dayoha is a coordinator for the Alliance of Health Workers-Cebu
CEBU, Philippines – Two development workers have been reported missing by their families and friends, human rights organization Karapatan in Central Visayas said on Friday, January 13.
In a Facebook post, Karapatan identified the missing as Dyan Gumanao, coordinator for Alliance of Concerned Teachers-Cebu (ACT Cebu); and Armand Dayoha, volunteer worker for the Alliance of Health Workers-Cebu (AHW-Cebu).
The human rights watchdog said Dayoha's parents filed a missing persons report with the maritime police on January 13.
Dyan Gumanao's father, Danny, told Rappler that he last heard from his daughter on Tuesday morning, January 10, when she texted that she and Dayoha had just docked in Cebu from Cagayan de Oro.
"Pagka Tuesday, mga pasado alas-otso na siguro to, nagtext siya na naa na siya sa Cebu naka-dunggo but wala pa sila naka-baba sa barko…until karon wala mi message na nadawat sa iyaha," he said.
(On Tuesday, past 8 am, she texted me that they had docked at the Cebu port but were still on the boat. Until now, I have not heard anything else from her.)
Dyan and Armand were partners. Danny said they visited the family in Mindanao over the holidays to consult on plans to get married in May 2023.
The two were in Davao City on January 7, staying with one of Gumanao's cousins before taking a boat to Cebu from Cagayan de Oro. Their boat departed on Monday, January 9.
Gumanao's father said friends have twice checked the partners' boarding house in Cebu City.
On Friday, January 13, friends and Armand's mother were able to access their locked boarding house unit but did not find any of their bags from the trip, Danny added.
Surveillance
Friends and family raised the alarm as both have reportedly experienced being followed by unidentified men after attending protests and demonstrations since 2020.
Karapatan-Central Visayas said the most recent incident of "tailing and surveillance" happened to Gumanao in the last quarter of 2022.
Human rights groups, along with the families of Gumanao and Dayoha, were set to reach out to the regional police for assistance in locating the two development workers on Saturday, January 14.
Lieutenant Colonel Gerard Ace Pelare of the Central Visayas Regional Police Office said his office has received no information or complaint regarding the incident as of posting time.
"We will coordinate with them immediately about the details and provide the necessary assistance, as required of the circumstances," he told Rappler via text message.
Gumanao, 28, graduated from the University of the Philippines-Cebu, cum laude, under the BA Mass Communications program. She is a former correspondent of Aninaw Productions, local affiliate of AlterMidya in Cebu.
She is the special support services coordinator in the Community Empowerment Resource Network, Incorporated, a nonprofit organization that provides legal assistance to marginalized groups in Cebu.
Gumano was among eight activists, collectively known as Cebu 8, arrested in June of 2020 while staging a protest against the government's pandemic response in front of UP Cebu.
Municipal Trial Court Branch 9 Presiding Judge Amy Rose Soler-Rellin dismissed pretrial, in September of the same year, charges of violating the law on Reporting of Communicable Diseases.
Dayoha, 27, is a BA Psychology graduate from UP Cebu. He is taking a gap semester from the BA Fine Arts program, his second course in the university, to finish his thesis paintings.
Dayoha is a visual artist whose works are known for tackling societal issues and nationalist themes. He is also a volunteer at the Visayas Human Development Agency (VIHDA), according to Karapatan-Central Visayas.
No reason to take them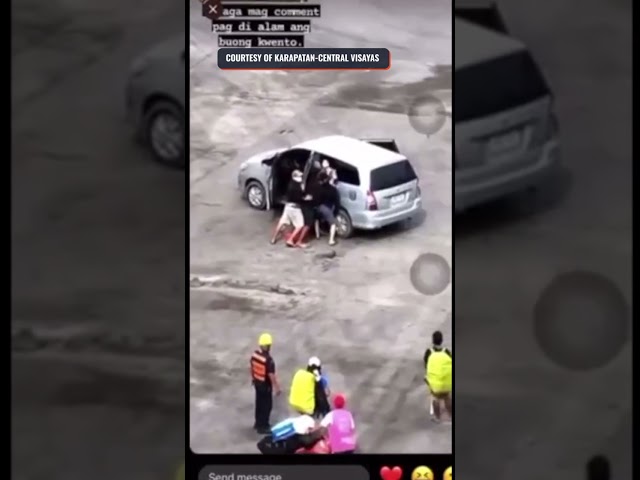 "Wala ma'y rason ngano magka-interest sila sa kinabuhi sa duha. Mga buotan man nang mga bataa na. Gimatuto man gyud na sila, gipadako man gyud na sila sa maayong pamatasan," Gumanao's father told Rappler.
(They have no reason to take interest in the lives of the two. They are good people, these children. They were nurtured and raised with good manners.)
"Kung naa sila'y gustong isampa na kaso sa ilaha, kung tan-aw nila naa sila'y violations, dad-on nilas korte. Naa man tay balaod. Naa man ta'y rule of law nga ginasunod…mao na among panawagan isip ginikanan, nga hinaot naa sa luwas na kahimtang ang among mga anak, ug ipa-surface gyud sila kay wala'y rason nga magka interes sila sa kinabuhi sa duha ka bata," he added.
(If they think the two have committed violations, if they have cases they wish to file against them, they should take it to court. We have laws. We have the rule of law…. This is why we are asking, as parents, that they be kept safe and that they be surfaced. There is no reason to take interest in the life of those two children.)
"We assert that there is nothing wrong with their work and the advocacies they carry with them, and that citizens who decisively tread the path that they have should not be harassed, threatened, silenced, or arrested," Karapatan Central Visayas said. – With Grace Albasin/Rappler.com