Central Visayas police deny any involvement in the abduction of Dyan Gumanao and Armand Dayoha
CEBU, Philippines – The parents of development workers Dyan Gumanao and Armand Dayoha are appealing to witnesses of their pierside abduction to send any photos or videos of the incident that could help track down the perpetrators.
Dennis Abarrientos of human rights group KARAPATAN-Central Visayas said in an ANC Rundown interview on Tuesday, January 17, that Gumanao and Dayoha's families and friends were looking into "legal options" in relation to the alleged abduction.
"Right now, we are looking at multiple legal angles. There are many legal options we can take. We are now evaluating all these prospects with our team," Abarrientos said in a mix of Filipino and English.
Danilo Gumanao, Dyan's father, said this was why they needed more evidence to aid them in deciding which legal actions to pursue.
"[K]aya patuloy ang pananawagan naming sa publiko, lalo na 'yung nakawitness, nakakuha ng photos at videos, na kung puwede ipadala sa amin. Para madagdagan ang ebidensya sa amin sa pangyayari na 'yun," he said.
(Which is why we continue our appeal to the public, especially to those who witnessed it, took photos and videos, to please send them to us. So that so we can have more the evidence of what happened.)
The older Gumanao affirmed that videos shown were really his daughter and her partner, noting that they had friends who also took the same vessel and witnessed the abduction.
Denial
Central Visayas police spokesperson Gerard Ace Pelare denied police involvement in the reported abduction.
"It's not the policy of the police to do these things," he told ANC. "We arrest people after we have found evidence against them, then we charge them in court."
Activists, however, noted the similarities between the case of Gumanao and Dayoha and that of Davao Today journalist Margarita Valle who was arrested at the Laguindingan Airport in Misamis Oriental in June 2019.
Valle was detained and deprived of liberty for 12 hours, without being shown any warrant or allowed access to a lawyer. Police released her after media and human rights networks raised the alarm, and acknowledged her detention as a  case of "mistaken identity." 
When asked if he would order the National Bureau of Investigation to probe the case, Justice Secretary Boying Remulla replied: "NBI naman basta meron kayong notice (as long as you give notice), we will inform them. But I need details to inform them. Siguro (maybe), if you send me the details, I can ask the NBI in Cebu to look at the matter."
In a press conference on Monday, January 16, where it was announced that Gumanao and Dayoha had reunited with their families, a video of their alleged abduction reportedly sent by a witness was played to Cebu media. 
The footage shows persons struggling against multiple men shoving them into a light-colored vehicle. The crowd could be heard asking for help, while authorities appeared to merely look on.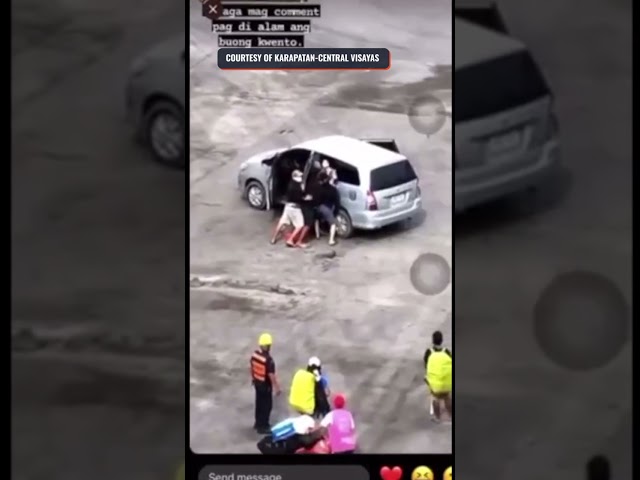 Gumanao's father says they have not identified the car's plate number.
Gumanao and Dayoha were reunited with their family on Monday, in the northern Cebu town of Carmen, 42 kilometers from Cebu City, where they were allegedly taken. They were found six days after their disappearance on January 10.
Abarrientos said that the two development workers were undergoing treatment for their trauma.
"We hope that they will be able to recover very soon," he said. – Rappler.com