Discussions between the Chinese envoy and officials of Aklan province and Malay municipality include future cooperation in tourism and opportunities in agriculture, fisheries, and education.
BORACAY, Philippines – Aklan officials and and local government and business leaders in the country's premier tourist destination on Monday, January 9 said they expect the return of Chinese tourists a day after meeting with Chinese Ambassador to the Philippines Ambassador Huang Xillian.
"We talked about the possibility of the return of Chinese tourists soon. We are happy about his visit," Malay Mayor Floribar Bautista said in a phone interview with Rappler.
Bautista joined Aklan Governor Jose Enrique M. Miraflores and other officials, as well as some business leaders in the meeting with Huang Sunday noon at the Henann Regency Resort.
Bautista described the Chinese envoy's trip as "an ocular visit". Huang arrived in Aklan via the Kalibo International Airport and is expected to stay until Tuesday, January 10.
The ambassador also witnessed the Ati-atihan Festival, which was held at the front beach on Sunday morning.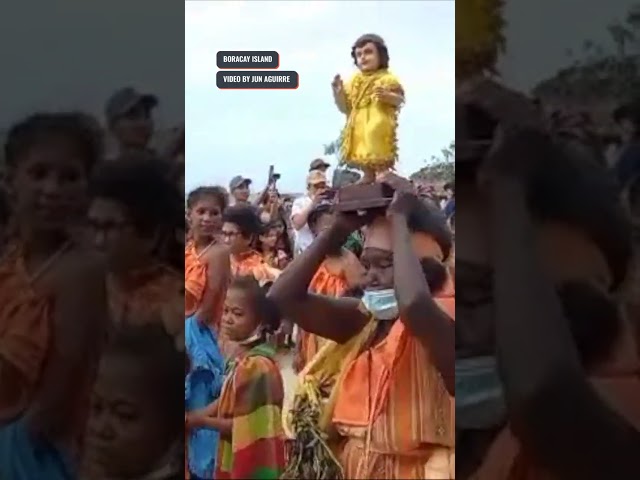 In a Facebook post, Huang said discussions included future cooperation in tourism and opportunities in agriculture, including the hybrid rice, bamboo industry, fruit plantations, fisheries, and education.
"There used to be 20 plus direct flights from China per week and almost 400,000 tourists yearly to Boracay before the pandemic. China is opening up again for international travel, and anticipates more Chinese outbound tourists later this year," said the ambassador.
Briefings
Malay Health Officer Dr. Athena Magdamit told Rappler on Sunday night that she presented the health situation and the local government's campaign against the spread of COVID-19.
"The ambassador expressed gratitude upon learning that Boracay is currently a COVID-free tourism destination. The municipality of Malay, Aklan has also the highest COVID 19 vaccination rate in the province," Magdamit said.
Other local government officials presented data on tourism, peace and order.
Ronald So, a Chinese-Filipino businessman from nearby Capiz province, said the return of Chinese tourists is good for the economy. especially for Aklan province, which has jurisdiction over Boracay.
"With a good number of tourist arrivals, our economic value chain will improve and that will drive a better economic recovery and activities. It will boost not only the local economy but also the complete value chain," he said.
The COVID-19 pandemic, which reached the Philippines in March 2020, prompted then president Rodrigo Duterte to place the Philippines under one of the world's longest lockdowns.
The country has just resumed face-to-face events, including the Christmas and New Year's Eve celebrations. The Ati-Atihan and other famous fiestas like the Sinulog are back on the streets in January 2023. 
Biggest tourist market
China, with a population of 1.4 billion, was the Philippine's second biggest tourist market in 2019, with 1.74-million arrivals.
Chinese tourists dominated arrivals in Boracay that year. Their numbers almost doubled in the first five months of 2019 to  218,161 tourists, compared to 148,964 for the same period in 2018.
Part of the rise in Chinese 2019 arrivals were direct flights coming from different provinces and cities of China, including Shanghai and Wuhan, the latter becoming ground zero for COVID-19 at the end of 2019.
Flights from China to Caticlan airport in Malay, just a short ferry trip from Boracay,  stopped during the pandemic and have yet to resume.
Bautista did not address questions about the recent spike in COVID-19 cases in China, which comes with its axing of stringent virus curbs.  
New COVID-19 concerns
Huang's visit followed the signing of an Implementation Program on Tourism Cooperation between China and the Philippines on January 4, during President Ferdinand Marcos' Jr. three-day state visit. 
The bilateral agreement includes resuming direct flights to bring back tourist arrivals to pre-pandemic levels.
Philippine Tourism Secretary Christina Garcia Frasco and China's Culture and Tourism Minister Hu Heping signed the agreement before Marcos and Chinese President Xi Jinping.
But China's new COVID-19 surge has Asian neighbors worried.
The Philippines lifted in 2022 most of its COVID-19 health restrictions, including mask mandates, citing tourism as the main reason. But by year-end, the government was mulling COVID-19 tests for travelers arriving from "high-alert countries," including China.
The Department of Health (DOH) on December 31 issued an "extremely urgent" memorandum ordering all Centers for Health Development (CHD) directors to observe intensified border controls at all ports of entry.
On January 4, the DOH said eight unvaccinated Filipinos who arrived in the country from China tested positive for COVID-19.
-Rappler.com