Dumaguete Bishop Julito Cortes reminds residents to filter social media messages and be more discerning to avoid escalation of conflict
DUMAGUETE, Philippines – The killers of Negros Oriental governor Roel Ragay Degamo have galvanized residents of the province to unite in fighting the culture of violence and impunity, Dumaguete Bishop Julito Cortes said on Thursday, March 14.
"We pray that the cycle of unsolved killings in Negros Oriental will end," Cortes said during his homily in a Requiem Mass for the fallen chief executive.
"This is something good for the province that has come out of the late governor's death," he said.
Thousands of mourners wailed for justice during a two-kilometer procession from the Degamo family compound to the St. Vincent parish church in Barangay Bonawon, Siaton town.
The police estimated the crowd at P10,000.
Thousands more remained in the provincial capital where they watched live-stream coverage of the mass from a big screen in front of the provincial Capitol. The 17 buses that came to ferry residents from the capital to Siaton were not enough for the crush of people.
Degamo and eight constituents and local officials were killed when a group of estimated 10 armed men walked into his Pamplona town residence and opened fire during an informal weekend consultation on March 4.
'Overcoming evil with good'
Addressing thousands listening in the church and around it, and in the provincial capital, the bishop assured residents that God will give back what has been taken from them, including freedom, and liberate them from fear.
But, he admonished, "do not be overcome by evil. Rather, overcome evil with good."
Cortes reminded Negros Oriental folk to be more discerning and to filter the flood of messages coming from social media, as a means to preserve peace.
He warned that those who seek to foment conflict or mask crimes could mislead people with messages that arouse rage and hate.
"May your word, Lord, be a lantern to guide our steps," said Cortes. 
The brazen attack on Degamo shocked local officials, national politicians, but most especially his supporters who were still rejoicing after the Supreme Court upheld the Comelec decision that declared Degamo the winner of the May 2022 gubernatorial race over Henry Pryde Teves.
Henry's brother, Arnie, the province's third district representative faces murder charges over previous unrelated cases. Authorities have also raided his home, seizing firearms and ammunition.
They have filed complaints against Arnie Teves and five others who were arrested during raids in some of the congressman's properties last week.
Arnie has denied involvement in the Degamo killing.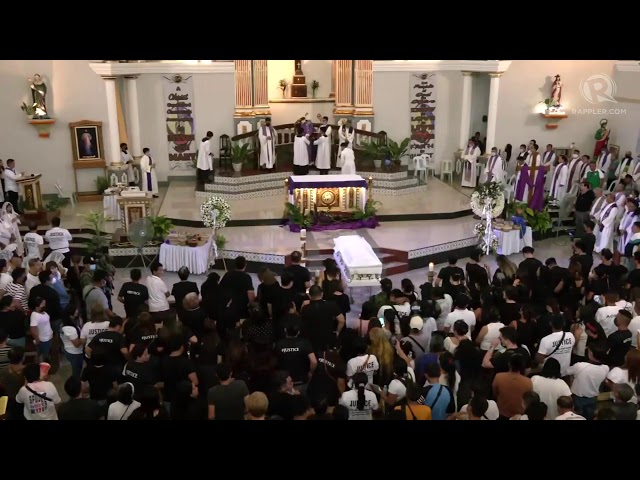 Concerned bishops
The Pamplona massacre is not the first brutal killing in Negros Oriental or Negros Occidental on the other side of Negros, the country's fourth largest island.
After a spate of killing from 2017 to 2019, Cortes and the three other bishops on the island issued a pastoral statement urging the end to the "unfolding cycle of violence".
Cortes, Bishops Gerardo Alminaza of San Carlos, Patricio Buzon of Bacolod, and Louie Galbines of Kabankalan denounced the "total disregard for the primacy and sanctity of human life."
"The blood of those killed cries to be heard. It calls out to our basic humanity to be one with those who have been afflicted by this violence," their statement said.
They also ordered all parishes to "toll the church bells" every evening at 8 o'clock until the killings stop.
At least four of the arrested suspects in the Pamplona slays – three former soldiers and an ex-taxi driver – have been charged with multiple murders and multiple attempted murders.
The ex-soldiers were also slapped with charges for illegal possession of firearms and explosives, which authorities seized from them in Bayawan City just several hours after Degamo died.
Authorities on March 15 said a suspect slain during police pursuit has been identified as a former communist rebel.
– Rappler.com