Cebu Archbishop Jose Palma presides over the Fiesta Señor Pontifical Mass in person again after two years and tackles in his homily COVID-19 challenges, Typhoon Odette, and the environment
CEBU CITY, Philippines – After two years, thousands of devotees of the Santo Niño were able to attend the Pontifical Mass of the Fiesta Señor at the Basilica Minore del Santo Niño de Cebu on Sunday, January 15, the Feast of the Holy Child.
"It's wonderful to think that many of us are able to gather here and worship our Lord in person after three years that we were unable to gather," Palma said in Cebuano.
The 71-year-old archbishop himself is a COVID-19 survivor, who recovered from the disease last February 2021.
A Pontifical Mass is a special Mass celebrated with a bishop or archbishop as the presider. It is the highlight of the Fiesta Señor celebration that includes nine days of Novenas.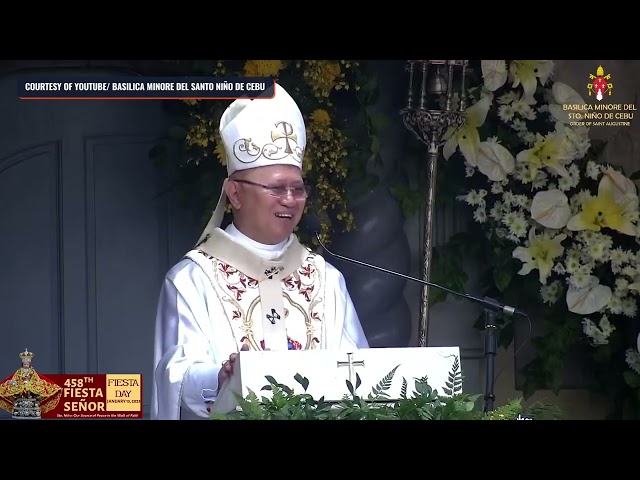 Overcast skies threatened to rain over the millions expected to gather in Cebu City's South Road Properties to celebrate the Sinulog 2023 grand parade. Around the Basilica, light sprinkles did not faze devotees.
Most days have been wet in Cebu during the Fiesta Señor Novena. Bad weather, however, failed to dampen the passion and dedication of hundreds of thousands of devotees who attended Novena masses and other activities since January 5.
Devotees have attended masses at the Basilica as early as 4 am, holding up images of the Santo Niño as they waved their hand to the Gozos (Batobalani sa Gugma) and danced the Sinulog theme at the end of the Mass.
Faith stronger than fear
During his homily, Palma paid tribute to the resilience of Cebuanos in getting through many challenges over the past decade.
He mentioned the October 2013 earthquake that devastated the provinces of Cebu and Bohol, the COVID-19 pandemic, where Cebu was once named a "second epicenter" of the pandemic, and Typhoon Odette that badly damaged many communities in Cebu province and other areas in the Visayas and Mindanao.
"For the past 3 years, COVID struck the whole world. Where we are, it really hurt us in all sectors, even in the religious sector, cultural, educational, social and economic, everything, our lives were gloomy," Palma said in a mix of Cebuano and English.
"And yet, padayon kita maingon, Señor Santo Niño, tuburan sa kalipay, paglaum sa pagsulay (And yet, we continue to say, Señor Santo Niño, fountain of joy, hope during trying times)," he added.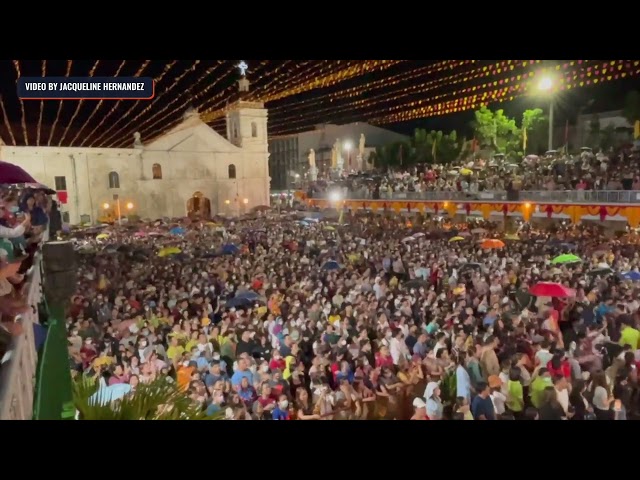 Palma said the connection among Cebuanos who practice the faith allowed Cebu to rise from tragedies quickly.
"Odette came at the beginning of the Aguinaldo Masses last 2021. It was tragic seeing churches that were demolished, houses that were blown away in the wind," Palma recalled.
"But the gift of Señor Santo Niño is this: That even in the midst of many challenges, because of His love, Cebu rose, we helped each other, and now visitors might not even be able to see the effects of Odette. I can say that because of Mama Mary, we prayed to her. Never was it known that anyone who fled to your protection or implored your help, or sought your intercession, was left unaided," the Cebu Archbishop said in a mix of English and Cebuano.
"But more than anything, Mama Mary could say that because of her child, Señor Santo Niño, the magnet of love, who loves us, we can say that, 'we may be afraid, but our faith is stronger than our fear," Palma added.
At the end of his homily, Palma encouraged devotees to "build brotherly relationships" with one another for the sake of peace, and to be proactive in protecting the environment.
"Yes, we feel sad, we strike our breast, we have somehow – in many ways, we have destroyed, ransacked and maltreated our country, our planet. Yet, it can be revived when we join hearts and voices, and prayers, and establish with our faith, a harmonious relationship with this world," Palma said.
Much of his 2020 Pontifical Mass homily also focused on the environment. (READ: Cebu Archbishop Palma: 'True believers' in Santo Niño care for environment)
Some devotees started making their way to the South Road Properties (SRP) at around 8 am, where the Sinulog street dancing and ritual showdown will take place later on Sunday. – Rappler.com