Traditional crowds are scarce at the Cebu City center as families head for the new Sinulog site at South Road Properties
CEBU, Philippines – Over a thousand devotees finally celebrated the long awaited Sinulog at City di Mare, South Road Properties (SRP) in Cebu City after a two-year hiatus caused by the pandemic and a week of controversy over the world-famous festival's change of venue.
"I now declare One Cebu Island 2023 at Sinulog open," Cebu City Mayor Mike Rama said during the grand opening.
This signaled the start of the parade, composed by contingents from the city government and dance groups from different barangays.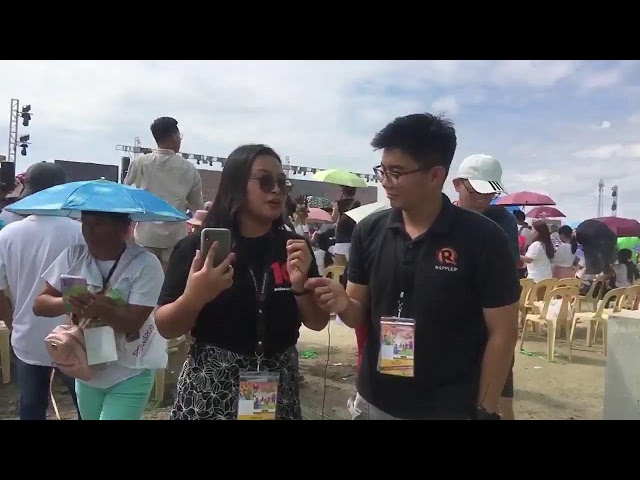 There should have been contingents from the Province of Cebu. But on Friday, January 13, Cebu Governor Gwendolyn Garcia pulled these out them out due to the lack of preparations and the potential for traffic and health hazards.
At least ten groups associated with the province instead joined the "Sinulog sa Carmen" in the northern Cebu town of Carmen.
Rama stood pat on the venue and appealed for support from Cebuanos.
"Be in Cebu City, in One Island Cebu Sinulog, and perhaps, one day, the Sinulog of the country," Rama said.
According the Sinulog Foundation Inc., the venue has a seating capacity of around 9,000.
Crowds of families, devotees, and tourists gathered along the Cebu South Coastal Road, between SM Seaside and City di Mare, under the blazing sun.
At dawn, Cebu Archbishop Jose Palma celebrated the Pontifical Mass of the Fiesta Señor at the Basilica Minore del Santo Niño de Cebu with thousands of devotees packed into the church and its courtyard.
Rappler's Visayas Bureau covered the celebration from both inside the city of Cebu and the venue at SRP.
Streets along the Osmeña Boulevard were still empty at around 7 am when it would normally be jampacked.
On January 8, Rama signed his new directive, prohibiting street parties all over the city.
At around 11 am on Sinulog day, minimal traffic was observed along Mango Avenue where revelries usually occur.
But heavy traffic soon builded up near Mabini Street on the way to the Basilica Minore del Santo Niño de Cebu and the SRP.
The celebration is expected to last until late evening. The finale will be held at the SRP and will end with a grand fireworks display.
–Rappler.com