While 'Batobalani sa Gugma' hails from the 1700s, rock musician Mike Hanopol composed "Pit Senyor" in 1981 - just before he found his Jewish faith.
CEBU, Philippines – One song is centuries old, another rustled up by a rock star at the height of his powers. At Cebu's 458-year-old Catholic Fiesta Señor festival and its Sinulog secular counterpart, displays of religious fervor and cultural pride ride on the rhythms of "Batobalani sa Gugma" and "Pit Senyor!"
Where did they come from and how have they helped shape the history of Cebu and its people?
"Batobalani sa Gugma" ("Magnet of Love") sounds like the title of a torch song. Its original 18th century title, "Gozos" has a simpler meaning: joy or jubilation.
The first version of the song can be found in a Novenario (a Novena pamphlet) published by the Seminario Conciliar y Real de San Carlos by Agustin de la Rosa y Balagtas in 1788, according to notes by Rev. Fr. Ric Anthony Reyes, OSA, the archivist of the Basilica Minore del Sto. Niño de Cebu (BSMN) and the surviving 18th-century Novenario prints.
"..the earliest surviving novenario is in Cebuano language. Hence, the Gozos have been in Cebuano in its original form," notes the BSMN official website.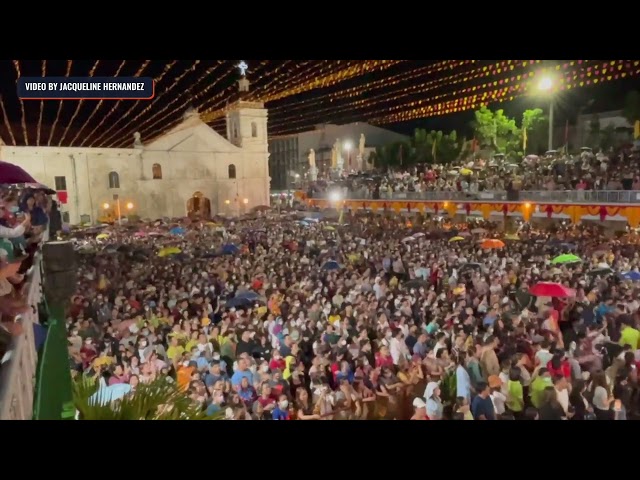 Hand gestures
The original musical version is hard to track as different versions of the Gozos came out as early as 1858, 1888, and 1908.
There was a Spanish version in the 1809 "Novenario Dedicada al Santissimo Nombre de Jesus" with a slightly different title, "Iman Dulce de mi Amor" (Sweet Magnet of My Love), and a Hiligaynon version from Iloilo City in 1881.
The "Batobalani" is characterized by mass waving of hands as devotees sing the verses.
The gesture is seen as a call out to the Child Jesus for grace and good fortune. But it also represents communal spirit.
In 1985, the Archdiocese of Cebu institutionalized the song as a way to make the celebration of the feast of Santo Niño more unified, with the arrangement by renowned Cebuano musician Elvis Sommosot.
Composer's journey
If the "Batobalani" is a lyrical hymn, the "Pit Senyor" is famous for its stomping, thumping beat, as befits its young age.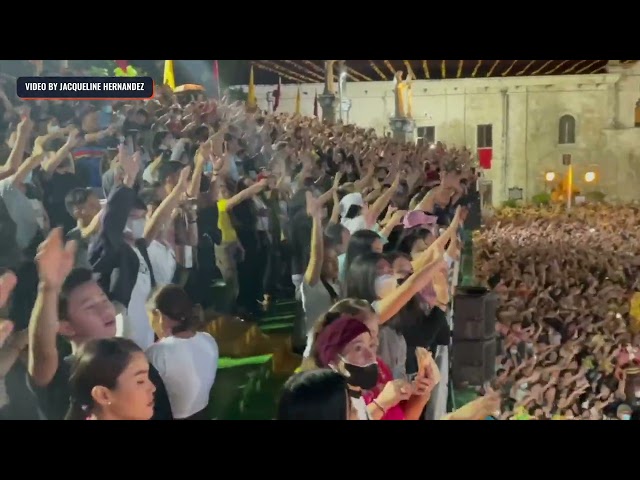 It was composed a year in 1981 a year after the Sinulog Festival was first organized.
Filipino rock star Mike Hanobol composed the Sinulog Festival theme.
Formerly a leather-clad, beret-wearing band member, he now wears the kippah, the Jewish brimless cloth cap.
He told Rappler in an exclusive interview on Wednesday, January 11 that "Pit Senyor" was a commissioned work.
"Cebu Governor Sergio Osmeña Jr. went to my house to talk about composing a song for Sinulog. It was the same time when the popularity of Hagibis was at its highest," Hanopol recalled.
The only surviving member of the iconic Filipino rock group Juan de la Cruz was also the mentor and songwriter for Hagibis.
At the time, there were already festivals like Kalibo's Ati-atihan being "replicated" in different provinces. Hanopol cited Iloilo's Dinagyang and Bacolod City's Masskara festivals.
Where the Ilonggos chanted, Hala, Bira!, Cebu had "Pit Senyor."
The phrase is short for Sangpit sa Señor, which in Cebuano means "to call, ask, and plead to the king.")
Though Hanopol was steeped in rock, many of his songs were inspired by the biblical verses he'd read as a young seminarian.
His trademark "Laki sa Layaw" cautions about the dangers of pride and avarice.
But he didn't know what Pit Senyor meant until the late governor told him about it.
There are some very small similarities with the musical structure of "Pit Senyor" and the Hagibis theme song, the musician acknowledged.
"Malapit yung style sa Hagibis, dahil at the same time, punong-puno yung katawan at kaisipan ko sa Hagibis," he said. (It hewed close to Hagibis because at that time my body and mind was with Hagibis.)
At the time, some festivals like the Ati-atihan, which started in Kalibo, were being "replicated" in different provinces. Hanopol cited Iloilo's Dinagyang and Bacolod City's Masskara festivals.
Where the Ilonggos chanted, Hala, Bira!, Cebu had "Pit Senyor" (short for Sangpit sa Señor, a Cebuano phrase that means, "to call, ask, and plead to the king.")
According to the BSMN website, the word sangpit is normally used when a person enters another person's home to borrow something.
"A person says this when he/she is a distance away," it added.
Ricky Ballesteros, the former director of the Sinulog Foundation Inc., said that the phrase may also mean "Hail the Lord!".
Hanopol left for the United States in 1982. There he met his Jewish Russian relatives in New York, sparking of his religious journey.
He later converted to Messianic Judaism, went on a trip to Jerusalem to further his religious studies, and even became the first Filipino rabbi.
Upon his return to the Philippines in 1993, Hanopol was surprised to know that the Cebuanos were still using the same "Pit Senyor" he wrote years back.
"It became like a habit to the Cebuanos. Mahirap maalis yon kahit ano mong gagawin…Kumbaga sa puno, lumaki na," he said. (You can't uproot it. Like a tree, it has grown.) –Rappler.com