Eight kilometers of the Caluya Island's coastline are confirmed to have been impacted by the oil spill
ANTIQUE, Philippines – Government workers and residents of Caluya are working tirelessly to clean up the coastline affected by an oil spill and prevent it from spreading.
The Regional Disaster Risk Reduction and Management Council (RDRRMC) said eight kilometers of the island's coastline have been confirmed to have been impacted by the spill as of 11 am on Friday, March 10.
Of the estimated 16,400 or more liters of oily waste that have washed up on shore, only 3,100 have been collected so far, according to the Office of Civil Defense (OCD) in Western Visayas.
The Philippine Coast Guard in the region has reported that only 15 of its personnel were currently working to collect the oil sludge, both manually and mechanically.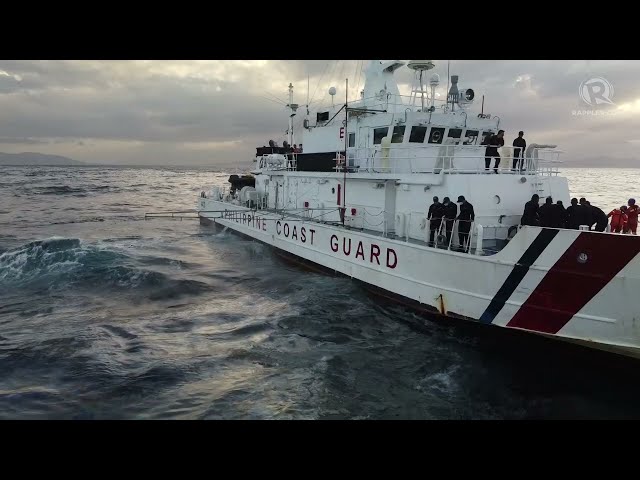 The OCD report also noted that the spill has affected 7,618 families, comprising 24,264 individuals, across four sites: Barangay Sibolo, Liwagao Island, Sitio Sabang Barangay Tinogboc, and Barangay Semirara.
The Department of Social Welfare and Development (DSWD) in Western Visayas said they have so far distributed P6.4 million worth of food and non-food items to the affected families.
Meanwhile, the Department of Health (DOH) said several residents in the affected area have experienced health problems apparently due to the oil spill.
Specifically, 25 residents reported coughing, 12 were experiencing colds, 10 were suffering from sore throat, seven reported dizziness and five complained of headaches.
Allan Condez, a resident of nearby Barangay Alegria in Caluya town, told Rappler on Friday that their lives have been affected even if they were not on the affected coastline.
"The residents in our barangay do not have anything to eat. The residents' primary livelihood is fishing, but nobody is buying our catch like crabs, fish, and seaweed. We also need help," he said.
Condez said they have produced improvised oil spill booms made of bamboo as a preventive measure.
"What I know is that the residents and the government are doing their best to stop the further spread of the effects of the oil spill toward neighboring islands, especially in Palawan," he said.
Virgilio Sanchez, president of the Antique-based environmental group Save Antique Movement, called on the local government of Caluya to hold RDC Reield Marine Services Incorporated, the owner of the sunken MT Princess Empress, responsible for the damages caused by the oil spill.
Sanchez also appealed to lawyers to volunteer their services to help affected fisherfolks in filing cases against the owner of the oil tanker for violating the Oil Pollution Law, the Clean Water Act, and the Fisheries Code. – Rappler.com
Jun Aguirre is an Aries Rufo Journalism fellow.