This is AI generated summarization, which may have errors. For context, always refer to the full article.
(1ST UPDATE) Chaco Sagabarria, an ally of suspended Negros Oriental Congressman Arnie Teves, is sworn in as governor following Reyes' death
MANILA, Philippines – Negros Oriental Governor Guido Reyes, 62, died on Wednesday, May 31, less than 3 months after assuming the governorship from Roel Degamo following the Pamplona massacre.
Provincial administrator Karen Molas confirmed the news through a video posted on the province's official Facebook page.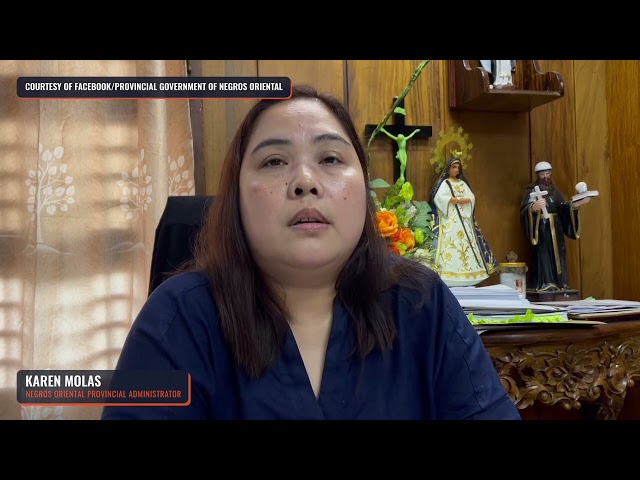 "About two and half hours ago, I received a call from (Guihulngan) Vice Mayor Eunica Reyes. She informed me that the governor passed away this morning. I do not have the exact time of death yet, but I do know that it happened today and in the morning," Molas said.
Reyes became governor on March 5, following the assassination of Degamo in the Pamplona massacre.
He had been having health problems even before becoming governor, although the family had not disclosed exactly what his health issues were.
Pamplona Mayor Janice Degamo said in a Facebook post that Reyes was 'not only a respected figure in our province but also a dear friend and ally to my late husband."
"Their friendship and collaboration were emblematic of their dedication to public service and their shared vision for the betterment of our province. Together, they worked tirelessly to uplift the lives of our people and address the challenges our community faced," Degamo said.
"The loss of Governor Reyes is particularly poignant for me as it revives the pain of my own personal tragedy, the passing of my beloved husband Governor Roel Degamo," she added.
Vice Governor Manuel "Chaco" Sagarbarria took his oath as the new governor of the province on Wednesday, replacing Reyes.
Sagarbarria is the fourth elected official to serve as governor in less than a year after former governor Henry Pryde Teves was unseated by Degamo in a Comelec decision in October 2022. Degamo, in turn, was killed in March 2023.
Sagarbarria is a relative and ally of suspended congressman and suspected mastermind in the Degamo slay Arnie Teves.
Molas said they already began turning over current programs and policies of Reyes to Sagarbarria.
Sagarbarria ordered Philippine flags in the province to fly at half-mast in honor of Reyes. – Rappler.com