'We will never stop, we will never stop. Too much has already been done,' says Cebu City Mayor Mike Rama
CEBU, Philippines – Cebu City Mayor Mike Rama calls it the One Cebu Island Sinulog 2023, but the pullout of contingents by Cebu Governor Gwen Garcia and the mayors of Mandaue, Talisay, and Lapu-Lapu cities Thursday night, January 12 imperils the move of the festival highlight to the South Road Properties (SRP).
Garcia announced the pullout of nine contingents from the province just after Talisay City Mayor Samsam Gullas declared a halt to his city's participation.
Two other mayors, Mandaue City Jonas Cortes and Lapu-Lapu City Mayor Junard "Ahong" Chan have also withdrawn their contingents from the SRP grand highlight activities.
"SRP can no longer be an option," said Garcia, who earlier warned the city against rushing preparations for the venue transfer.
"We will never stop, we will never stop," Rama responded to the announcements on the sidelines of the Walk for Mary early on January 13.. "Too much has already been done."
Cebu City announced a 9 am press conference and Rama said he would talk with the governor. Rappler will update as developments arise.
For days, province and city have dueled with press statements, although Rama and Garcia were together at the Sinulog 2023 grade parade launch on January 6.
Garcia promised the province would still continue to support the Sinulog Foundation Inc. and provide her P20-million pledge.
"I shall keep my word there. However, I can no longer risk the safety and health of our children," the governor said.
Participants, audience at risk
Talisay Mayor Samsam Gullas was first to announce the pullout from the festival highlight, which had drawn crowds of over a million Santo Niño devotees before the COVID-19 pandemic hit the Philippines.
Gullas complained about pre-dawn rehearsals undertaken without power, the absence of coordinators, and a dearth in holding areas for props and participants.
The Talisay mayor said his 500-person contingent was forced to huddle under one tent in conditions that endangered health and safety.
"I am hoping that Mayor Rama will listen to us," said Gullas, who cited the successful Sinulog sa Kabataang contest at the Cebu City Sports Center (formerly Abellana Sports Complex).
Rappler visited the SRP site on January 10 and again on January 13, around 9 am, to check conditions and found muddy surroundings and an unfinished stage area.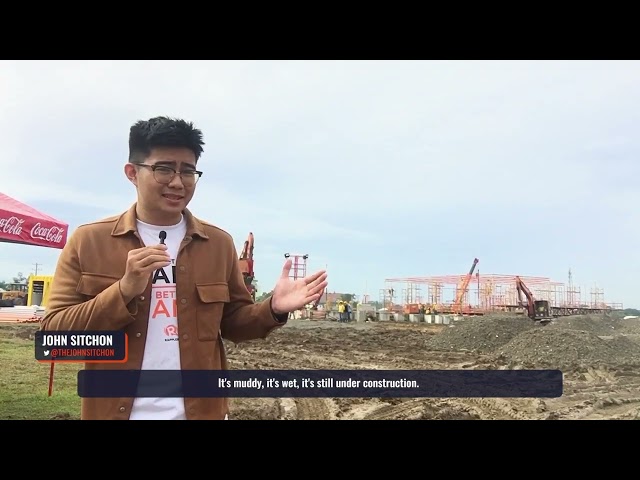 Mandaue City Jonas Cortes said that his city is "one with Governor Gwen Garcia".
"The safety of our contingent ( dancers, propsmen, instrumentalists, etc.) is our paramount concern," Cortes said.
Lapu-Lapu City Mayor Junard "Ahong" Chan also pulled out.
"I pity the situation of the children. I can see the pictures, I really feel sorry for them. What we are celebrating is our god child's day and I'm sure he wouldn't be happy to see children suffer," Chan said.
Rama, in a press conference on Sunday, January 8, said that the city government is working double time to finish preparations to ensure the success of the celebration at SRP.
"Do not even worry, we have City Councilor Philip Zafra, our chairman of the [Sinulog execom] who is also visiting the venue every day, asphalting every day," Rama said.
– Rappler.com