(UPDATED) The tropical depression, which is located east of the Visayas, will be named Marce when it enters the Philippine Area of Responsibility
What's the weather like in your area? Report the situation through Rappler's Agos or tweet us at @rapplerdotcom.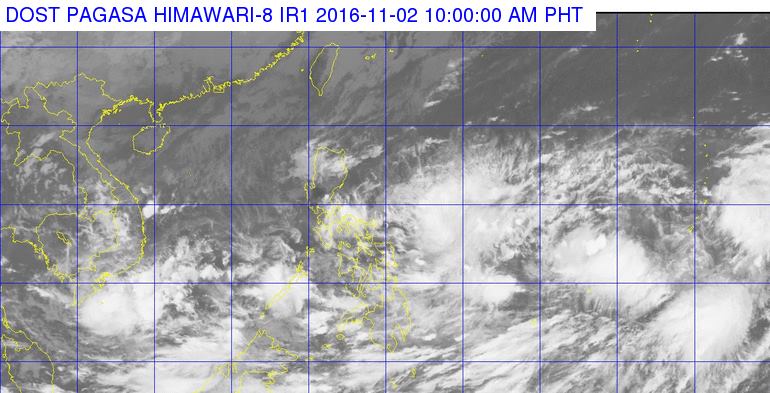 MANILA, Philippines (UPDATED) – The low pressure area (LPA) which is still outside the Philippine Area of Responsibility (PAR) has intensified into a tropical depression.
In its bulletin released around 10:40 am on Wednesday, November 2, state weather bureau PAGASA said the tropical depression is located 1,315 kilometers east of the Visayas, moving west northwest at 15 kilometers per hour (km/h).
It is expected to enter PAR on Thursday morning, November 3, and will be given the local name Marce.
The tropical depression currently has maximum winds of up to 45 km/h and gustiness of up to 55 km/h.
There's also a second tropical depression much farther away, at 2,830 kilometers east of Luzon as of 4 am on Wednesday. It has the same strength, speed, and direction as the first tropical depression. No other details are available for this second tropical depression yet since it is still too far from PAR.
As for the LPA which was east of Hinatuan, Surigao del Sur, it has already dissipated, according to PAGASA.
In the meantime, Southern Luzon, the Visayas, and Mindanao are experiencing more rain on Wednesday due to the intertropical convergence zone (ITCZ). 
Light to moderate rain and thunderstorms are affecting the Visayas and Mindanao, as well as the regions of Mimaropa and Bicol, plus the provinces of Cagayan, Isabela, Aurora, and Bulacan.
The rest of Luzon, including Metro Manila, has isolated rainshowers or thunderstorms. – Rappler.com