Its maximum sustained winds are now at 65 kph, from 85 kph when it made landfall. Storm warning signals 1 and 2 remain over more than 30 areas.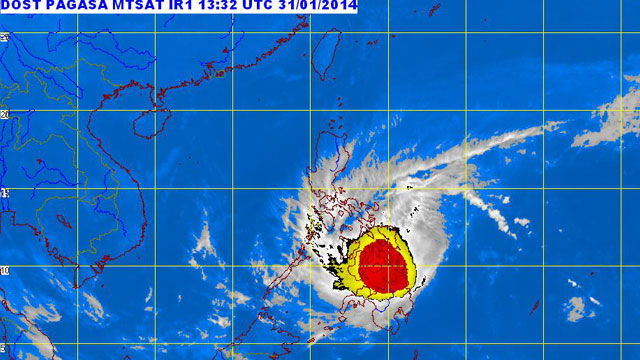 MANILA, Philippines – Tropical Storm Basyang (Kajiki) has weakened as it passes through the Visayas on Friday evening, January 31.
In its 11pm bulletin, the Philippine Atmospheric, Geophysical, and Astronomical Services Administration (PAGASA) says Basyang now has maximum sustained winds of 65 kilometer per hour near the center and gustiness of up to 80 kph.
It was packing sustained winds of 85 kph and gustiness of up to 100 kph when it made landfall early evening Friday.
Basyang is now estimated to be in the vicinity of Ubay, Bohol, and is forecast to move west at 39 kph.
The same areas identified in the previous bulletin remain under storm signal warnings 1 and 2. Storm Signal No. 1 has also been raised over the Mindoro provinces and Romblon.
Residents living in coastal areas under Signal No. 2 are alerted against storm surges.
Basyang is expected to cross Cebu City, the Negros provinces, Guimaras, Southern Panay, and Northern Palawan before exiting to the West Philippine Sea.
It is expected to be at 306 km northwest of Puerto Princesa City by Saturday evening and at 1343 km west northwest of Puerto Princesa City or outside the Philippine Area of Responsibility by Sunday evening.
Meanwhile, PAGASA raised the rainfall warning to yellow in Cebu and Bohol, and issued the orange rainfall warning for the following:
Leyte
Southern Leyte
Siquijor
Negros Oriental
Negros Occidental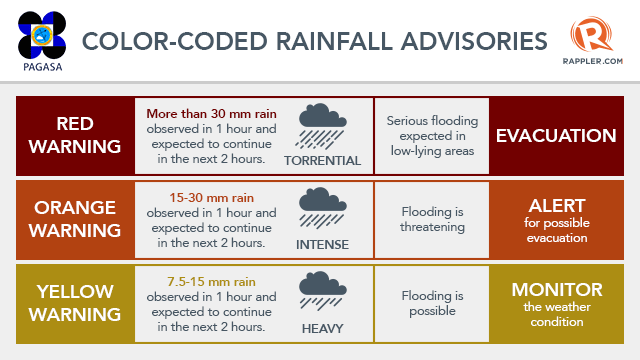 The storm's landfall came early Friday evening, earlier than PAGASA's initial forecast of a landfall around midnight of Saturday, February 1, either in Southern Leyte or in the northern tip of Surigao del Norte. – Rappler.com