PAGASA's preliminary forecast shows a possible landfall in Bicol on Sunday morning, November 1, for what could become Typhoon Rolly. This may still change.
The tropical cyclone which is seen to enter the Philippine Area of Responsibility (PAR) this week is now expected to eventually reach typhoon category.
As of Wednesday morning, October 28, the weather disturbance remains a tropical depression – the weakest kind of tropical cyclone. (READ: FAST FACTS: Tropical cyclones, rainfall advisories)
The Philippine Atmospheric, Geophysical, and Astronomical Services Administration (PAGASA) said in an advisory at 11 am on Wednesday that the tropical depression is now 1,960 kilometers East of Central Luzon.
It is slowly moving west northwest toward the PAR's eastern boundary, where it may enter on Thursday morning or afternoon, October 29.
When it enters PAR, the tropical depression will be given the local name Rolly, as the Philippines' 18th tropical cyclone for 2020. It would also be the 5th tropical cyclone for October alone. (READ: LIST: PAGASA's names for tropical cyclones in 2020)
So far, the tropical depression has maximum sustained winds of 55 km/h and gustiness of up to 70 km/h.
But PAGASA warned that the tropical depression is seen to intensify into a tropical storm in the next 24 hours, and then into a severe tropical storm within 24 hours after that. Then, within another 24 hours, it could already be a typhoon.
As a typhoon, it could make landfall in the region of Bicol on Sunday morning, November 1, then possibly cross Southern Luzon. This would be a path similar to that of Typhoon Quinta (Molave), which caused at least 9 deaths and left a trail of destruction.
Note that there is a high degree of uncertainty and PAGASA's forecast could still change as the tropical cyclone remains far from the Philippines. Updates will be given in the coming days.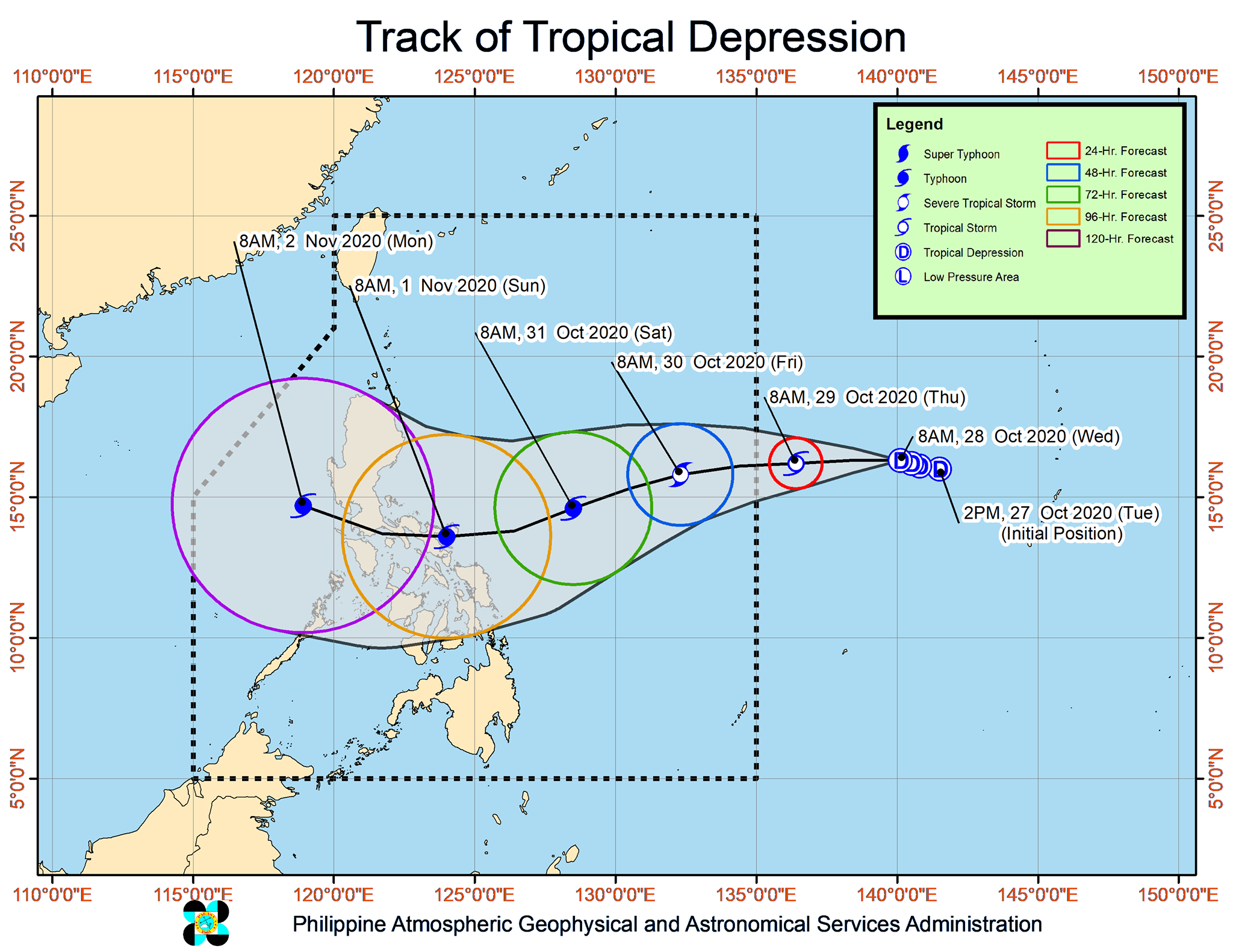 An average of 20 tropical cyclones form within or enter PAR each year.
These are PAGASA's latest estimates for the number of tropical cyclones inside PAR in the next 6 months:
November 2020 – 1 to 3
December 2020 – 2 or 3
January 2021 – 0 or 1
February 2021 – 0 or 1
March 2021 – 0 or 1
April 2021 – 0 or 1
Last October 2, the state weather bureau warned Filipinos to expect more rain in the coming months due to the onset of La Niña. – Rappler.com