Tropical Storm Maring (Kompasu) has maximum sustained winds of 85 km/h on Saturday morning, October 9. Tropical Depression Nando's winds decrease to 45 km/h.
Tropical Storm Maring (Kompasu) maintained its strength and speed on Saturday morning, October 9, as it continued to move over the Philippine Sea.
In contrast, Tropical Depression Nando slightly weakened while accelerating further, also over the sea.
Maring
In a briefing past 11 am on Saturday, the Philippine Atmospheric, Geophysical, and Astronomical Services Administration (PAGASA) said Maring was located 820 kilometers east of Virac, Catanduanes.
The tropical storm's direction shifted from east northeast to west northwest, but it is moving at the same speed of 15 kilometers per hour (km/h).
It still has maximum sustained winds of 85 km/h and gustiness of up to 105 km/h.
PAGASA updated its rainfall forecast for Maring and the enhanced southwesterly wind flow, with the following areas affected:
Moderate to heavy rain
Catanduanes
Eastern Visayas
Dinagat Islands
Light to moderate rain, with at times heavy rain
rest of Bicol
rest of Visayas
rest of Caraga
northern part of Palawan including Calamian and Cuyo Islands
Occidental Mindoro
Oriental Mindoro
Isolated to scattered floods and landslides are possible. (READ: FAST FACTS: Tropical cyclones, rainfall advisories)
Tropical cyclone wind signals have yet to be raised. But due to the "expansive wind field" of Maring, occasional gusts may be experienced in these areas:
Eastern Visayas
Caraga
Catanduanes
Albay
Sorsogon
Signal No. 1 could be raised for parts of Northern Luzon beginning Saturday or Sunday, October 10.
The highest possible tropical cyclone wind signal due to Maring remains Signal No. 2.
But PAGASA is not ruling out the possibility of raising tropical cyclone wind signals even in areas outside Northern Luzon, and the possibility of declaring higher wind signals, due to the following factors:
Maring's expansive wind field
uncertainty in Maring's interaction and potential merger with Nando
possible changes in the tropical cyclone's track and intensity post-merger
A gale warning remains in effect for the eastern seaboards of Southern Luzon, the Visayas, and Mindanao because of Maring. Waters are rough to very rough, with waves 2.8 to 4.5 meters high.
PAGASA advised fishing boats and other small vessels not to sail, while larger vessels must watch out for big waves.
In the eastern seaboards of the country that are not under the gale warning and in the northern and western seaboards of Luzon, waters are moderate to rough. Travel is risky for small vessels.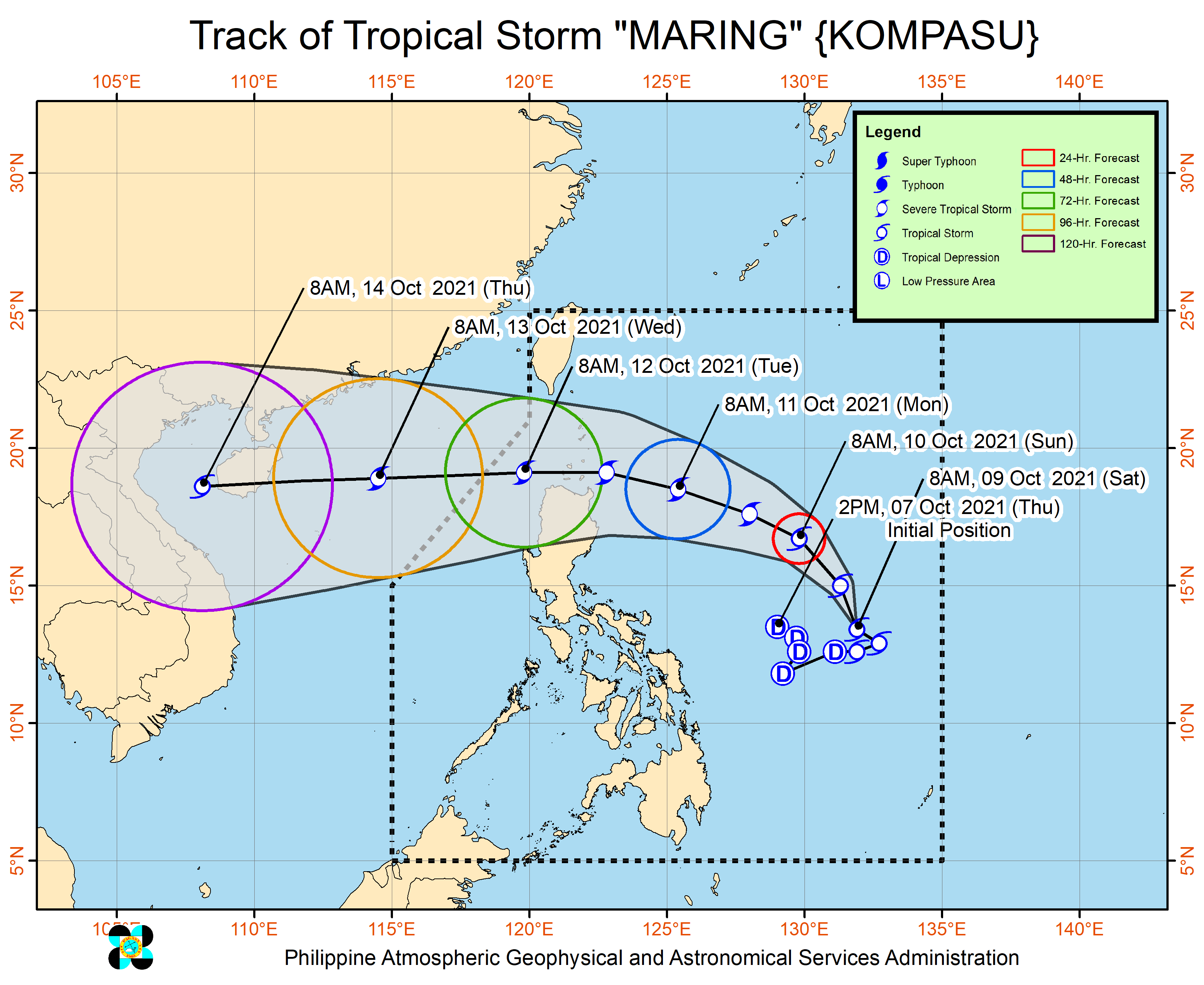 Nando
Meanwhile, Nando was last spotted 930 kilometers east of Central Luzon, moving west southwest at a very fast 45 km/h from the previous 25 km/h.
Its maximum sustained winds decreased from 55 km/h to 45 km/h, while its gustiness went down from 70 km/h to 55 km/h.
PAGASA expects Nando to continue weakening. By Sunday, it may just be a low pressure area, eventually merging with Maring.
Nando has no impact on weather in the Philippines.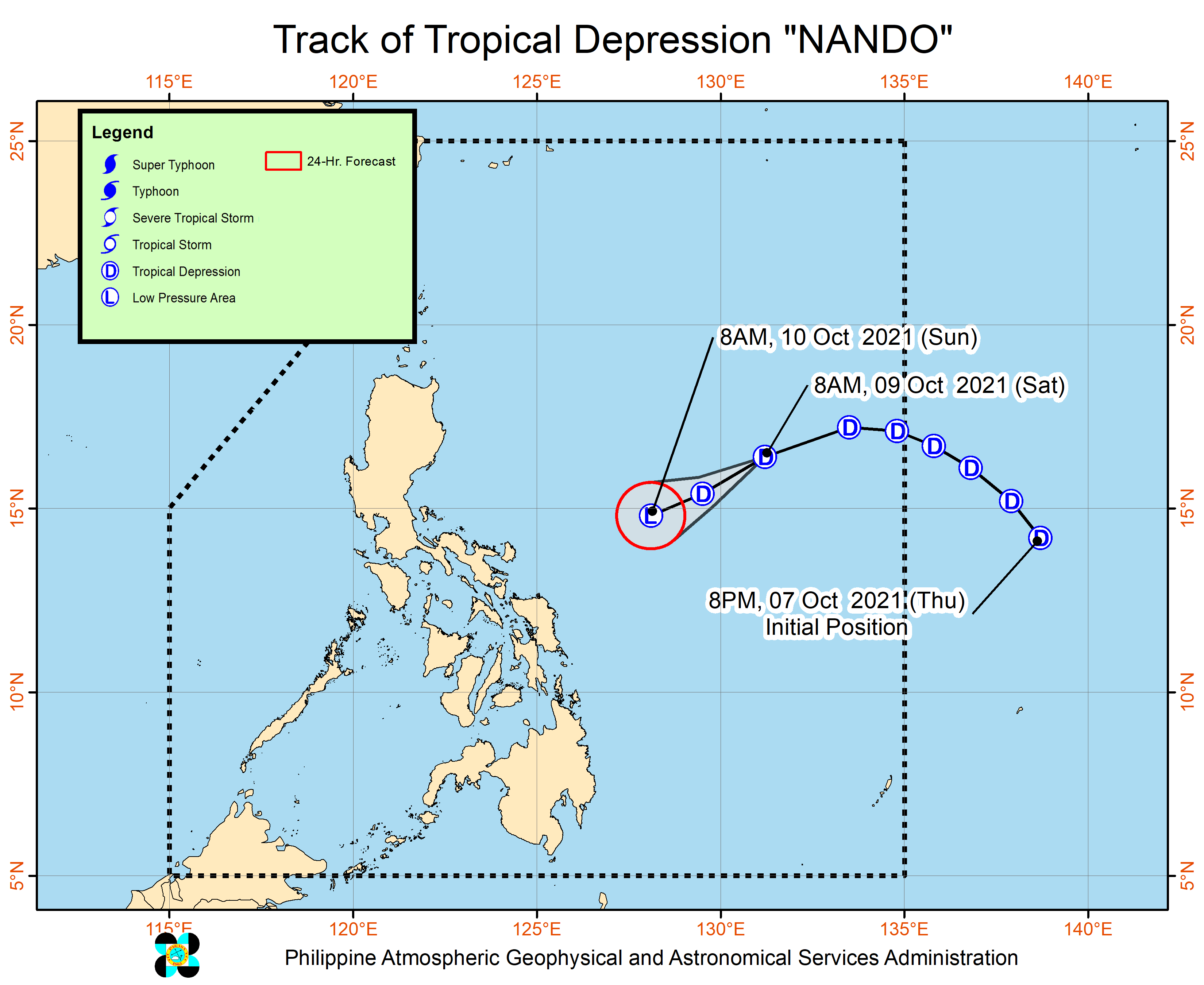 Potential merger
Both Maring and Nando are still "embedded within the larger circulation of a monsoon depression."
"Near-term erratic movement remains likely in the next 24 hours as the circulations of both Maring and Nando interact with each other in a potential merger event," PAGASA said.
The merger could happen within 24 hours, with Maring seen to dominate since it is stronger.
The merger cyclone may then intensify and become a severe tropical storm within 36 hours.
It may cross the Luzon Strait and pass over or close to Batanes and the Babuyan Islands between Monday evening, October 11, and Tuesday morning, October 12.
The weather bureau reiterated, however, that forecasts can still change due to the "uncertainty surrounding" Maring and Nando's interaction.
Maring is the Philippines' 13th tropical cyclone for 2021 and the second for October, while Nando is the country's 14th for the year and the third for the month.
An average of 20 tropical cyclones form within or enter the Philippine Area of Responsibility each year. (READ: LIST: PAGASA's names for tropical cyclones in 2021)
These are PAGASA's latest estimates for the next six months:
2021
October – 2 or 3
November – 2 or 3
December – 1 or 2
2022
January – 0 or 1
February – 0 or 1
March – 0 or 1
The weather bureau is also monitoring the possible emergence of La Niña in the fourth quarter of 2021. – Rappler.com