Instead of President Duterte's promised debate with Antonio Carpio, Malacañang shows Juan Ponce Enrile cheering on the Chief Executive's foreign policy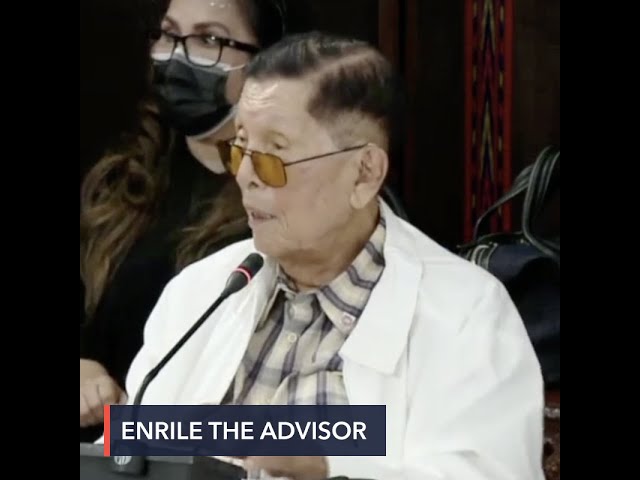 A significant chunk of President Rodrigo Duterte's regular public address on Monday, May 17, was devoted to special guest former Senate president Juan Ponce Enrile and his support for the government's approach to China.
So important was the Enrile portion to Duterte that Malacañang communication staff decided to divide the public address into two parts for airing – part one just for Enrile, and part two for the portion of the meeting about COVID-19 response.
Part one, lasting an hour and 10 minutes, showed Enrile and Duterte exchanging views about geo-politics. The conversation included expressions of mutual admiration, back-patting, and cheerleading.
It was clear the President invited Enrile to get one thing: verbal, public affirmation of the soundness of his assailed policy on China and the West Philippine Sea.
What Duterte wanted, he got. Enrile did not fail in singing him praises.
"Only history will judge you and I think that history will judge you very well," said the 97-year-old politician from his seat to the left of an avidly-listening Duterte.
"If I were in your place, I would've done the same thing. What else can a President of this country do under our present national circumstance? You can shout, you can beat your breast, you can raise your fist. Without any back-up, that is just noise," said Enrile, referring to Duterte's critics.
The veteran lawmaker declared Duterte's softer approach to China as the right course of action, saying the Philippines "must do everything to avoid irritating" Beijing.
Mutual admiration party
Duterte returned the favor in kind, calling Enrile "one of the best minds of our generation" and "the most authoritative Senate president." In Enrile's last stint in government, he was indicted for graft and plunder in relation to the misuse of the Priority Development Assistance Fund (PDAF).
Duterte did not mind being repeatedly interrupted by Enrile, who is two decades his senior. Enrile, in turn, made sure that all his statements were supportive of the President's.
He obliged when he was asked by Duterte to recall his suspicions about former senator Antonio Trillanes IV, their shared pet peeve.
For the benefit of Duterte's target audience, Enrile rehashed his old fight with Trillanes – how the soldier-turned-senator had been President Benigno Aquino III's backchannel negotiator with China during the tense 2012 Scarborough Shoal standoff.
Nothing Enrile said about Trillanes was new. It can be recalled that Trillanes had walked out of a 2012 Senate session when Enrile, then Senate President, was grilling about his role in the backchannel talks.
Aquino had long defended Trillanes, even floating the possibility that the lawmaker had contributed to easing tensions in the shoal.
But Trillanes has been a vocal critic of Duterte's since the 2016 national elections and had announced last Wednesday, May 12, that he might seek the presidency in 2022.
Visiting Forces Agreement
The meeting with Duterte also saw Enrile echoing a well-known sentiment of the President's – derision for the United States government.
"Hindi natin maaasahan ang America sa mga ganitong usapin (We can't trust America in these matters)," chuckled Enrile.
When Duterte recalled how the US State Department stopped the sale of US-made assault rifles to the Philippine National Police over concerns over the drug war, Enrile did not miss a beat.
"Hindi lang ikaw po ang ginanyan nila, eh si Presidente Marcos nga eh," laughed Enrile, who was Marcos' longest serving defense minister and architect of the dictator's bloody Martial Law.
When the tide had turned against Marcos, Enrile abandoned him and went on to become a central figure in the EDSA People Power Revolution.
Enrile then offered anecdotes of the US giving the Philippines second-hand military equipment and using Philippine military bases for free. During his time, he said, the Philippines asked America to pay rent for use of the military lands.
Duterte said he would consider Enrile's insights in his upcoming decision whether or not to terminate the Visiting Forces Agreement with the US.
"I should have an idea, hearing from you, what I should do," said the President, who triggered the VFA termination process after the US canceled the visa of his ally Senator Ronald dela Rosa, only to pause the termination process twice.
Towards the end of their discussion, Duterte appeared satisfied with how Enrile had backed him up in all the controversies he faced in relation to foreign policy.
"Maybe I will just ignore my critics," he said.
"That's the best thing, Mr President," agreed Enrile.
While Duterte had been more than willing to exchange views with Enrile, currently just a private citizen with a long history in government, he had backed out of a debate with retired Supreme Court justice Antonio Carpio on the topic of China and the West Philippine Sea.
Malacañang had said it would have been incongruous for Duterte, President of the country, to debate with a mere lawyer. – Rappler.com