This is AI generated summarization, which may have errors. For context, always refer to the full article.
Amid debates in the medical community, WHO's Rabindra Abeyasinghe says available data 'is not strong enough for us to advocate the use of Ivermectin as treatment for COVID-19'
World Health Organization (WHO) Representative to the Philippines Dr. Rabindra Abeyasinghe stressed on Tuesday, March 30, the need for "carefully controlled and planned" clinical trials of the anti-parasitic drug Ivermectin before it could be used to treat COVID-19 in the country.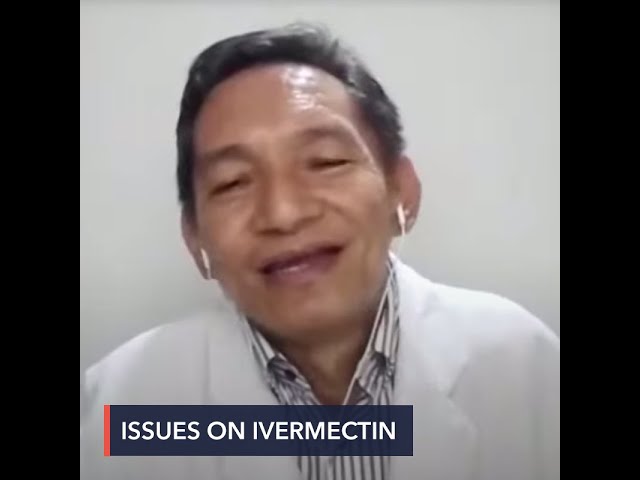 During a House hearing on the country's pandemic response, Abeyasinghe said that there were only "small scale" studies on Ivermectin, with results that were not "statistically significant."
"The issue with Ivermectin is that, based on that initial study and current available data, it is not strong enough for us to advocate the use of Ivermectin as treatment for COVID-19," he explained.
Abeyasinghe's statement comes amid growing discussions over the use of Ivermectin to treat COVID-19.
The issue was brought to light after doctors in the Philippines and abroad, as well as a number of lawmakers, urged the Department of Health and the Food and Drug Administration (FDA) to hasten the process of approving Ivermectin as a COVID-19 treatment in the country.
Without doing clinical trials, Abeyasinghe said that "what we're actually creating is a false confidence to people that if they take Ivermectin, they could be protected. And that can be harmful."
"If you're looking at the total number of COVID-19 patients in the world today, many people are not yet infected. We could assume that people who drink water are protected from COVID-19. We could assume that people who took Ivermectin are protected. But that's not evident. It needs to be statistically significant," he said.
Clinical trials are a type of research that evaluates potential medical interventions that affect one's health. During trials, medicines, treatments, procedures, and devices may be tested to study or verify their clinical or pharmacological effects before approval for public use.
'Right formulation'
Abeyasinghe said that if the Philippines were to conduct clinical trials on Ivermectin, the country would need the right formulation of the drug for human consumption. The trials, he said, should also be well-designed to have statistical significance.
"If we can do clinical trials, our position is that there's still room to look for that evidence, and then we are in [a] better position to decide on Ivermectin," he said.
In the Philippines, the FDA is the body tasked with regulating clinical trials. But FDA Director General Eric Domingo said they have not received any trial application on the use of Ivermectin for COVID-19 treatment.
During Tuesday's hearing, Domingo also said there is no registered Ivermectin drug for human use in the country.
He added that what's commercially available in the country is topical cream, which means that these Ivermectin products can only be applied on human skin.
The topical cream, however, is used "for the treatment of external parasites, such as head lice and skin conditions such as rosacea."
Aside from this, the only Ivermectin products registered in the Philippines are the oral and tablets for veterinary use. Domingo said using these for humans "can cause serious harm."
Dr Allan Landrito, a proponent of using Ivermectin as preventive treatment for COVID-19, told lawmakers he was still applying to be a distributor of Ivermectin, but the FDA had allegedly "delayed" acting on his application, according to a GMA News report.
On Tuesday morning, two local pharmaceutical companies – Lloyd Laboratories Inc. and Pascual Laboratories Inc. – reportedly told the FDA in a meeting that they were "willing to apply for registration…to produce Ivermectin for human use," the state-run Philippine News Agency reported.
A joint statement from 10 medical societies in the Philippines, including the Philippine Society of Public Health Physicians and the Philippine Society of Microbiology and Infectious Diseases, also released a statement saying they do not recommend the use of Ivermectin for COVID-19 treatment.
They cited a systematic review of controlled trials which showed that Ivermectin did not significantly reduce the risk of mortality among COVID-19 patients.
"Based on the current evidence from randomized controlled trials, we do not recommend the use of Ivermectin for the treatment of COVID-19," they said.
To date, there is still no approved treatment for COVID-19. What's being used now are investigational drugs that were allowed under the compassionate use permit of the FDA. – Rappler.com