In a Newsbreak Chats episode, Rappler justice reporter Lian Buan says the lack of institutionalized safeguards and 'impunity' have led to unused and misused government funds
For most of August 2021, Filipinos were up in arms over annual reports from the Commission on Audit (COA) showing irregularities in government agencies' funds in 2020, the year the coronavirus came.
Possibly the most notable was the COA's findings on the Department of Health, which was shown to have around P67.3 billion in deficiencies for its COVID-19 funds. The DOH is at the helm of the frontliner agencies battling the coronavirus.
Now that the auditors have done their jobs, it's time for Filipino taxpayers to know what happened to their money once and for all, Rappler reporter Lian Buan, who covers the anti-corruption agencies, said in a Newsbreak Chats episode on Thursday, August 26.
"Tama naman sinasabi ng ibang mga allies ng administrasyon na wala pa naman sinasabing finding na may nangurakot… Pero paano mo malalaman kung hindi mo titingnan? That is what an investigation either by the Ombudsman or the Department of Justice should do," said Buan.
(What some of the administration's allies are saying is correct, that there is no finding yet saying that there was corruption… But how will you know if you don't investigate?)
In the episode, titled, Newsbreak Chats: Maling paggasta, sayang na pera sa gitna ng pandemya (Misspent, wasted funds in the middle of a pandemic), Rappler's investigative editor Miriam Grace Go sat down with Buan and budget and finance reporters Aika Rey and Ralf Rivas, respectively.
The group discussed what got the Philippines to this point on how it handled funds, dubbed even more alarming as Filipinos were left hungry and gasping for air in a health crisis.
Buan said that so far, Ombudsman Samuel Martires and Justice Secretary Menardo Guevarra are not inclined to follow up on the reports just yet, as they want the COA's processes to be "final."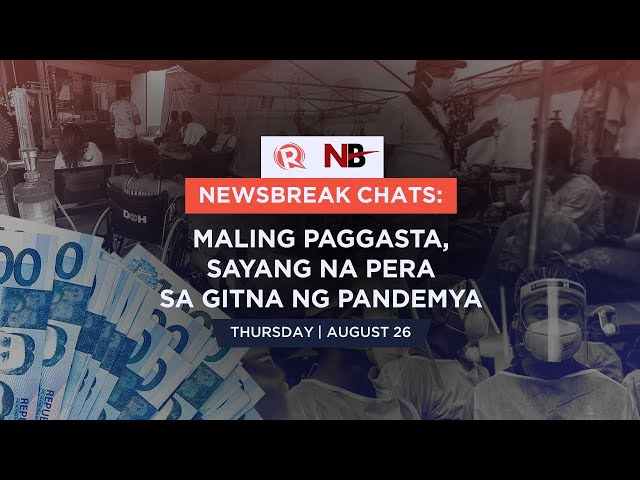 Filipinos left behind
The reporters noted that some of the sectors who were impacted the most were underserved by the government's inefficiencies.
Rey noted how there was P22 million worth of cash aid meant for affected workers that was not distributed. Meanwhile, Rivas said that despite agriculture being a bright spot throughout the pandemic, there was still P9.8 billion that the Department of Agriculture did not utilize.
Filipino students were also unable to return to their classrooms, and put up with the demanding distance learning system. Buan raised how there was flawed, incomplete, and delayed procurement of self-learning modules in 78 school division offices and 15 regional offices.
"That's cash subsidy and modules that did not make it to the hands of those who needed them," Buan said in Filipino.
Go said that the lack of the declaration of corruption was not an excuse, or to play it "cool," in the words of Malacañang.
"This is an issue of misgovernance. Habang namamatay at nagkakasakit ang mga Filipino, nawalan ng trabaho, nagsara ang mga negosyo, hindi 'nyo ginamit ang pera, o kung saan saan 'nyo ginamit, 'di ba?
(While Filipinos were dying, getting sick, losing their jobs, and had their businesses close shop, you did not use the funds, or you used them questionably, right?)
Failure to learn
Rey pointed out that the 2019, 2020, and 2021 budgets were cash-based, and were designed in anticipation that once the new year rolled out, the agencies would be able to fund and implement their projects immediately.
"Pero ever since, palaging na-e-extend 'yung validity ng budget, so kita natin na hindi pa rin talaga kaya ng mga ahensya. At kung hindi nila kaya, kailan nila kakayanin?" said Rey.
(But ever since, the validity of the budgets have always been extended, so we can see that the agencies still could not deliver. And if they can't deliver now, when can they?)
Rivas recalled how the government even "struggled" to finance the pandemic response.
"Tinambling-tambling din ng Department of Finance kung saan kukuha ng pera – umutang sa multilateral lenders, sa local sources. Tapos marinig-rinig mo lang na hindi nagasta nang maayos. Yun yung nakaka-disappoint," said Rivas.
(The Department of Finance scrambled to find money – they borrowed from multilateral lenders and local sources. And then you hear that they did not spend properly. That is disappointing.)
Rey added: "Year in, year out, agencies are asking for bigger budgets, and we see that now in the 2022 budget. So bakit ang laki ng hinihingi nila at hindi naman nila kayang gastusin (Why do they ask for so much when they can't even spend it)?"
'Impunity'
Buan thinks that even the auditors' emotions peeked through their reports, as they tended to use more straightforward language than in previous years. Such language that was used was how auditors said the deficiencies resulted in "missed opportunities" and, if used properly, "could have saved many lives."
"Siguro bukod sa walang na-institutionalized na safeguard, it's also an issue of impunity. 'Eh wala naman kasing napanagot, bakit ako matatakot?'" Buan said.
(Apart from the fact that there were no institutionalized safeguards, it's also an issue of impunity. 'No one was held accountable before, why should I be scared?')
Meanwhile, Rey said that it was high time for the public to be budget watchdogs as well, and read up on the COA reports since they were publicly available.
Buan ended on the reminder to register to vote, saying, "impunity also breeds when you elect the same people" that one knows did not spend funds well.
The Philippines is almost on its last month to register to vote. Groups have campaigned to extend voters' registration, as months to register were lost due to quarantine restrictions. – Rappler.com