The Center for Women's Resources says job opportunities for Filipinas 'remain a concern' even with existing laws liberalizing industries
A women's rights organization doubts the economic charter change being pursued in Congress would help improve the plight of Filipino women during the coronavirus pandemic.
Addressing a House panel on Tuesday, January 26, Center for Women's Resources Executive Director Cielito Perez said amending the economic provisions of the 1987 Constitution is "not the solution" to the COVID-19 crisis, especially its "disproportionate impacts on women."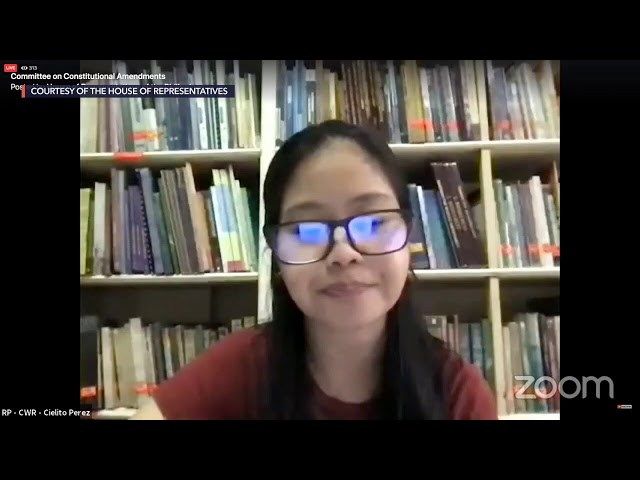 "We call on our legislators to rethink this proposal and retain the economic provisions as it is. The experiences of women in accessing employment, livelihood opportunities, especially those in the vulnerable sectors have shown that liberalization and increasing FDIs (foreign direct investments) do not guarantee their economic security and their right to development," Perez said.
She said Filipino women had been heavily hit by the pandemic, as COVID-19 restrictions have led to more unemployed and underemployed Filipinas – from 2.88 million in 2017 to 4.3 million last year.
Perez added that there is "very little foreign investments" in industries where women tend to find work, like in agriculture as well as wholesale and retail trade.
She argued that while the Philippines already has existing laws aiming to liberalize certain industries to allow more foreign investors – like the Foreign Investments Act of 1991 and the Rice Tariffication Law – job opportunities for women "remain a concern."
"There are already several measures that essentially aim to liberalize and open up the country to foreign investments…and yet job opportunities for women remain a concern. And for those who find work, the available jobs remain low-skilled and labor-intensive and non-regular," Perez said.
The House committee on constitutional amendments has resumed its Cha-Cha hearings upon the orders of Speaker Lord Allan Velasco, who wants to ease the restrictions on foreign investors to help the country recover from the COVID-19 pandemic.
But this is just the latest twist in efforts to change the charter under President Rodrigo Duterte, who ordered Congress leaders to revive Cha-Cha not with COVID-19 in mind, but to further crack down on leftist party-list lawmakers.
The economists and business groups invited to the House hearings have so far backed the push to lift restrictions on foreign investments.
Both Finance Secretary Carlos Dominguez III and Trade Secretary Ramon Lopez also supported lifting the constitutional restrictions on foreign investors, though the Cabinet officials refrained from dwelling on the political issues hounding Cha-Cha.
The Philippine Chamber of Commerce and Industry had earlier cautioned lawmakers against using Cha-Cha to relax economic restrictions amid the pandemic-induced recession. – Rappler.com