This is AI generated summarization, which may have errors. For context, always refer to the full article.
(2nd UPDATE) Under former president Benigno Aquino III, the Philippines' foreign policy 'earned international respect and esteem'
Tributes poured in from around the world on Thursday, June 24, as countries honored the legacy of former Philippine president Benigno Aquino III, under whose administration the Philippines earned renewed respect from the international community.
Aquino, the Philippines' 15th president, died on Thursday at the age of 61.
Europe
The European Union (EU) was among the first to condole with the Philippines and Aquino's family, saying it mourned with the country over the passing of a "friend who pushed for deepening relations" between the Philippines and Europe.
On Twitter, the EU delegation in the Philippines shared photos of Aquino's visit to Brussels, Belgium, in 2014, when he signed the EU-Philippines partnership and cooperation agreement.
Germany
Germany expressed "great sadness and sorrow" over Aquino's death, remembering the late president as a "great friend" of the country. In 2014, Aquino held an official visit to the country, where he met with former German federal president Joachim Gauck and Federal Chancellor Angela Merkel.
"As a great friend of Germany, his official state visit in the Federal Republic of Germany in September 2014 marked an important milestone in intensifying German-Philippine relations," an embassy spokesperson said.
United States
United States embassy Chargé d'Affaires John Law remembered the partnership between Manila and Washington under Aquino's term, and condoled with Filipinos and Aquino's family during this "heartbreaking time."
"We are saddened by President Aquino's passing and will always be thankful for our partnership," Law said.
In 2012, Aquino held a three-day visit to the US upon the invitation of former US president Barack Obama. Later in 2014, Obama held a two-day state visit to the Philippines.
Upon arriving in Malacañang where he was welcomed by Aquino, Obama wrote in the Palace guestbook: "I thank President Aquino and the people of the Philippines [for] welcoming me. May America's oldest alliance in Asia always be renewed by our friendship and mutual respect."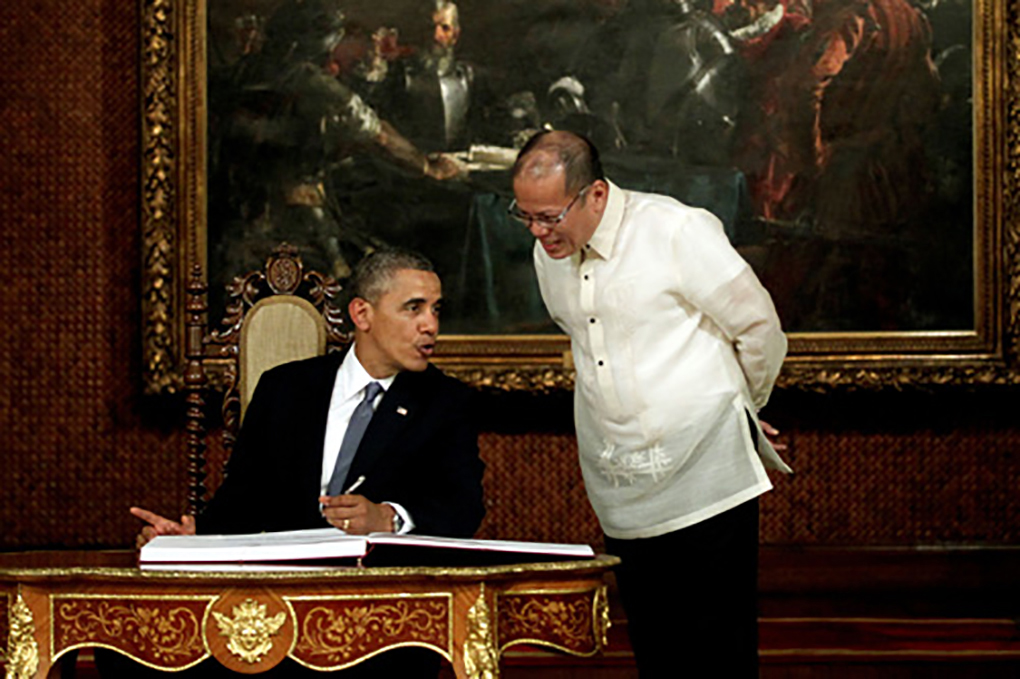 Later on Friday, June 25 (Manila time), US President Joe Biden paid his respects to Aquino, saying "he will long be remembered for serving his country with integrity and selfless dedication."
"President Aquino's steadfast commitment to advancing peace, upholding the rule of law, and driving economic growth for all Filipinos, while taking bold steps to promote the rules-based international order, leaves a remarkable legacy at home and abroad that will endure for years to come," Biden said in a White House statement.

United Kingdom
British Ambassador to the Philippines Daniel Pruce shared his deepest condolences with the Philippines and Aquino's loved ones.
"I'm extremely saddened by the passing of former president Benigno 'Noynoy' Aquino III," he said.
France
France shared its "heartfelt sympathy" to the Filipino people and family of Aquino, who "leaves a legacy of leadership and reform founded on democratic values, economic prosperity, and honesty."
Under Aquino's term, relations between the Philippines and France advanced, with Aquino welcoming former French president François Hollande to Manila in 2015. Hollande was the first French head of state to visit the Philippines.
Australia
Australia paid tribute to Aquino as its envoy, Ambassador Steve Robinson, recalled fond memories of Aquino's state visit to Australia in 2012.
"While the Philippines mourns his loss, we remember fondly his state visit to Australia in 2012 and the legacy of partnership and bayanihan we shared," Robinson said.
Norway
Norweigan Ambassador to the Philippines Bjørn Jahnsen shared Norway's sadness over the death of Aquino.
"We are saddened by President Aquino's passing and will always be thankful for our partnership," Jahnsen said.
Czech Republic
Czech Public also shared its condolences to the Filipino people and Aquino's family.
United Nations Philippines
United Nations Philippines Resident Coordinator Gustavo Gonzalez joined Filipinos in honoring Aquino and extended "heartfelt condolences" to the Philippines and the late president's family.
"We join the Filipino people in honoring his contribution and services to the country," Gonzales said.
Canada
Canada shared its condolences with the Philippines, recalling Aquino's official visit to the country in 2015.
"In mourning his loss, President Aquino will be remembered as a leader committed to prosperity," Canadian Ambassador to the Philippines Peter MacArthur said on Friday.
Japan
Japan paid its respects to Aquino, saying the country will always remember and cherish the late Philippine president's "huge contribution" to advancing ties between the two neighboring countries.
"May the family and Filipinos find comfort in their many memories," Japanese Ambassador Koshikawa Kazuhiko said.
India
Indian Ambassador to the Philippines Shambhu Kumaran, on behalf of the Indian government, condoled with Filipinos as he visited the Department of Foreign Affairs to sign Aquino's official Book of Condolences.
Singapore
Singapore Prime Minister Lee Hsien Loong recalled memories of working with Aquino and said he was "saddened" to hear about the death of the late Philippine president.
Lee said he and Aquino met several times in the past few years, including in 2014 when Aquino made an official visit to Singapore.
"President Aquino had a lifetime of illustrious public service…. He felt a strong obligation to serve, especially due to his family history – both his parents were prominent political icons in the country," Lee said.
Lee recalled how Aquino "brought stability and rapid economic progress to the Philippines, and pursued policies that improved the lives and well-being of his fellow countrymen."
The Singapore leader called Aquino's death a "great loss to the Philippines."
South Korea
The Republic of Korea shared its deepest condolences with Filipinos and Aquino's family. It recalled the late president's "great affection" for Korea, which boosted ties between the two countries.
"With his great affection for Korea, he has immensely contributed to the special friendship that our two countries enjoy today. His accomplishments and dedication will remain in the hearts of the peoples of the Philippines and Korea for a long time," an embassy spokesperson said.
'Elevated foreign policy'
On Thursday, the Philippines' Department of Foreign Affairs (DFA) mourned the passing of Aquino whose presidency "elevated" the country's foreign policy and earned the respect and esteem of the international community.
It joined Filipinos in "grieving the loss of a great man, leader and nationalist." The DFA said Aquino's leadership "invigorated" the foreign service corps and imbued a sense of patriotism and professionalism among the department's diplomats.
"President Aquino elevated the country's conduct of foreign relations, steered foreign policy towards a principled direction that earned international respect and esteem, and invigorated the foreign service with a collective sense of patriotism, commitment to service, and professionalism," it said.
Under Aquino, the Philippines stood up to China as it took the Asian giant to court over its aggressive actions in the West Philippine Sea. Aquino's decision to file a case with the Permanent Court of Arbitration at the Hague in 2013 gave Filipinos a landmark legal victory that affirmed its rights in its waters.
The 2016 Hague ruling has earned the steady support of the international community and was touted as the Philippines' "North Star" by Foreign Secretary Teodoro Locsin Jr.
"He has left a remarkable legacy on our country's foreign policy and national history," the DFA said.
According to the DFA, Philippine flags in the country's foreign postings around the world would be flown at half-mast and condolences books at embassies would be put out, in keeping with tradition. – Rappler.com