Opposition spokesman says "immersion" with the people is key to Binay's surge in the surveys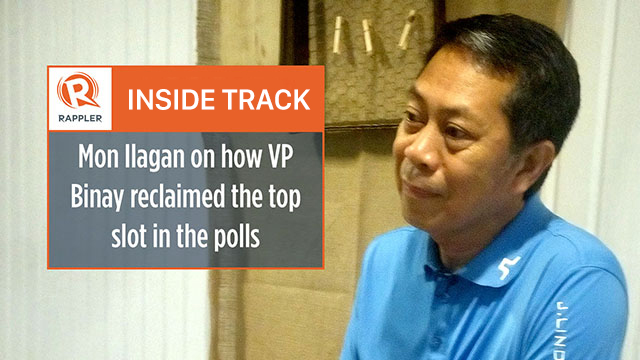 MANILA, Philippines—What explains Vice President Jejomar Binay's stunning climb back to the top of pre-election polls? 
In early December, two surveys showed him to be leading the pack of presidential candidates. This, after his numbers had tumbled following allegations of corruption involving billions of pesos, pulling him down to the third slot.
Mon Ilagan, spokesman of opposition presidential candidate Binay, says "immersion" with the people and constant dialogues have pushed the vice president back to the top. His key message, Ilagan points out, is: poverty is the main problem, not corruption, and economic growth, touted as a stellar achievement of the Aquino administration, is not felt by the poor.
Ilagan, who frequently joins Binay in his provincial visits, answers questions from Rappler editor at large Marites Dañguilan Vitug about the ins and outs of the campaign. This is part of a series of podcast interviews with key people behind the campaign of presidential candidates.
Listen to Inside Track and send us your feedback. – Rappler.com