Senator Leila de Lima says, 'They think I'm trying to derail, delay, and undermine this all-out offensive or drive against drugs. Absolutely not true. That is farthest from my mind.'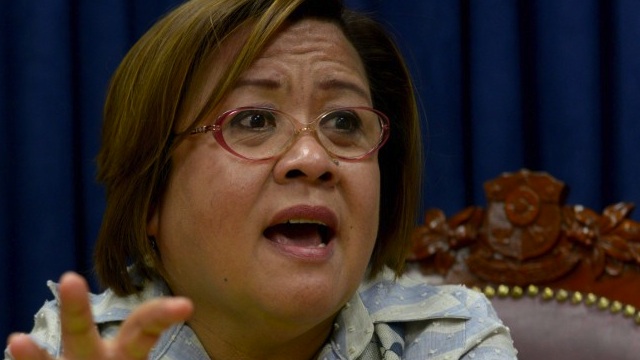 MANILA, Philippines – Senator Leila de Lima is set to conduct a probe into recent deaths related to the fight against illegal drugs.
The senator told Rappler on Thursday, July 28, that she had filed Senate Resolution No. 9 seeking an inquiry, in aid of legislation, into extrajudicial killings and summary executions of suspected criminals.
While De Lima said she has gained support from some colleagues, one senator argued that the probe is "premature."
According to De Lima, Senator Panfilo Lacson had said that it should be the police's internal affairs unit that should handle the investigation.
In response, De Lima said that the role of the said unit is "precisely one of the questions that we will ask" in her probe.
"Is it conducting an honest-to-goodness investigation? Does it need anything? It is fully equipped to really look into this spate of killings?" she asked. 
She added that there had been complaints already with the Commission on Human Rights (CHR), which she chaired from 2008 to 2010 before she became secretary of the Department of Justice (DOJ) during the Aquino administration.
Now, as the head of the Senate committee on justice and human rights, De Lima said she is bent on pursuing the probe.
"When are we going to act, when dead bodies would [amount to] thousands?" she asked. "How much of it, what is the percentage of legitimate and non-legitimate killings? What is the percentage of the violations surrounding all of those killings?"
Human rights, rule of law
De Lima also defended herself against criticism from social media, especially from supporters of President Rodrigo Duterte. (READ: Dela Rosa: PNP 'legally harassed' by De Lima)
She clarified that she is not standing in the way of the Duterte administration's campaign against illegal drugs. 
The senator has been perceived as a political opponent of the President, going back to the days when Duterte was being probed in connection with the alleged "Davao Death Squad" in Davao City, where Duterte was a longtime mayor.
"They think I'm being an obstructionist. They think I'm trying to derail, delay, and undermine this all-out offensive or drive against drugs. Absolutely not true. That is farthest from my mind," she said.
"I want to help, for this campaign to really be a success, a resounding success."
And one way to help, De Lima explained, is to ensure that "there shouldn't be violations of law, violations of human rights, [and it should be] always consistent with the rule of law, with the Bill of Rights."
"The noble, laudable objectives behind the drive can be and are being tainted by these unexplained killings," De Lima continued.
Reforms in prison, justice system
In the Senate, De Lima plans to craft bills on criminal justice, human rights, anti-corruption, electoral reforms, and social justice.
One of the measures she filed is the Anti-Criminal Exploitation of Children Act, her response to proposals in Congress to lower the age of criminal responsibility.
"My postulate is, let's punish the exploiters, including the parents and the syndicates who utilize these minors in their criminal activities. But not the children, because they are themselves victims," she said.
She likewise filed a bill to introduce the penalty of qualified reclusion perpetua, instead of reviving the death penalty. "Because I do believe death is not a real deterrent, and death penalty is not the solution to criminality."
De Lima argued that there should be an effective and efficient criminal justice system instead.
If there is such a system in place, De Lima said that cases would be investigated and filed faster, and convictions would be handed out quicker with the appropriate penalties.
In addition, she said that the country's correctional should likewise be improved. "We can always combine the punitive effect as well as the reformative, rehabilitative, restorative aspect of the correctional system by installing the proper facilities."
She also lamented the "decades-old" neglect in the country's prisons, and said that the government, including previous administrations, has to be blamed "without exception."
"Prison reform has never been a priority in their allocation of resources and even of attention from all previous governments," she said.
De Lima added that changes in the prison system "has to be a comprehensive reform package structurally, organizationally, resource-wise, [and including] systems and processes." – Rappler.com