Join us as we make sense of these stories and what they mean for the public: Boracay's 6-month closure, diplomatic crisis with Kuwait, corruption in the PNP-SAF, disinformation and propaganda in the Philippines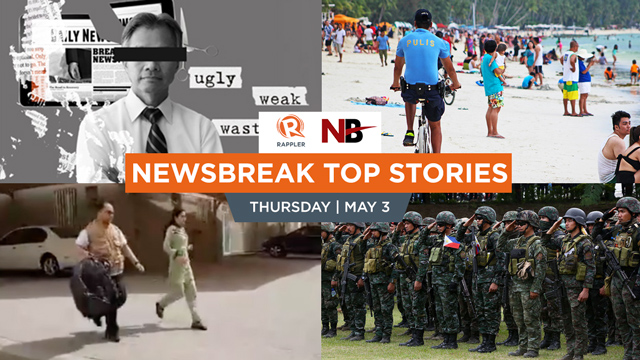 MANILA, Philippines – As April 2018 passed, a diplomatic crisis erupted with Kuwait, Boracay was closed, and corruption hounded the Philippine National Police (PNP)'s Special Action Force (SAF). Meanwhile, fake news and propaganda continue to flourish.
On Thursday, May 3, the Newsbreak team sits down to discuss stories that dominated the news cycle in the past month including:
What do these issues mean to the public and why should you care? Join us as we make sense of these stories, how they impact the public, and what to expect in the coming months. 
Do you have any questions you'd like the team to answer? Sound off in the comments below and join Thursday's discussion with more comments and suggestions. – Rappler.com
MORE ON 'NEWSBREAK CHATS'