Session suspended immediately after the FOI bill was sponsored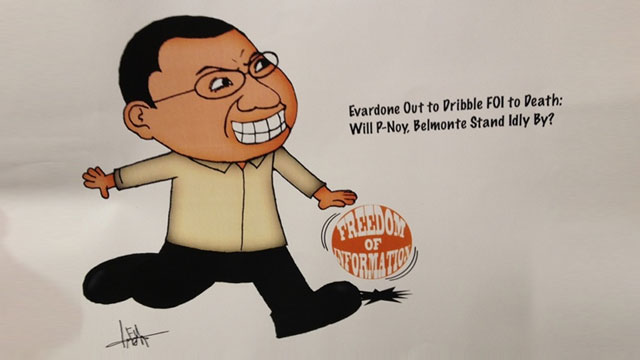 MANILA, Philippines – It finally happened. The Freedom of Information (FOI) bill finally reached the House plenary on Monday, January 28. House committee on public information chairman Rep Ben Evardone – a reluctant supporter – sponsored it before the plenary.
Evardone sponsored the House Bill 6766, An Act Strengthening the Right of Citizens to Information held by the Government, as soon as the legislative chamber mustered the elusive quorum.
A total of 184 representatives were present. This happened after the House leadership appealed to its members to attend the remaining session days. It's also the first time the House called the roll of members for 2013.
But with 5 session days left before Congress adjourns for the May 2013 elections, is there time to pass the FOI bill into law? Media organizations on Monday came up with a pooled editorial calling on President Benigno Aquino III to certify it urgent. (Read: FOI in ICU: A call for rescue by Aquino)
FOI bill co-sponsor Quezon Rep Lorenzo Tañada is calling on the House leadership to treat the bill as urgent. But the FOI bill is not even among Aquino's priority bills.
According to Tañada's count, the FOI bill has been pending in Congress for 21 years. There is time to pass the bill if House members are willing to "compromise," he said.
"I urge all of us to cast away our personal apprehensions, and see the FOI bill as a measure that will enable a stronger democracy, better governance, economic development, and responsive programs and services," he told the plenary.
The FOI bill is currently on the first stage of the 2nd reading – interpellations and debates. This is the where sponsors of the bill will entertain questions and defend the bill from its critics. It's hard tell how long this can take.
After the period of interpellations and debate, the bill will go through the second stage of second reading – the period of amendments. Only after the bill hurdles this stage that the House can vote on it on 3rd reading.
The Senate, on the other hand, has passed its counterpart bill on 3rd and final reading. If and when the House passes the FOI bill on 3rd reading, there will still be a long process.
The bicameral conference committee will convene to consolidate the Senate and the House versions. When that is done, the new version must return to the plenary for ratification. Only then can President Aquino sign it into law.
Evardone himself appears unconvinced that the version they passed in the committee was comprehensive. Some committee members pushed for the right of reply provision, which would force media groups into following certain standards on publishing stories. Media groups opposed it.
"The Committee submits to the wisdom of the Plenary the decision on whether or not these concerns will be included in the FOI bill," Evardone told the plenary.
The session was suspended immediately after the FOI bill was sponsored. – Rappler.com