The team discusses on Thursday, November 29, Xi Jinping's state visit and Rappler's efforts to combat disinformation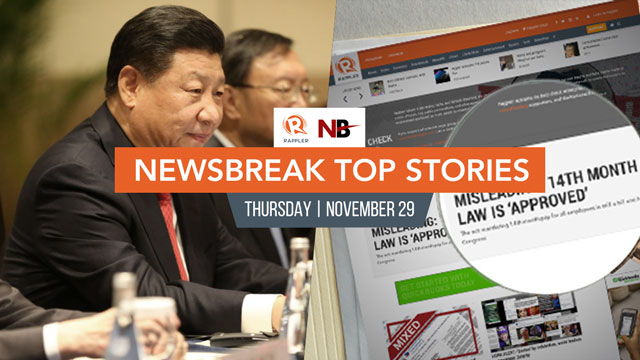 Bookmark this page to watch and join the discussion live on Thursday, November 29, at 4 pm!
MANILA, Philippines – And just like that, we're done with November! 
The events that happened within the month, including the state visit of Chinese President Xi Jinping, will perhaps be remembered and talked about for a long time not just in the Philippines but across the world. His presence in the country, after all, came after almost two years of rekindled relationship between the two countries. 
On Thursday, November 29, the team will sit down to discuss the implications of Xi's visit – whether on foreign affairs, the economy, and the presidency of President Rodrigo Duterte.
We will tackle the ins and outs of what transpired during the one-day state visit and its outcomes – including the various deals and projects the Philippines entered into with China. 
Aside from that, the fact-checking team will also join us to discuss their efforts in combatting disinformation in the past year. Did the environment change from 2017 or are we worse off? Is the effort even worth it?
Join us as we make sense of these stories and what to expect in the last month of 2018.
Let us know in the comments below or tag us on Twitter (@newsbreakph) if you have any questions! – Rappler.com
MORE ON 'NEWSBREAK CHATS'