On the ground, while local government officials are supposed to be the first responders, in many cases and in reality, it is the military that fills in the gaps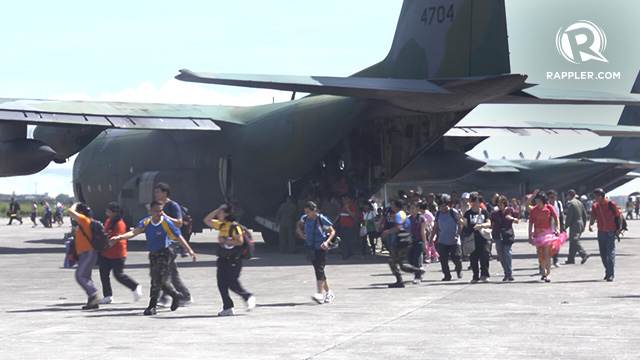 MANILA, Philippines – Super Typhoon Yolanda (Haiyan) highlighted not only the Philippines' extreme vulnerability to natural disasters, but also showed how the military's limited resources hamper its ability to respond quickly and adequately to catastrophes.
As hundreds jostled to escape from the starving city of Tacloban, Leyte, the national government could deploy only 3 heavy tactical support C130 aircraft working non-stop, and a few helicopters and naval ships to move people and transport relief goods.
The military used to have 30 C130s, according to military spokesman Lt Col Ramon Zagala, but only 3 "are serviceable. The rest are no longer airworthy. They have been mothballed. It would be more expensive to repair these C130s."
Criticism has been hurled at the national government and the military for the slow or delayed response in dispatching aid and relief goods even as donations – both local and foreign – quickly poured in as soon as the extent of the damage was realized.
The arrival of US aircraft carrier USS George Washington which helped in reaching remote areas worst-hit by Yolanda, only underlined the sorry state of the military. 
"It is a real challenge, it is not an easy task. It is a tall order but we are doing our best," Zagala said, given the military's limited logistical assets.
Apart from the 3 C130s, 16 helicopters have been providing air support transporting relief goods and medicines in hard-to-reach areas, Zagala said.
"We have other helicopters but we cannot use all of them since these are also needed in areas where there are security threats," he added.
However, at most, the Armed Forces has more than 79 operational helicopters only, based on an independent third party assessment of the military's strength.
Best effort
A day after Yolanda unleashed its fury and left havoc and death in its aftermath, an AFP incident report said that two C130 aircraft were quickly sent to Tacloban City, bringing in 7,000 lbs of relief goods, medical teams, equipment, reservists and 50 drums of jet fuel for helicopters needed for aerial survey, rescue, and transport of relief aid to other areas.
On top of these, two Navy ships delivered aid to the islands of Carles and Estancia in Northern Iloilo, the report said.
A week after Yolanda's fury, the AFP said it had transported 12,000 troops to the disaster-stricken areas while evacuating survivors  from Tacloban to Manila and Cebu via different air and naval assets.
"Since Day 1, 4 out of 8 SOKOL choppers while 10 out of the 22 Huey helicopters are currently conducting humanitarian assistance and disaster response (HADR) operations in Visayas. For our land assets, 81 trucks are continuing transport of relief goods in affected areas. 15 Navy vessels were also deployed to conduct HADR in all 3 incident areas.
"The AFP's strategic deployment of its land, air, and naval assets to assist in ongoing HADR operations shows that we prioritize ongoing relief efforts while maintaining sufficient equipment and support to Internal Security Operations," the status report said.
UP Professor Solita Monsod defended the military from criticism that it was slow in responding to the disaster. "Not enough? No presence? Please. Certainly not from want of trying. And given the limitations of equipment because the money for them was going elsewhere. The military is not the only one who is getting a raw deal here. Local government officials have been criticized, too. And the central government, including the President. I think they've done a hell of a job. They cannot be judged based on one city alone—Tacloban. Only consider: Do you really think anyone could have done better there, when 98 percent of the city had been destroyed, including the airport?" Monsod wrote in her column in the Inquirer.
In previous disasters like the December 2012 Typhoon Pablo (Bopha) – the strongest typhoon to hit Mindanao – the military had to make do with 8 or 9 Huey helicopters made available for its operations. The regional command had to pluck some of the helicopters from neighboring commands, and provided the early pictures of the extent of Pablo's destruction.
On the ground, while local government officials are supposed to be the first responders, in many cases and in reality, it is the military – given its training and manpower, and the massive logistical demands of operations – that fills in the gaps.
Diminishing assets
In the case of Yolanda, rescue and relief operations were hampered by the total shutdown of communication and infrastructure in worst-hit areas. The official death toll stood at less than 4,000 as of Monday, November 18, although many victims are still unaccounted for.
Amid the criticism, international aid relief and disaster officials lauded the government for its response to the calamity, given the massive scale and magnitude of the damage and deaths. "There will be delays in any country. It is not humanly possible for a quick response with the extent of the damage," Jamal Rabesahala de Maritens, coordinator of the United Nations Development Program's Global Cluster on Early Recovery, said.
The ability to respond also largely depends on the available resources, he also pointed out.
Exactly what is the capacity of the government, in particular, the military, in responding to internal threats that are not man-made?
Not much, based on its existing assets.
Based on current data from the US-based defense and security information consultancy firm IHS which conducts country profiling, the Philippine Air Force (PAF) has only about 75 jets and aircraft for counter-insurgency, transport and pilot training.
Recent acquisitions include 15 units of T-41B Mescalero in 2009, and 18 units of SF 260F in 2010.
As for helicopters, the PAF has about 76 units, 44 of which are UH-1H Iroquois, which can be used for air assault, cargo, search and rescue, among others. The most recent acquisition of helicopters involved the controversial procurement of 8 combat utility Sokol choppers in 2012.
The Navy for its part, has only 9 aircraft and 4 utility helicopters. For sea assets, the Navy has 63 surface fleets, ranging from the recently acquired 2 decommissioned Hamilton-class cutters, 8 fast attack craft, 39 patrol crafts, and 42 landing crafts.
The asset figures are not as dismal as they were before.
The IHS data showed that the PAF had a higher number of jets, aircraft and helicopters in the past, but many of them had been decommissioned, are no longer in use, or had figured in accidents.
For instance,  there were originally a total of 180 UH-1H Iroquois choppers (first units were acquired in 1969); 32 light attack OV 10-A Bronco for counter-insurgency (24 acquired in 1991 and 8 in 2003); 19 light attack SF-260TP (acquired in 1993); 12 heavy transport C130 (3 in 1976 and 9 in 1991); and 15 205A utility choppers (acquired in 1984).
The Navy fared better, with most of its acquired assets basically still in working condition, except for 9 Sea Hawk patrol craft acquired in 1975 that are no longer in use. Acquisition of assets however were far and between, with the P189-milion landing craft utility BRP Tagbanua as its latest addition in 2011. (See table below)

*data from IHS Janes
P75 billion for aging military
Under the long delayed AFP modernization program, a total of P75 billion will be allotted to the military during a five-year period until 2017. At least 24 projects are in the pipeline, 10 under the PAF, 6 with the Navy, 5 with the Army, and 3 with the general headquarters.
Recently, the Department of National Defense said it is fast-tracking the delivery of 4 FA-50 fighter jets from Korea, out of the 12 targeted units. The project costs P18.9 billion.
For the Navy, two more frigates, with the total amount of  P18 billion, will be procured.
In the wake of Yolanda's wrath, the DND also said it has scheduled a pre-bid conference for the procurement of 3 Light Lift Fixed Wing aircraft – sea planes that can be used for maritime search and rescue operations.
Zagala said there are now plans to purchase "medium-lift" aircraft and 8 utility helicopters, as well as radar system and communication equipment to beef up the military's disaster response capability.
At most, the P75 billion modernization budget  is "modest enough for the military to level up."
By comparison, neighboring Indonesia, which is also an archipelagic country, has allotted US$16.2 billion (roughly P680.4 billion) for its own military modernization project  Its modernization program includes the construction of 3 new submarines, to complement its two existing ones.
According to Asian Military Review, a defense magazine, Indonesia "placed strong emphasis" on expanding and improving its naval capability, given its huge maritime territory of 6 million square kilometers. Currently, the country has 115 ships of various types and has 6 frigates. It also planned to acquire a destroyer with anti-submarine, anti-surface, and anti-air capabilities.
As for its Air Force, Indonesia is targeting the acquisition of 180 combat aircraft by 2024, with 6 C130s and 9 Airbus C295s included in its shopping list. It has also engaged countries like Poland and the United States in procurement programs to upgrade its air power.
Procurement
Like the Philipines, Indonesia is plagued by financial constraints and irregularities in its procurement system that caused delays in its modernization program. But Indonesian authorities are looking for out-of-the-box solutions to fast-track its acquisitions.
As for the Philippines, irregularities remain the norm, although the winds of change are starting to be felt. The latest procurement problem involved the purchase of Sokol helicopters from Poland, which was initiated during the time of former president Gloria Macapagal Arroyo. President Benigno Aquino III has criticized the procurement of these choppers for deficiencies in specifications.
Also compounding the problem is the lack of harmony among the major units in the military when it comes to procurement. The Air Force, Navy, and the Army have ended up engaging in procurement and purchases on their own.
From the start, the military lacked a professional corps of full-time and specialist project managers that could harmonize procurement to enhance "inter-operability" among the major military units.
But a military supplier said that the DND has sought to address this already by creating a Defense Acquisition Team that is more responsive to the needs of the military in addressing external and internal threats.
The next challenge perhaps is factoring into the equation the military's disaster response system. – Rappler.com
(In an earlier version of this story, we wrote in a sentence that the Sokol helicopters were from Korea. They were purchased from Poland. We regret the oversight.)