This is AI generated summarization, which may have errors. For context, always refer to the full article.
Dr Antonia Park, according to the Professional Regulatory Commission, is not authorized to practice medicine in the Philippines. She faces charges of estafa and reckless imprudence resulting in homicide.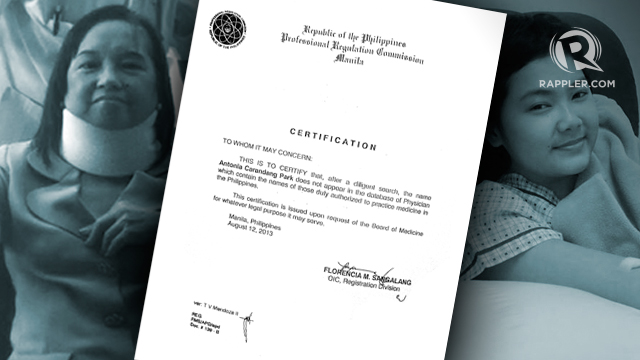 MANILA, Philippines – The alternative medicine doctor who took in former president Gloria Macapagal-Arroyo in 2012 "for possible stem cell therapy" is not licensed to practice in the Philippines.
On Tuesday, April 1, Antonia Park of the Green & Young Health & Wellness Center admitted to Rappler in a phone interview she is not a registered physician in the Philippines because "I'm not from here." She is instead a registered medical practitioner in London and Korea.
"That's why it's a wellness center. If dito ako [registered], maglalagay na lang ako ng medical center," she said, referring to her center located in Tagaytay City. (That's why it's a wellness center. If I am registered here, I might as well put up a medical center.)
A document from the Professional Regulatory Commission (PRC) dated Aug 12, 2013 showed Park is not in the database of physicians "which contains the names of those duly authorized to practice medicine in the Philippines."
Certification Antonia Carandang Park
Park and some of her clinic staff are facing charges of estafa and reckless imprudence resulting in homicide. The charges were filed last year by businessman Bernard Tan with the National Bureau of Investigation (NBI) after his 23-year-old daughter Kate died.
Kate, an Ateneo student who graduated with honors in March 2013, died 4 months later on July 4, due to a tumor that blocked the entry of blood to her heart, secondary to Hodgkin's Lymphoma. The disease is an uncommon but curable cancer of the lymphatic system.
High-profile patient
Kate was diagnosed with cancer in 2009. After undergoing chemotherapy and radiotherapy, she was declared cancer-free in January 2011*. The cancer recurred around May or June 2012, however, prompting Kate to try something else besides traditional treatment.
Around the same time in July 2012, Arroyo also sought alternative treatment after she was diagnosed with a "life-threatening condition." Back then, she complained of difficulty in swallowing with a choking sensation, as well as continuous neck and back pain, due to complications from a titanium implant in 2011. (READ: GMA's 'life-threatening condition' revealed)
Arroyo turned to Park who was recommended by Arroyo's sister, Cielo Macapagal-Salgado. Salgado was "cured of her cancer" when she sought treatment in the center, a statement from the alternative medicine doctor said.
Park took in Arroyo "for possible stem cell therapy."
After seeing news of Arroyo seeking alternative treatment in Tagaytay, the Tans tried their luck and waited out the long lines in the clinic to get a schedule with the sought-after doctor, Bernard Tan told Rappler on Monday, March 31. 
Same treatment
The Tans were able to secure an August appointment, but waited a full day to meet Park. After discussing her condition – but without looking at Kate's previous hospital records – Park said their daughter was going through some hormonal imbalance.
He said Park also claimed to have cured someone in the past with the same condition as Kate's. In fact, Park was able to cure her own son from lupus, an auto-immune disease that can affect various body parts due to antibodies reacting against substances normally present in the body.
Park promised to cure Kate in 3 months' time, but on one condition: Kate should not undergo traditional treatment – chemotherapy, among others – while she was doing alternative. The family obliged. 
Like Arroyo, Kate went through stem cell therapy, and by Park's prescription, went on a fresh fruit and vegetable juices diet for 3 months. Twice a week they would go to Tagaytay, and from time to time, her parents would also try the treatment themselves to show their support.
Park admitted the treatment was the same for GMA, former Quezon City Vice Mayor Charito Planas, and Kate. The only difference was in the "concoction" and "dosage." 
'Established treatment'
The Philippine Society of Medical Oncology, in a statement last August 2013 said, stem cell therapy is an established treatment in the management of some hematologic malignancies, or types of cancer that affect blood, bone marrow, and lymph nodes. 
"Its role is to replace bone marrow tissue after high dose chemotherapy has been administered for certain leukemias and lymphomas. Outside this indication, there is no apparent role for stem cell therapy in cancer at this time." 
According to a June 2013 Inquirer report, Park uses human placenta for the stem cell therapy. Planas, also former Nayong Pilipino executive director, was all praises for "the woman with the angelic face" who "performs the treatment" herself. 
The Tan family befriended Park to grant Kate special attention, even joining her during feeding programs that she herself organized. Still, they waited more than 3 months to see the effect of the alternative treatment, but Kate was not getting any better.
As time passed, suspicions against Park grew. They noticed small things first, but these eventually became increasingly suspicious as Kate came nowhere close to being "cured." 
Suspicions
"Siguro, kung ikaw ay very desperate, hindi mo makikita yung mga flaws eh, kasi you're very hopeful that you're looking for a cure. If you [saw] that a former president went there, yung credibility nun medyo naboo-boost yun e," Bernard Tan told Rappler.
(Maybe if you're desperate, you will not see the flaws, because you're hopeful that you're looking for a cure. If you saw that a former president went there, it boosts credibility.)
But the closer they got to Park, the more suspicious they became. They noticed the following:
Her diploma/s and license were not displayed in her office. 

During a family dinner with Park's children, no one could answer who among them had lupus.

She offered Bernard to invest in her stem cell business.

She would invite patients to her parties and offer lechon because "minsan lang naman." (It's not very often.)

Her nurses would inject the stem cell to patients whenever she was abroad. (READ: DOH: 

Stem cell therapy not yet proven to be curative)
The final blow was during a party in December 2012. At that time, Kate was already having bouts of high fever every night, and her father would give her Biogesic – a well-known tablet brand for headache and fever – to help ease the high temperature.
Curious what an alternative medicine doctor would do, he asked Park to look at Kate when she had high fever during the party. Park made her drink warm water with lemon at first, and then brought out Biogesic for Kate to take.
Deterioration
The Tans stopped going to Tagaytay after the incident and made up excuses to turn down Park's offers to continue treating Kate. They also inquired with another alternative clinic that offered "raw treatment," but Kate declined to push through with it.
"Yung kakain ka ng hilaw, na hindi namin kakayanin. Nagpatingin kami dun, nag-consult kami, pero si Kate mismo ang umayaw…Ti-nry namin…may mga napagaling na rin daw siya, sabi nya, pero ang punto, hindi niya in-assume yung kay Kate. He never claimed na may napagaling na ako ng ganyang-ganyan, at hindi niya rin sinabi na 'within 2 months, 3 months, sundin mo lang ito, tiyak wala na iyan," Tan said.
(You'd have to eat raw food, but we couldn't do it. We inquired, consulted, but Kate herself declined. We tried. The doctor said he also cured other patients, but the point is, he did not assume he could cure Kate. He never claimed he was able to cure someone with the exact condition, and he did not say, "Do this in 2 months, 3 months, if you follow this, you will be cured.")
In late January 2013, Kate developed severe pneumonia and could not immediately go back to chemotherapy after her recovery.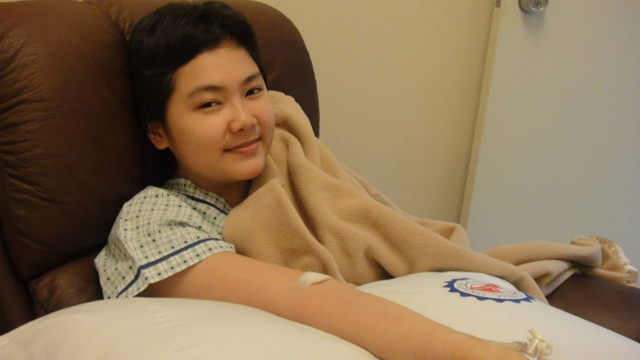 Raw treatment
But Park said it was the raw treatment that caused the deterioration, based on information she received from the wife of a newscaster who she refused to name. She also said Kate was cured with her, but became worse when the family stopped Park's treatment.
"Pinapakain ng liver na raw, mga lamang loob na hilaw. I said, 'Why do you do that? Alam niyo yung infection na pwedeng pumasok sa katawan [niya], mahina yung immune system," Park said.
(She was given liver and raw food to eat. I said, "Why do you do that? You know the possible infection because of her weak immune system.")
Park said she even made an offer for Kate to rest at her place in Tagaytay, but the family refused because Kate wanted to graduate that March. 
But when asked what kind of treatment she administered to Kate, Park refused to answer as advised by her lawyer.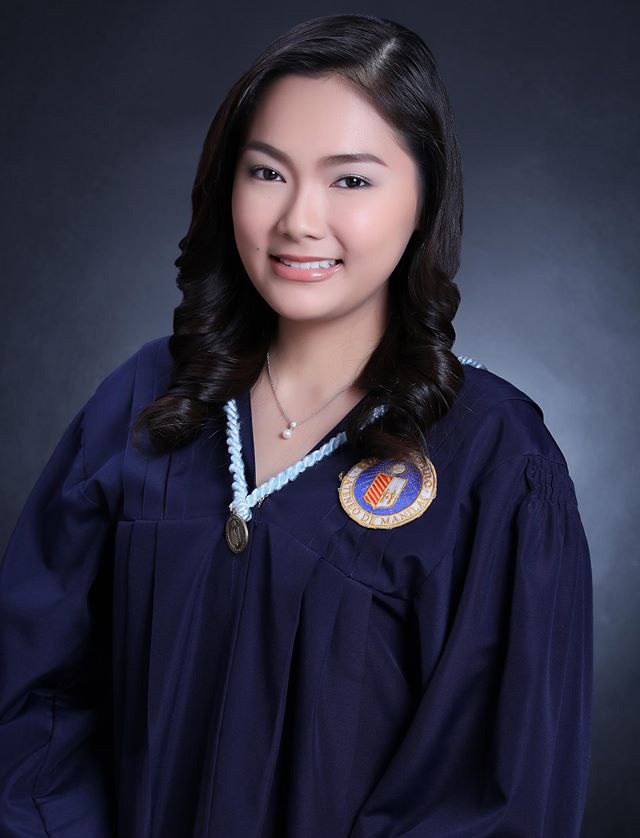 'Fake doctor'
Food and Drug Administration Director Kenneth Hartigan-Go earlier told Rappler the lack of effect of stem cell treatment is a form of "adverse effect."
"You promised that this is going to work, and it has no effect. So therapeutic failure is a form of adverse effect," Hartigan-Go said, adding that physicians who promise cure and fail to deliver should be reported to authorities, specifically the PRC.
But based on documents, Park is not even a physician – at least a physician in the Philippines. 
Philippine Medical Association (PMA) President Dr Leo Olarte told Rappler on Monday that Park, whose name he only heard about before because of Arroyo, is a "fake doctor" and not a member of PMA or the Philippine Society for Stem Cell Medicine (PSSCM). 
He endorsed Park to the NBI, who is already doing an investigation since Tan filed charges last October 2013.
Tan said the NBI added charges of illegal practice of medicine. According to Dr Jose Cueto, spokesperson of the PRC Board of Medicine, "hindi na yun wellness [center] (it's no longer a wellness center)" if Park is treating terminal cancer of the lymphatic system.
Cueto said at the very least, she should have applied for a special temporary permit if she is registered in London and Korea.
"Hinihintay na lang namin for the NBI to do their job, [para] masampahan ng kaukulang demanda. [Pero] malakas daw sya sa Tagaytay, sa local officials," Olarte said.
(We're just waiting for the NBI to do their job so we can file the necessary charges. But I heard she has connections in Tagaytay, among local officials.)
Olarte also wrote to Justice Secretary Leila de Lima last Dec 9, 2013, recommending an entrapment operation "in order to effect arrest immediately of the alleged fake practitioner of medicine." 
Park already received the subpoena for the case, but she's confident the case will not prosper because there is no evidence against her. "Kung mag-prosper man ang kaso, sasagot ako (If ever the case prospers, I will answer). I have all the evidence," she said.
"Tanong lang naman diyan, last touch; Sinong [huling] gumamot dyan? Why are they blaming me? Why me? [Kasi] di nila pwedeng sisihin yung sarili nila," she added.
(The question there is, last touch; Who treated her last? Why are they blaming me? Why me? Because they cannot blame themselves.)
Meanwhile, Arroyo's condition has not improved. She continues to lose weight as a result of her difficulty in swallowing food. (READ: Arroyo not getting better) – Rappler.com
*Editor's Note: In a previous version of this story, Bernard Tan said his daughter was declared cancer-free in January 2012. He later clarified with Rappler he was mistaken in his recollection and that it was actually in January 2011.