(UPDATED) Pope Francis will spend more time in Manila than in typhoon-hit Leyte when he visits the Philippines in January 2015. This is his official itinerary as released by the Vatican
Editor's Note:
For the live updates, which reflect departures from the official itinerary, visit
#PopeFrancisPH
, the go-to site for news, photos, video, views, and conversations on Pope Francis' visit to the Philippines.
MANILA, Philippines (UPDATED) – This is the official itinerary of Pope Francis during his visit to the Philippines from January 15 to 19, 2015.
Manila Archbishop Luis Antonio Cardinal Tagle announced the itinerary in a media briefing on Friday, November 14, that was also attended by Executive Secretary Paquito Ochoa Jr and Communications Secretary Herminio Coloma Jr.
The highlights include the Pope's lunch with survivors of Super Typhoon Yolanda (Haiyan) in Leyte and events in the Manila Cathedral, the University of Santo Tomas (UST), and the Mall of Asia Arena. (READ: Huge Catholic event in UST during Pope's Philippine trip)
The Pope's itinerary is as follows:
January 15
5:45 pm – Arrival in Manila, followed by a motorcade to the Apostolic Nunciature, or the Vatican Embassy, along Taft Avenue 
January 16
9:15 am – Welcome ceremony in the presidential palace, Malacañang, with a courtesy visit to Philippine President Benigno Aquino III
10:15 am – Meeting with civil authorities and the diplomatic corps, and a speech by Francis; followed by a motorcade to the Manila Cathedral
11:15 am – Holy Mass with bishops, priests, and consecrated persons at the Manila Cathedral; followed by a motorcade to the Mall of Asia Arena, Pasay City
5:30 pm – Meeting with families at the Mall of Asia Arena
January 17
8:15 am – Departure for Tacloban City, from the Villamor Air Base 
9:30 am – Arrival in Tacloban City
10 am – Concelebrated Mass near the Tacloban airport
12:45 pm – Lunch with several Yolanda survivors at the Archbishop's Residence in Palo, Leyte
3 pm – Blessing of the Pope Francis Center for the Poor in Palo, Leyte
3:30 pm – Meeting with priests, consecrated persons, seminarians, and families of Yolanda survivors at the Palo Cathedral
5 pm – Departure for Manila
6:15 pm – Arrival in Manila, at the Villamor Air Base
January 18
9:45 am – Meeting with leaders of various religions at UST in Manila
10:30 am – Meeting with the youth in the sports field of UST, and a speech by Francis; followed by a motorcade to Rizal Park 
3:30 pm – Concluding Mass at Rizal Park, Manila
January 19
9:45 am – Departure ceremony at the presidential pavilion of the Villamor Air Base
10 am – Departure for Rome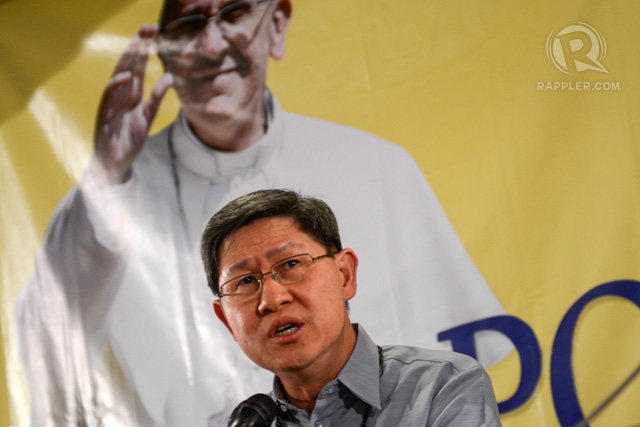 Tagle: 'Symbolism matters a lot'
Francis' visit will mark the first time in 3 decades – only the second time ever – for a pope to go beyond Manila. (READ: Pope chooses Visayas as core of Philippine trip)
The Catholic Bishops' Conference of the Philippines (CBCP) earlier said the "main objective" of the Pope's Philippine trip is to visit earthquake and Super Typhoon Yolanda survivors in the Visayas.
A CBCP official, however, questioned the length of the Pope's stay in disaster-stricken areas – only around 8 hours, the itinerary showed.
In an article by CBCP News on October 15, CBCP's Fr Edu Gariguez said: "Kaya nga rin ako nagtataka kasi ang orihinal intention ng Pope eh pumunta dito sa mga nasalanta. Pero bakit isang araw lang ang ititigil niya doon? Dapat mas matagal. Bakit puro Manila?"
(That's why I'm wondering, because the original intention of the Pope is to visit the disaster survivors. But why will he spend only a day there? He should stay longer. Why is it mostly Manila?)
Tagle, for his part, on Friday justified the Pope's 8-hour stay in Leyte. He said it is the "quality" of the visit that matters.
Referring to other areas hit by the Visayas earthquake and Yolanda, Tagle said in jest: "If we want to be really strict about it, then he should also go to Palawan, Cebu, Antique, Bohol. So we will ask the Holy Father to stay for half a year."
"In much of these papal visits, the symbolism matters a lot – personal encounters with people," Tagle added. "And even if he will spend two full days in Manila, the encounters in Manila will include also people who are suffering and who have experienced other forms of disasters in life." (READ: People's Pope comes close to Filipinos) – Rappler.com
Join Rappler in a 100-day countdown to Pope Francis' visit to the Philippines: a journey from the Vatican to Tacloban. Tweet us your thoughts using the hashtag #PopeFrancisPH!