Twitter users praise the Pope for warning politicians against corruption while some criticize President Aquino for taking a swipe at bishops' 'silence' during the Arroyo administration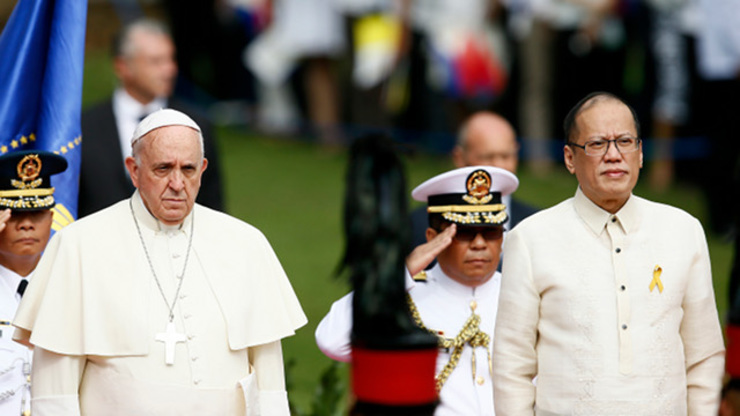 MANILA, Philippines (UPDATED) – Ouch, that hurt.
Of all the topics Pope Francis touched on in his Malacañang speech – from Super Typhoon Yolanda (Haiyan) to migration and indigenous peoples – one comment drew the most praise from Twitter-savvy Filipinos.
"I hope that this prophetic summons will challenge everyone, at all levels of society, to reject every form of corruption which diverts resources from the poor," the Pope said before an audience that included the country's top politicians.
The pontiff's remark in his first ever speech in the Philippines on Friday, January 16, hit a nerve for Filipino Twitter users, with the message resonating in a country outraged by corruption scandals at the highest levels.
The Pope made the comment as he stressed the importance of social justice, criticizing what he called the "glaring and indeed scandalous, social inequalities."
Watch his whole speech below.
Instantly reacting to the speech, Filipino netizens said the comment was a "memo to politicians" especially Vice President Jejomar Binay, accused of rigging bids, using dummies and amassing wealth from infrastructure projects in Makati when he was mayor of the country's financial capital. Binay is running for president in 2016. 
Binay was among the guests at the Palace event addressed by the Pope.
Filipino volleyball player and TV host Gretchen Ho tweeted that the Pope's comment was "somewhat embarrassing" but necessary.
It's quite embarassing that the Pope has to highlight corruption in his speech. But yes, we needed that. #truth #reality #PopeFrancisPH

— Gretchen Ho (@gretchenho) January 16, 2015
Social media users pointed out that right after the Pope made his corruption comment, the TV pool coverage cut to the reaction of Binay.
Pope Francis: "Reject every form of corruption which diverts resources from the poor." *Binay's face* Lol pic.twitter.com/SMz1QYZgkx

— Landerxx (@landerthunder) January 16, 2015
"@rapplerdotcom: Pope Francis: Reject all forms of corruption that divert resources from poor." FYI @VPJojoBinay

— Ish Abat (@ishfillet) January 16, 2015
The Pope challenged the politicians to reject corruption that abuses the poor and the camera focuses on Binay…lol

— ulupong (@srmntmtbs_) January 16, 2015
Your pope calls for honesty, to reject corruption! And the Binays, Revillas, Estradas, Enrile were like

— Ammi Postrero (@queenammilada) January 16, 2015
I'm guessing the blood pressure of VP Binay shot up when he heard Pope Francis say "reject all forms of corruption". malaking dagok!

— WhatAWasteofAdMoney (@wawam) January 16, 2015
Others though said that President Benigno Aquino III should get the Pope's message.
Pope Francis: "Stop corruption that divert resources away from the poor." In your face, Noynoy!

— Marjohara Tucay (@marjohara) January 16, 2015
Some netizens noted the irony of the Pope making his speech at the presidential palace, the country's seat of power, with politicians in attendance.
Pope Francis talked about corruption infront of the most corrupt people in The Philippines. IRONYYYYYY

— Sandy Aranas (@sandyaranas) January 16, 2015
Filipinos said they hoped that politicians will heed the words of the so-called "rock star pope" instead of just jostling to shake his hand, getting photo opportunities, and putting their names and faces on banners welcoming the Pope.
Pope Francis remarks on Corruption in the Philippines. Corrupt political leaders is drenched by the rain of shame. #LoloKiko

— Miguel Lopez (@KidManila) January 16, 2015
Makonsensya naman po, si Pope Francis na ang nagsabing iwasan na ang corruption!

— the third (@thiiirdangel) January 16, 2015
O sabi ni Pope to reject all forms of corruption. Yung mga humalik dyan, included kayo ha! #PopeFrancisPH

— cuisinera (@cuisinera) January 16, 2015
Major corruption scandals hit the Philippines in the past years, starting with the multi-million peso scam involving senators and congressmen's development funds known as the "pork barrel scam." Lawmakers are accused of conniving with bogus NGOs to funnel development funds for the poor into their own pockets.
The Vice President also faces several corruption scandals, and is accused of owning a lavish estate complete with gardens similar to Britain's royal Kew Gardens and an airconditioned piggery.
The President's allies and friends including police chief Alan Purisima are also accused of corruption. The Ombudsman suspended Purisima pending an investigation into allegations he influenced the outcome of a questionable contract the police entered into with a courier service.
Aquino speech 'inappropriate'
While netizens welcomed the Pope's remark, some questioned Aquino's remarks.
The President spoke before the Pope took the podium, delivering a speech where he criticized the local Catholic Church's "silence" on "the previous administration's abuses." It was an obvious reference to former President Gloria Macapagal-Arroyo, now detained over corruption charges.
Watch his speech below.
Some bishops were perceived to be close to Arroyo, and even got implicated in the so-called "Pajero Bishops" controversy for accepting luxury vehicles from the Philippine Charity Sweepstakes Office (PCSO).
Aquino is fond of criticizing Arroyo in his speeches but some Twitter users including Rappler Thought Leader and Ateneo political science instructor RR Rañeses felt that he should have spared the visit of the leader of the Roman Catholic Church. 
in the spirit of mercy and compassion, i'll just think of President Aquino's speech this morning as "sorta inappropriate"

— RR Rañeses (@residentrebel) January 16, 2015
Yung speech ni Pres. Aquino ang daming angst. Pati pagbatikos sa kanya ng ilang pari "isinumbong" sa Santo Papa. Masyadong malambot.

— Emmanuel de Leon (@EmmandeLeon) January 16, 2015
Ironically, this morning @pontifex delivered a speech & @noynoyaquino gave a sermon. #TradingPlaces #PapalVisitPH #PopeFrancisPH #PopeInPH

— Albert C. Lim (@limbertqc) January 16, 2015
The man has balls. – RT @gmanews: PNoy criticizes Filipino clergy in front of Pope Francis http://t.co/Rtaf1ZBkt1 pic.twitter.com/EUGeBv3GhQ

— Manny del Rosario (@mannydr) January 16, 2015
Kailangan talaga banggitin ang nakaraang administrasyon tuwing speech ni Aquino ano? Patapos na termino nya pero walang katapusan patama nya

— Jazz Pangilinan (@JazzPangilinan) January 16, 2015
To attack some bishops & mention of Marcos regime in Aquino's speech to the Holiness is not the proper venue……@ANCALERTS @Pontifex

— nc sabio (@leonsab) January 16, 2015
Aquino's speech is off.

— Leland Dela Cruz (@lelanddelacruz) January 16, 2015
The President contrasted the Church's "silence" during the Arroyo administration with its role of standing up to the Marcos dictatorship where it acted as "the Church of the poor and oppressed." He saw now during his administration, Church leaders often criticize him. 
Some though praised the President's speech. 
President Aquino has an excellent speech

— Majeszty♔ (@JessecaBombita) January 16, 2015
Great speech Mr. President. It was the perfect venue for revealing the hypocrisy of the Philippine Catholic Church #PopeFrancisPH

— Reignell Potter (@reignell) January 16, 2015
What's the big fuss over @noynoyaquino's speech? Was it not the truth? Does the truth choose the time it has to be spoken? #PopeFrancisPH

— Jong D. G. (@attyjong) January 16, 2015
What are your thoughts on the Pope and the President's speech? Let us know in the comments section below. – Rappler.com