The first 250,000 cases took 7 ½ months to accumulate. The last 250,000 before hitting the one million mark? Just less than a month.
1,006,428.
That's how many Filipinos have contracted COVID-19 as of April 26, 2021.
One million is slightly less than the combined population of the cities of San Juan, Mandaluyong, and Makati in Metro Manila, or roughly the population of Zamboanga del Norte province. It's also enough to fill 18 Philippine Arenas (with an overflow of around 10,000).
Seen another way, it's 1% of the country's 100 million population as of 2015, which translates to 1 confirmed case per 100 people.
Nonetheless, these are one million lives changed forever by the dreaded virus, not to mention countless others whose daily routines and livelihood were upended. While nearly 915,000 have recovered from COVID-19, nearly 2% of all cases – 16,853 as of April 26 – have died.
Here's a lookback at how these one million COVID-19 cases built up over the last 15 months. As the graph below shows, it took a shorter period of time to record every additional 250,000 cases – from 7 ½ months for the first 250,000 to just less than a month for the last 250,000, before the caseload of one million was reached.
250,000 cases
Time it took for the 1st 250,000: 7 ½ months (January 30 to September 11, 2020)
The first confirmed COVID-19 case in the Philippines on January 30, 2020, was a 38-year-old woman from Wuhan, China, the global epicenter of the virus. Two more cases, also from Wuhan, were announced by the Department of Health (DOH) within that same week.
The second case, the traveling companion of the first case, died on February 1. This was the first-ever death due to COVID-19 in the Philippines, as well as the first outside China.
Earlier in January, authorities had taken precautions against the virus by tightening surveillance of incoming travelers from China. The Civil Aeronautics Board suspended all flights to and from Wuhan on January 24. But, initially, the government hedged on restricting the entry of all passengers from that country.
President Rodrigo Duterte said on January 29 it would be "unfair" to ban travelers from China at that point. Health Secretary Francisco Duque III echoed this in an inquiry by Congress, saying it would be "very tricky" to single out China and temporarily restrict all tourists coming from there. (READ: As coronavirus spreads, Duterte hits 'xenophobia' vs Chinese)
The travel ban that Duterte ordered on January 31 covered only those coming from Hubei province – where Wuhan is located – and other affected regions in China. The restrictions were expanded two days later to cover non-Filipinos coming directly from China, Hong Kong, and Macau.
The COVID-19 situation picked up when, after a month of lull, the DOH announced on March 6 that two Filipinos tested positive for the virus locally. One of them was the first case of local transmission in the Philippines.
Duterte declared a public health emergency on March 9, a day after 10 total cases were logged.
Confirmed cases grew to over 100 by March 14. The next day, the government placed Metro Manila under an enhanced community quarantine (ECQ), the strictest level restriction on movements. The rest of Luzon also went under hard lockdown two days later. Total cases crossed the 1,000 mark on March 28.
By late March, flights at the Ninoy Aquino International Airport were greatly limited, while local airlines scaled down or suspended their operations in response to the lockdown.
Meanwhile, cases in Cebu City and nearby areas also started to increase. In late March, Cebu City, the province of Cebu, and the cities of Lapu-Lapu and Mandaue were already under ECQ. However, clusters of cases were soon recorded in some parts of Cebu City.
On May 7, a day after the national caseload breached the 10,000 mark, Central Visayas overtook Calabarzon and became the region with the second most number of cases after Metro Manila. On May 10, new cases in Cebu City even surpassed that in Quezon City.
The lockdowns in Cebu City and Central Visayas were briefly eased to a general community quarantine (GCQ) on June 1, after local executives lobbied for it. But, on June 15, the national government reverted these areas to ECQ. Duterte then sent in retired general and Environment Secretary Roy Cimatu to oversee and streamline the pandemic response in Cebu City.
By August 10, Central Visayas was back in 3rd place behind Metro Manila and Calabarzon, where cases were rapidly increasing again.
Nationwide, in early July, the 7-day average of daily new cases broke into the 1,000 level. In July alone, around 55,000 cases were added to the tally, nearly thrice the 19,000 new infections in the previous month. This led to the caseload breaching 100,000 on August 2.
From there, new infections escalated. The Philippines' total cases overtook Indonesia's on August 6. The highest one-day tally for new cases at this point was recorded on August 10, at 6,958. Soon, the 200,000 mark in total cases was reached on August 26.
At the height of these developments, health workers sounded off, requesting a two-week "timeout" in Metro Manila and surrounding regions to help the healthcare system take a breather. Duterte granted their plea, placing Metro Manila, Cavite, Laguna, Rizal, and Bulacan under modified ECQ or MECQ from August 4 to 18.
500,000 cases
Time it took for the 2nd 250,000: 4 months (September 12, 2020, to January 17, 2021)
The next 250,000 cases began with a brief spike, with 3,000 to 4,000 new cases reported daily for around two weeks.
But, after that, new cases slowly leveled off. The 7-day average of daily new cases went below 3,000 in late September, then below 2,000 around a month later.
Indonesia, which saw a fresh wave of infections at this time, once again became the Southeast Asian country hardest hit by the virus in terms of total cases in mid-October. As for new cases per 1 million people, Indonesia surpassed the Philippines much later, in mid-November.
Economic activity slowly sprang back in the Philippines, with Metro Manila under a less restrictive GCQ since June and many parts of the country under the most relaxed MGCQ or modified GCQ. Still, authorities restricted public gatherings. Cemeteries were closed on the week of Undas, and limited visits before and after that period.
Experts feared a steep spike during the Christmas-New Year season. There was a slight increase in new cases weeks after the holiday break, but it wasn't as grave as in previous peaks. Nonetheless, the 7-day average of daily new cases held steady below the 2,000 level as the Philippines reached half a million cases on January 17.
750,000 cases
Time it took for the 3rd 250,000: 2 ½ months (January 18 to April 1, 2021)
Then, the new virus variants came in. On January 13, the DOH announced the first case of the United Kingdom variant of COVID-19 in the Philippines. The UK variant's local transmission was confirmed later that month in Bontoc, Mountain Province.
Two other variants – the one first reported in South Africa and the one found in local samples in the Philippines – have since been reported locally.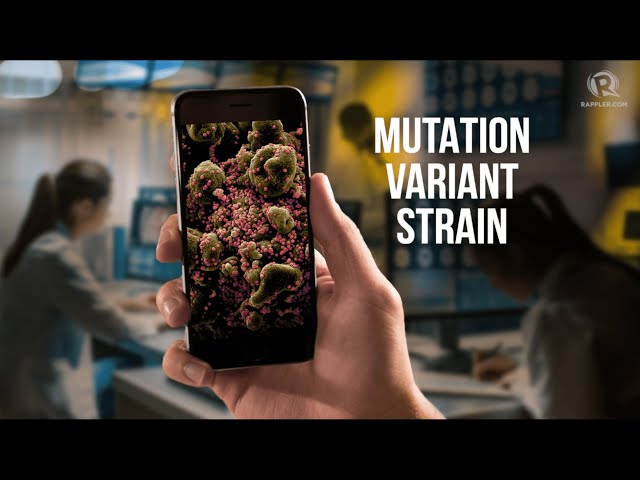 These cases, along with continued transmission in other areas, contributed to the rise in new infections near the end of February, when the 7-day average of daily new cases topped 2,000 again, a figure last seen around late October 2020.
As seen in the heat map of new cases per week per 100,000 people by region below, infections in the Cordillera Administrative Region started to increase around mid-January.
Metro Manila followed suit in late February, then the regions of Calabarzon, Central Luzon, and Cagayan Valley by late March. There was also a surge of new cases in Central Visayas for many weeks in February and March.
To help curb the virus' spread, Metro Manila and 4 neighboring provinces – Bulacan, Rizal, Laguna, and Cavite – were placed under the "NCR Plus" bubble, a stricter form of GCQ, on March 22. The lockdown there was upgraded to ECQ a week later, then eased to MECQ on April 12. Health officials and experts are keen to extend the MECQ beyond the April 30 expiry.
March 2021 saw a very rapid climb, with over 170,000 new cases reported that month alone. It overtook the record of more than 127,000 new infections logged in August 2020.
A glimmer of hope emerged as the first batch of vaccines – 600,000 doses of Sinovac Biotech's vaccine donated by China – arrived in the Philippines on February 28. The country's vaccination program kickstarted the next day, with medical frontliners first in line to get the shot, followed by senior citizens and persons with comorbidities.
1,000,000 cases
Time it took for the 4th 250,000: Less than a month (April 2 to April 26, 2021)
The final set of 250,000 cases before reaching 1 million started with a whopper on April 2: 15,310 new infections, the current one-day high. This, however, included 3,709 belatedly reported cases due to a technical issue with DOH's data system.
Graphing these cases by date of onset – or when the symptoms first emerged – shows a similar spike as in the graph for cases by date of reporting. There were over 13,000 cases that had an onset of symptoms on April 5.
Deaths due to COVID-19 also showed a notable uptick, with 17 out of 26 days in April so far logging reported deaths exceeding 100.
This was also evident when charting the deaths by their actual date of death. By this metric, the 7-day average of 79.43 deaths on April 1 broke the previous peak of 79 deaths back in mid-August 2020. This average reached as high as 92.57 some days later.
Total active cases likewise reached an all-time high of 203,710 on April 17. But, since then, reported recoveries quickly increased. In the next 9 days, over 208,000 cases were tagged as recovered, as some 80,000 new cases were logged, while around 1,000 new deaths were reported.
This brought down active cases to 74,623 when the total cases topped 1 million on April 26.
The 7-day running average of daily new cases, while gradually decreasing, remained high at above 8,000, around the same level as in late March.
It remains to be seen whether new cases will continue to go down in the coming months. It depends not only on the public's compliance with health protocols but also on the government's actions to stop the virus' spread.
Experts also emphasize the need for improvements in the "3 Ts" of the pandemic response: testing more Filipinos, tracing infected people's contacts, and treating confirmed cases. – Rappler.com
Read our stories on past COVID-19 milestones:
See also our various trackers on COVID-19: