The video in the blog post is an April 2 CNN Philippines newscast that reported on Duterte and Pope Francis' separate Easter Sunday messages. The Pope does not mention Duterte at all in this message.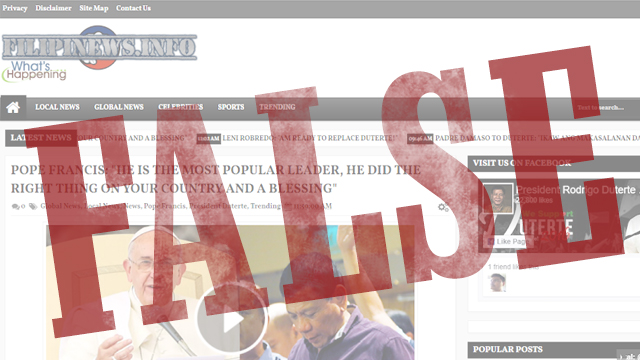 Claim: Pope Francis called President Rodrigo Duterte the "most popular leader" and a "blessing."
The blog realspotnews.info in their June 26 post ran the headline, "Pope Francis: 'He is the Most Popular Leader, he did the Right Thing on your Country and a Blessing."

The post's sole content is a video entitled, "P.DUTERTE AT POPE FRANCIS MAY MENSAHE." It was uploaded on April 1 by a pro-Duterte YouTube channel which has a following of 145,000 users.
Three Facebook groups and one page shared the post which has a combined total of 658 interactions and 398,348 followers as of June 27.
Rating: FALSE
The facts: No news report supports the claim and there had been no such statement coming from Pope Francis or the Vatican. The embedded video is a reupload of CNN Philippines' April 2 newscast which reported on the separate messages of Duterte to Filipinos and Pope Francis to victims of conflict. The two leaders did not mention each other in that instance.
Duterte, who has verbally lambasted the Catholic church, told Filipinos in his April 1 holiday message to "pray for the welfare and safety of our countrymen and for lasting peace in our nation so that we can all work together in harmony towards real change."
Meanwhile, the Roman Catholic Pontiff, in his Easter Sunday mass homily on the same date called for peace in the Middle East and other regions in conflict. "[…] [D]ialogue and mutual respect may prevail over division and violence," said Pope Francis.
Another blog also claims that the Pope called Duterte a "good leader" and priests "should not enter politics." The embedded video is uploaded by "Just Stellar TV" which has a following of 38,000. The video is entitled "Pope Francis responds to Duterte's Apology" and is a textual narration of an April 4, 2016 ABS-CBN News report of the same title.
There are also no news reports or statements from the Vatican supporting the supposed claim.
Rappler has checked also fabricated claims saying Kenyan and French president calling Duterte the "strongest man in the world" and a "role model" respectively.
The blog also published a misleading claim about a Camarines Sur priest confessing to the murder of a 28-year old single mother. Rappler checked a similar claim posted by another blog.
Be wary of fake news regarding timely topics. This post may have been written in connection to President Rodrigo Duterte's tirades against the Catholic Church in the Philippines, where 3 priests have been killed since December 2017.
The blog's contents, all with unnamed author, are a mix of pro-Duterte, pro-Marcos, anti-church, and anti-Robredo posts. It also endorses a "Duterte supporters" Facebook page. (READ: 10 tips on how to spot fake news from Facebook)
No company profile, editorial board, and contact details are presented in both blogs. Both blogs also included a disclaimer dismissing responsibility over "precision, currency, or completeness" of its contents, a trait that is often used by various "fake news" blogs. — Miguel Imperial/Rappler.com
If you suspect a Facebook page, group, account, a website, or an article is spreading false information, let Rappler know by contacting us at factcheck@rappler.com. Let us battle disinformation one Fact Check at a time.