The Foreign Affairs secretary is still part of Duterte's Cabinet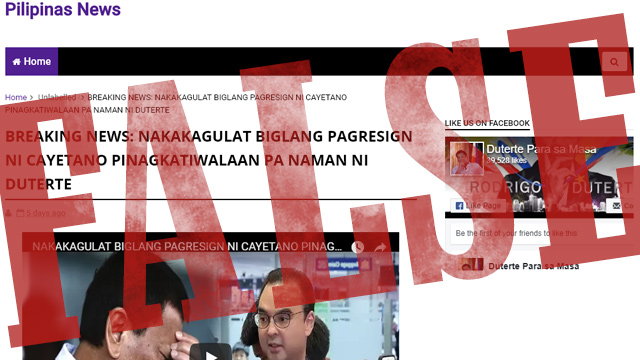 Claim: Department of Foreign Affairs (DFA) Secretary Alan Peter Cayetano has resigned.
The blog fullnewsph.xyz in their July 7 post ran the headline, "Breaking News: Nakakagulat Biglang Pagresign ni Cayetano Pinagkatiwalaan pa Naman ni Duterte." (Breaking News: Shocking is the sudden resignation of Cayetano despite Duterte's trust)
The post was shared in a pro-Duterte and pro-Marcos Facebook page. Both pages accounted to a combined total of 19 interactions, 223,128 followers, 14 reactions, 1,247 comments, and 57 shares as of July 12.
The claim was also posted by 3 other blogs namely dutertenewstoday.com, newsinph.tk, and dutertelegacy.news (now defunct); and by 6 video-hosting websites namely tamatube.host, batyoutube.com, cinemacenter.in, poke3gp, mp3indir.net, and 360videoshare.com
Rating: FALSE
The facts: Cayetano is still DFA Secretary as of this posting. In fact, he thanked Iraqi authorities on July 9 for rescuing two abducted Filipinas.
The embedded video in the blog post is a Malacañang press conference on May 3 in which Presidential Spokesperson Harry Roque stated that Cayetano still has the "trust and confidence" of Duterte and there is "no reason for [Cayetano] to resign" following the diplomatic row between the Philippines and Kuwait in April.
Majority of the blogs used this video uploaded by YouTube channel "Tatay Duterte News" on May 4. The said channel has a following of 39,000 users and also uploaded videos verified as hoaxes, such as former Senate President Juan Ponce Enrile Sr. hitting current Senate President Vicente Sotto III for his "plan to release" Senator Leila de Lima from detention.
Similar to the blogs Rappler has checked, fullnewsph.xyz lacks named authors, a company profile, contact details, and editorial board. Majority of its content are either pro-Duterte or anti-opposition. — Miguel Imperial/Rappler.com
Keep us aware of suspicious Facebook pages, groups, accounts, websites, articles, or photos in your network by contacting us at factcheck@rappler.com. Let us battle disinformation one Fact Check at a time.